2015 Audi Q3: Quattro Cute Ute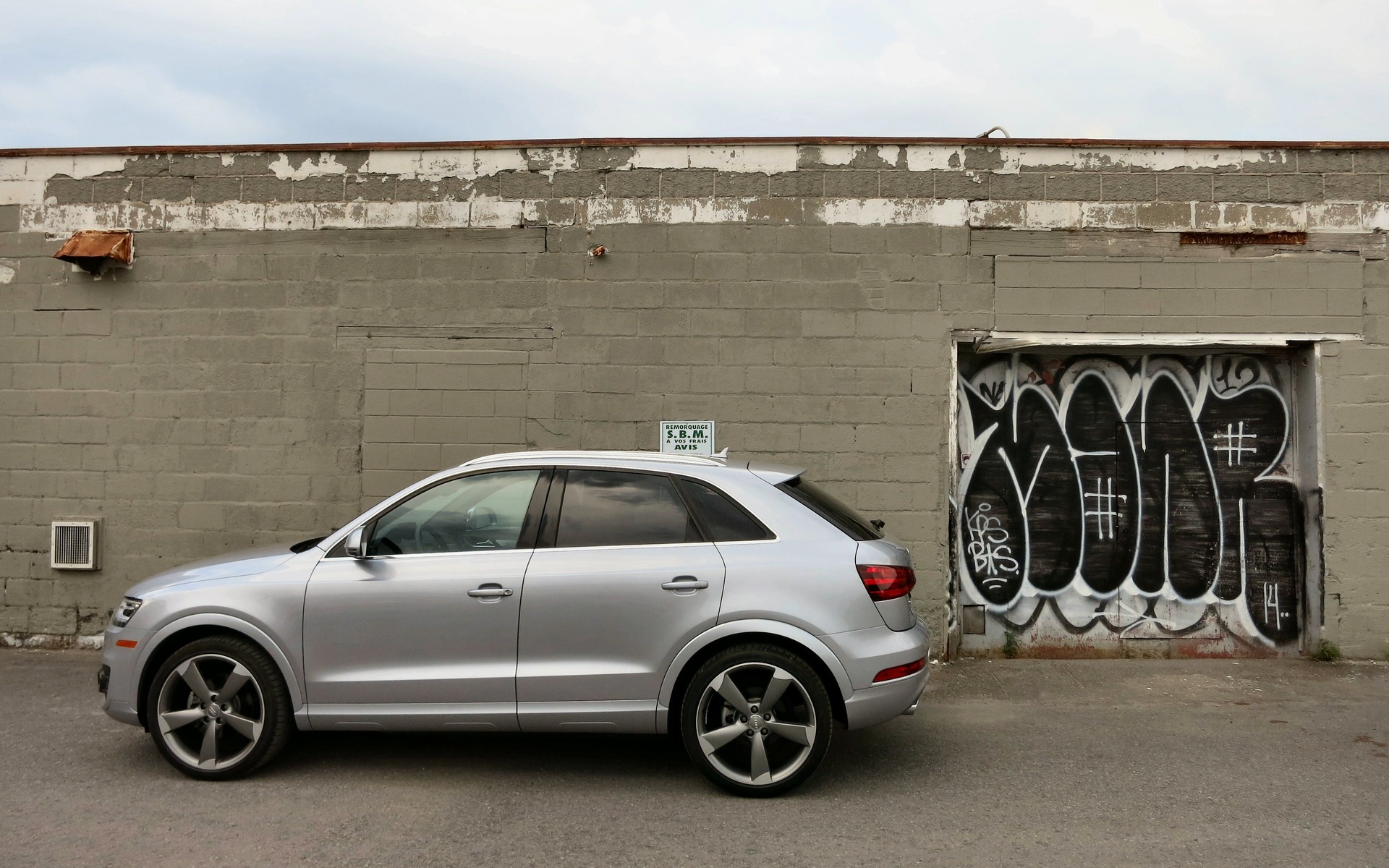 Strong points

Clean styling
Reasonably affordable
Available all-wheel drive
Comfortable ride

Weak points

Not as big inside as comparable-priced crossovers
Power could be better
Transmission occasionally lags behind throttle demand
Second row passengers suffer on longer rides
Full report
After years of hearing customers yell out 'bigger, bigger, bigger!' in the SUV showroom, the new mantra seems to be 'let's get small.' How else to explain the sudden surge in the number of tiny crossover utility vehicles like the 2015 Audi Q3? It seems like each passing week brings another pint-size people mover to the table, vying for the attentions not of families but rather couples who feel a traditional hatchback just doesn't fit the lifestyle image they see in their mind's eye.
It's a sign of the times when luxury is expected to make an appearance in even the most diminutive of entry-level vehicles, but that's where the all-new Audi Q3 finds itself, aiming to distract potential buyers away from similar fare provided by the Buick Encore, the BMW X1, the Mercedes-Benz GLA-Class, and the Lexus NX. How successful the subcompact crossover will be at its mission is directly linked to how much shoppers are willing to compromise on practicality, driving experience, and price.
Two Seats Good, Four Seats Bad
I'd like to underline the fact that the 2015 Audi Q3 was conceived specifically for the contentment of a pair of front-seat riders, with a back bench that was clearly never intended to be used on a daily basis. The Q3 is quite small inside, especially for those situated in the rear of the crossover where more than six inches of legroom have been lopped off compared to the next-step-up Audi Q5. Overall, you're looking at as much cargo space with the seatback folded forward as you'd find in a Volkswagen Golf, but with a full load of passengers the shape of the Q3's cabin cuts into the amount of available storage and puts it behind several of its direct competitors.
From the outside, the Q3 goes beyond the standard 'hatchback with boosted ride height' template that could have been applied to the crossover. Indeed, there's a family resemblance to the brand's A3 Sportback, but there's been some collagen injected here and there to beef out the Audi's wheel wells and front fascia, giving it a more purposeful look that's complemented by its taller stance.
Halfway There
It's not impossible to make an entry-level luxury car's interior feel like it's worth its window sticker, but in an era where you can get leather upholstery on almost any model companies increasingly have to go above and beyond with materials choice in order to raise eyebrows. The 2015 Audi Q3's cabin design is perfectly adequate, but nothing more, with clunky dials for climate control and a somewhat awkward on-dash dial interface for the MMI infotainment system marring an otherwise good ergonomic experience. I also wasn't a big fan of the enormous front door speakers and their illuminated frames, which felt a little too SEMA to belong in a premium vehicle like this one.
Familiar Drivetrain
Like almost every smallish Audi, the 2015 Q3 is outfitted with a 2.0-litre, turbocharged four-cylinder engine, but in this case the crossover must rely on the previous-generation version of this mill, which generates 200 horsepower and 207 lb-ft of torque, rather than the gutsier edition that boasts an additional 51 lb-ft of twist. Since few drivers will be flogging the Q3 in anger this really isn't that much of a penalty, but coupled with the loaf-like shift logic in the crossover's six-speed automatic transmission, I found myself shifting the gearbox into Sport mode to get the kind of throttle response I was looking for in simple commuting.
My tester also came with all-wheel drive, an option that will no doubt prove popular in Canada, as well as the Drive Select feature that offered Dynamic, Auto, and Comfort settings. I couldn't really discern a huge difference between the three even when tossing the Q3 as hard as I could through a corner, but again, I doubt this will be an issue for the crossover's target demographic, especially since this isn't really the kind of vehicle that begs to be driven the long way home on a Friday evening.
The $34,000 Question
The 2015 Audi Q3 can be thought of as the hatchback alternative for those who like the feature set of A3 Sportback but who don't want to be forced into paying more for a turbodiesel engine. With a starting MSRP that's roughly $2,300 cheaper than the Sportback TDI, the Q3 also offers the appearance of a semi-rugged personality thanks to its on-stilts suspension and squatter proportions, plus the option of quattro all-wheel drive - which isn't available with the A3 hatch.
Still, at that price point the Q3 runs afoul of larger, more capable crossovers from non-luxury brands (like the Ford Escape) that are honestly just as feature-laden and in some cases more comfortable to drive and ride in. Audi's counting on the badge to move a significant portion of Q3 inventory, which is a time-honored luxury tactic, but in the case of a vehicle that purports to prize practicality it's worth shopping around before committing to this smallest of Audi SUVs.
Share on Facebook