2015 Ford Fiesta ST : The Grass Is Greener Here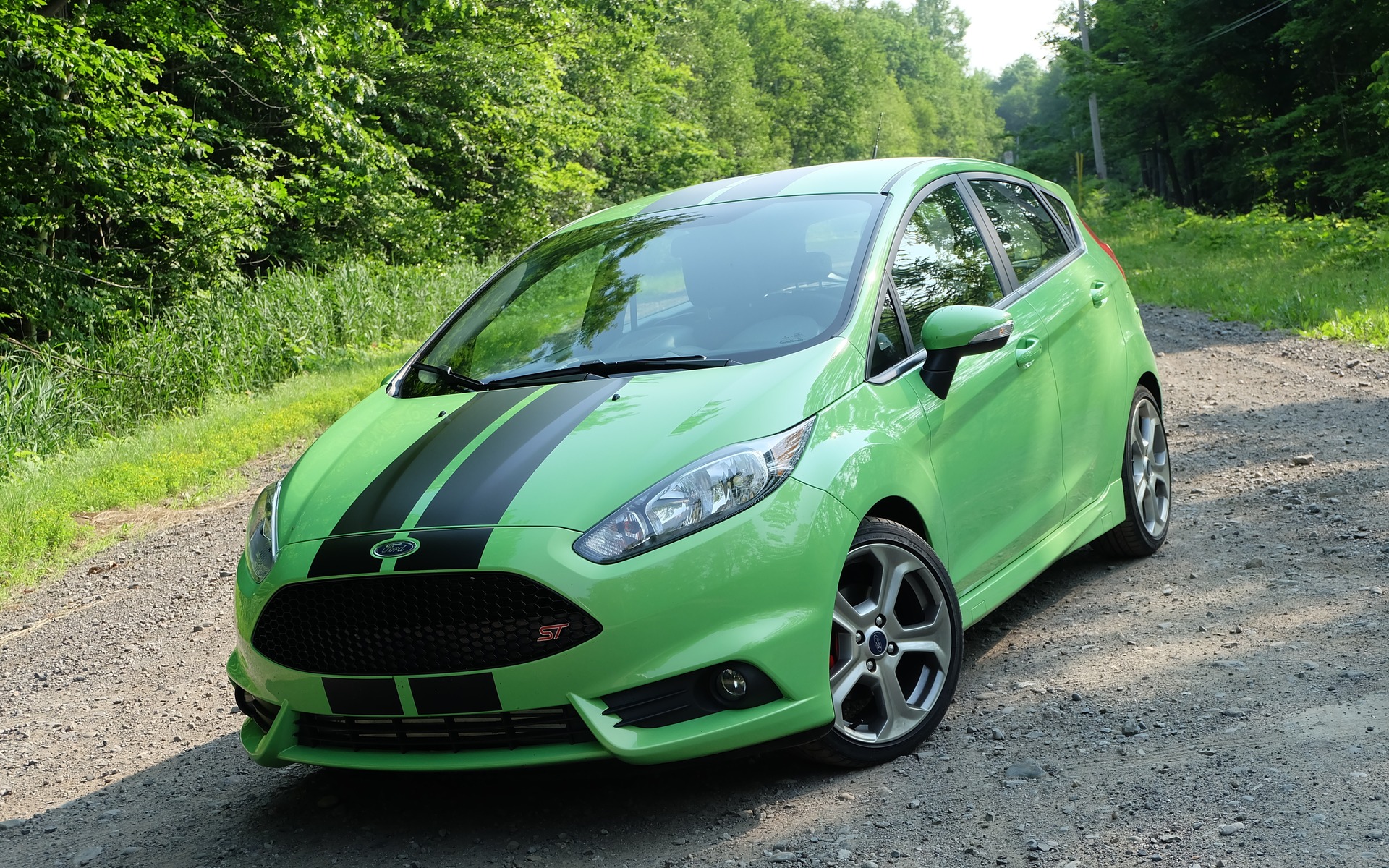 Strong points

Daily-usable performance
Unbelievably good manual gearbox
Fantastic soundtrack
One of the cheapest sports car
Ridiculously entertaining to drive
It handles like a kart!

Weak points

Harsh suspension
Cheap interior plastics
Those RECAROs are hard to get into
Full report
The Ford Fiesta is a well-thought city car: it is fuel-efficient and light enough to be fun to drive around town. Starting at $12,978, it's also quite the bargain if you don't want to go broke buying a car. 
At the top of the Fiesta range sits the ST, sold at $23,000. At first glance, this version isn't very compelling; it doesn't have a lot of equipment over the Titanium, it drinks more fuel than the aforementioned model and it is only offered with a manual gearbox. Even worse, you could get a Focus for that price, a car that is more comfortable and roomier.
So why did I fall in love with the little green car?
Ecoboooooost
Let's start with the most important piece of the puzzle; the engine. Under the hood of the Fiesta ST is a turbocharged 1.6-litre four-cylinder. This mill develops 197 horsepower and 202 pound-feet of torque. In our world of superlatives, this might not sound like much, but remember we are talking about a subcompact that weighs only 1244 kilos.
To appreciate the ST's engine, you have to look farther than the raw numbers. As an example, while the Mustang Ecoboost tries to hide the fact that it has a snail-like compressor bolted to its intake and exhaust (by being tuned for low-end torque and instantaneous response), the Fiesta is proud to affirm its turbocharged nature.
Just like the turbo cars of the 80's and 90's, there is a significant delay between the moment you put your right foot to the floor and when the turbine picks up enough speed to propel the car forward.  Power then comes exponentially; as long as the rev keeps climbing, there is more air being sent to the turbo, which makes more power, which makes the revs go up faster…
It's probably the most entertaining vicious circle ever made.
It isn't long before you reach the rev limiter and have to shift. This is when the ST reveals its second best feature: its gearbox. The six-speed manual transmission is a jewel to handle. The throw of the shifter is short so you can shift quickly and you find each gear easily since the gates are well-delimited.
Finally, it is important to note the soundtrack of the engine. Because of an intake tube that channels the turbo sounds inside (and the high-performance exhaust), the little Ford sounds like a rally car!
During my time with the Fiesta ST, I managed to record a 0-100 km/h in 7.5 seconds. Once again, this isn't exactly lightning-fast by today's standards, but I can assure you that I had more fun trying to get these numbers than when I had to record the (faster) V6 Camry's 0-100 km/h.
It's like a puppy!
If you want to extract the most out of your Fiesta ST, you need to find a curvy road. Once there you will understand why I love this car so much. Ford's engineers gave it a really stiff suspension, which makes the car dart around at the slightest nudge of the steering wheel. The whole system is even more communicative than the already-good one found in the base model, which means you always know what is going on under the front wheels.
Typically, front-wheel drive cars understeer; it's part of their nature. In this case however, it's the exact opposite. If you push the car too far, it's the rear of the hatchback that will slide, just like in a RWD car! This makes it unbelievably fun to drive, regardless of your skill level.
Inside, the ST features unique RECARO seats with excellent lateral support. They are quite hard to get into, however; just like in a racecar, you have to position yourself over the seat and then let yourself fall down into it. The older (and less flexible) of my passengers sometimes complained that it was unnecessarily hard to enter and exit the car, but once seated, everybody agreed that they were held firmly in place. Those RECAROs are also surprisingly comfortable, even during long trips.
For a very select niche
Obviously, the Ford Fiesta ST isn't perfect. Some of its interior plastics are cheap, controls are placed in incongruous places (the unlock button is next to the A/C control… why?), there is almost no storage space near the driver, the car can get uncomfortable on longer trips…
Despite all that, driving this sporty little hatch was one of my best experiences of 2015.
And it's important to note that the ST isn't just an incredible driver's car; it is also quite roomy in the back, and can be used all-year round because it is front-wheel drive (and it has heated seats!). Finally, it is important to note that despite driving it like a lunatic all week, I still managed to record a fuel consumption rate of 8.6 litres per 100 km.
It's probably a good thing that my driveway is full; otherwise, I would have had a much harder time convincing myself not to run to a Ford dealership for an Fiesta ST when I was forced to hand back the keys to my press car…
Share on Facebook