2015 Lexus RC F: Pretty, But Not Perfect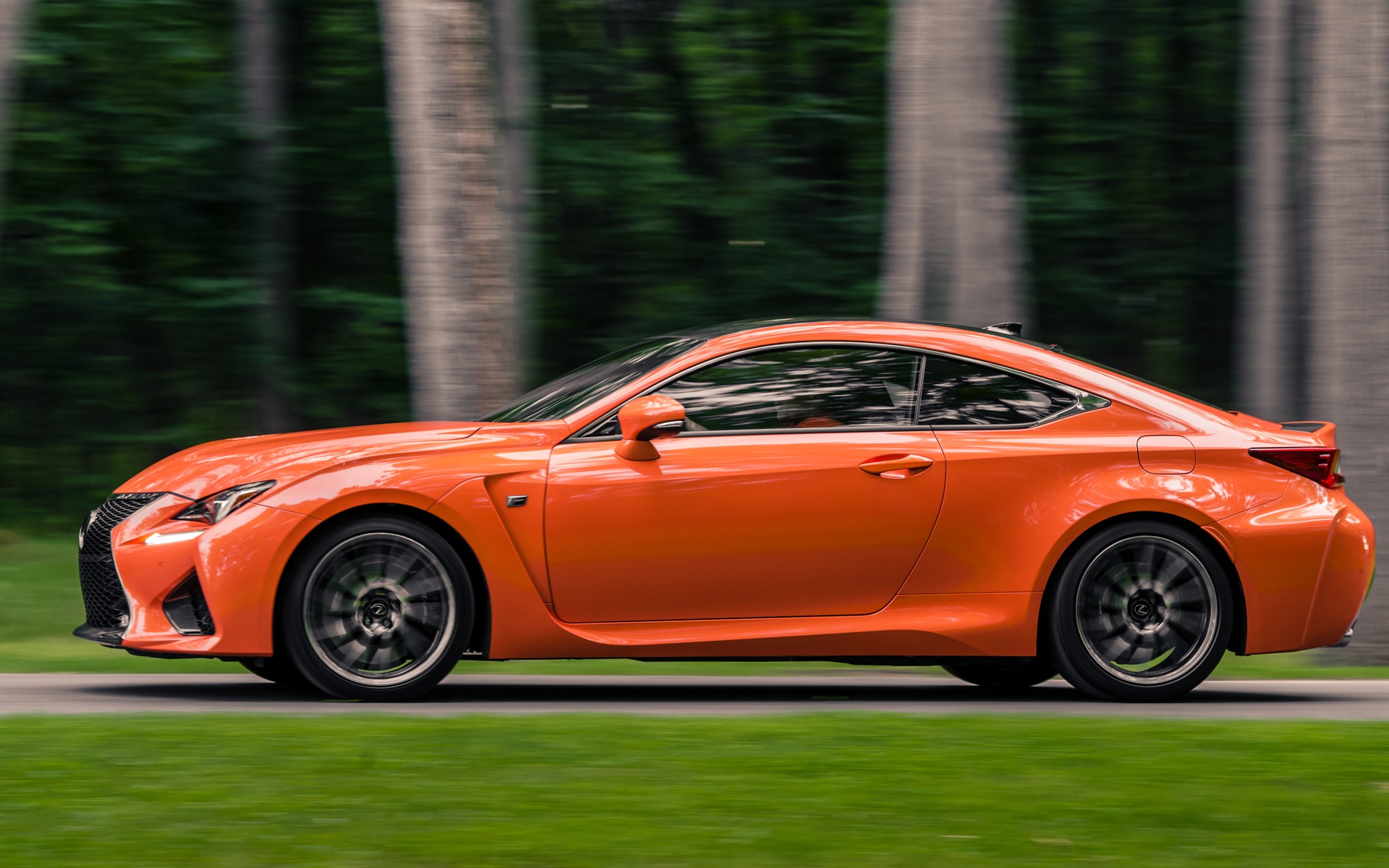 Strong points

Pleasing style
Excellent engine
Reassuring roadholding
Comfortable on long drives

Weak points

The transmission is a dud
Heavier than its competitors
Limited rear-seat room
Too expensive
Full report
In the years I have enjoyed the privilege of testing cars and writing about my findings, I think I have seen just about everything. One of the people I rely on most is my girlfriend, precisely because she is no expert. In fact, she can barely tell one make from another. 
To date, the RC F has been her favourite car. To her way of thinking, it is good-looking and comfortable, and delivers strong performance. The fact is, she is right. Putting all acquired knowledge aside, the RC F has a style all its own. Its first-rate engine delivers breathtaking performance, yet it offers its passengers a refined, comfortable ride.
Digging a little deeper, however, you realize that this is a car with many failings. Fortunately, they are offset by a few very good features.
The competition
The market for compact performance sedans is one of my favourites. The Mercedes-Benz C63 AMG, the BMW M3 and the Audi RS4 were the first cars I found genuinely exciting, and they continue to hold my enthusiastic attention.
While the RC F is a coupe, it is technically included in the segment. The only problem is that the Lexus people do not seem to realize it.
Engine-wise, admittedly, everything seems fine. Under the hood is a V8 that breathes naturally and develops 467 horsepower and 389 lb-ft of torque. That is more than the BMW M4 or the Audi RS5, but somewhat less than the C63 AMG S. 
The downside is that the RC F is expensive: the base model sells for $83,894.15, but you do not want that one, of course: you want the performance version. That is why Lexus sells a Performance package for nearly $9,000. It includes a torque-vectoring differential to help control all that power, a carbon fibre roof for improved rigidity and better handling, exclusive 19-inch wheels and a carbon fibre rear wing.
That brings the price for the RC F to $91,294.14. A BMW M4 goes for $75,000. With every available option, including the $8,500 carbon fibre brakes, the BMW M4 tops $100,000.
To succeed in this market, Lexus could have set a more attractive price than the competition, as it did for the IS F. The problem is that the clientele might see a competitive price as an indication of an inferior product. So the RC F is close to the others in terms of price; is it close in terms of performance?
Sparkling performance 
The RC F goes from zero to 100 kph in under 4.5 seconds, and runs the quarter in 12.7. This is no surprise, given that the engine powering the rear wheels is a jewel. We are talking about a good old 5-litre V8 that revs to 7,300 rpm! The sound it makes is a thing of beauty, and when called upon, it is certainly not short of horsepower. 
Some of my colleagues argue that the RC F's problem is that it is overweight. It does in fact weigh almost 200 kg more than a BMW M4, but it is more powerful. In the real world, it is just as quick in a straight line, and in the corners it can pull 0.95 G, as compared with the M4's 0.98. 
I too noticed that it was carrying more weight than its competitors, but that did not bother me for a second. The Audi RS7, for example, is a very heavy car and you can feel it when cornering, but in the end, it is the electronic systems that keep it on the road. The same applies to the RC F.
In my view, therefore, the biggest problem this Lexus has is its transmission. It is quite simply bad, wrong, ill-suited to the car and so on. It is an 8-speed automatic and the shifting can be adjusted to match the driving mode selected, but the same problems keep coming back.
This transmission was likely designed for good track performance. On a track and in Sport mode, it admittedly does the job. If you slow down, it waits before shifting to ensure a good drive out of a corner.
On the highway, on the other hand, it is a disaster. If you are doing 120 kph on the freeway in top gear and you put the pedal to the metal to pass another vehicle, it takes three seconds to make a decision! It even tries one or two gears before making a final choice. This transmission does not know what it is doing! 
When shifting manually, if you pull the paddle to downshift four gears, it engages each of them with a brief lag. This becomes a source of frustration, although you do get used to it, and with practice, you can almost learn to live with it.
Otherwise, braking is good but the steering is over-assisted. 
Some pluses 
The car I drove was painted orange. It was admittedly beautiful, and I liked its style. Inside and out, it was tastefully wrought, and given the hordes of German vehicles on our roads, the RC F does guarantee some exclusivity.
The build quality is outstanding, and the Mark Levinson audio system is out of this world. It passed our amplitude test with flying colours.
Despite a few flaws, this is a car one could easily fall in love with. This is a segment that generates strong emotions, and when love blooms, it is for better or for worse. 
Lexus uses a 6-speed automatic in some of its products, and for my money, it is far superior to this supposedly quicker 8-speed. For heaven's sake, make the swap, and I would give this car 9 out of 10, rather than 7 out of 10. It is certainly one of the most original vehicles I have ever driven.
Share on Facebook