2016 Hyundai Sonata Hybrid and Plug-In Hybrid: Ambitious Aspirations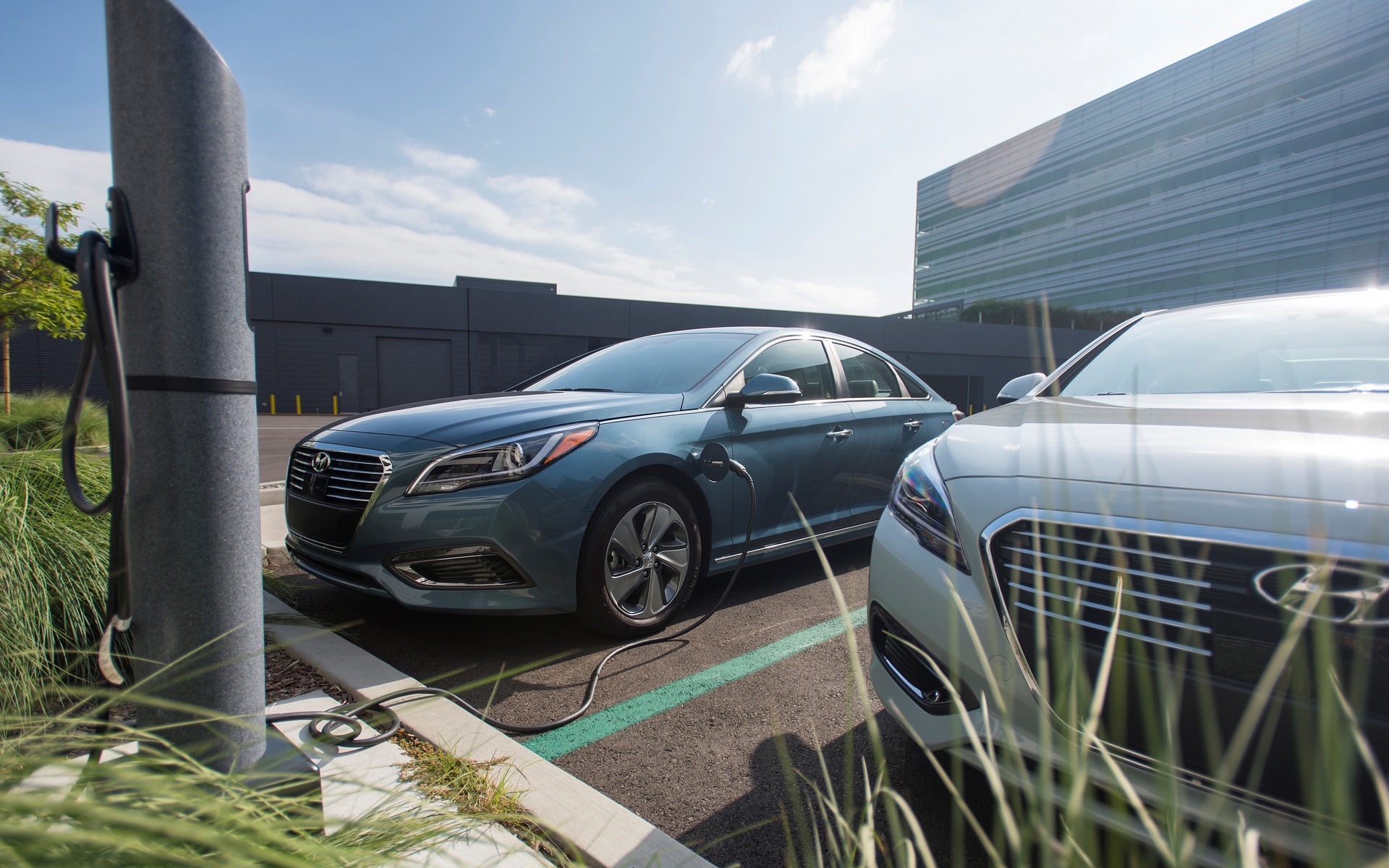 Strong points

Good fuel economy
Very aerodynamic
Spacious interior
Comprehensive standard equipment

Weak points

Sure to be costly
Limited distribution
Small trunk
Plain appearance
Full report
The intermediate car market is losing ground and the hybrid vehicle market is stagnating due to relatively low gas prices. And yet, Hyundai is gearing up to release its Sonata Hybrid and Plug-in Hybrid Electric Vehicle (PHEV). What's the logic behind their planning? It's no doubt to satisfy legal requirements in 10 American states that force automakers to offer zero-emission vehicles. In these states, plug-in hybrids qualify for partial credits. 
Impact of zero-emission laws 
Otherwise put, manufacturers are going to have to make plug-in hybrids if they want to sell their other models in certain markets, including very lucrative ones like California. This is what's prompting Hyundai and other car builders to develop and produce hybrids—even if sales remain sluggish. The Hyundai Sonata Plug-in Hybrid will roll into Canadian showrooms in September 2015 and its only direct rival will be the Ford Fusion Energi, since Honda still hasn't said whether the Accord Plug-in Hybrid will be venturing to our country or not. Meanwhile, Hyundai Canada is keeping mum about the price of the Sonata Plug-in Hybrid and the Sonata Hybrid, which will be available for sale in July and challenge the hybrid versions of the Toyota Camry, Ford Fusion and Honda Accord. Pricing should be announced moments before these vehicles arrive at dealerships.
Electrons at work 
We first tested the Sonata Plug-in Hybrid over the short distance from Huntington Beach to Del Mar on the U.S. West Coast. Then we drove the Sonata Hybrid on the way back. By adjusting our driving for maximum fuel efficiently, we recorded 3.4 litres per 100 kilometres. The first portion of the drive was done in all-electric mode, followed by a stint in conventional hybrid mode. The last section was also in conventional hybrid mode, but we used the last few kilometres to recharge the battery so that our colleague could try the all-electric mode for himself. 
To help promote fuel-efficient driving, Hyundai engineers created the aptly named "Driving Style" system for the Sonata Hybrid and Sonata Plug-in Hybrid. This system analyzes your technique and displays its verdict on a screen next to the main gauges. My score? 84% economical , 16% normal and 0% aggressive. Maybe that's why we were passed by more than one beige Lexus. 
Charging options
The Sonata Plug-in Hybrid can recharge its battery when running on gas or if you plug it into a 220-volt outlet for three hours. On 110 volts, it takes nine hours. The only trim level of the Sonata Plug-in Hybrid is the Ultimate, which comes with a plethora of standard features normally just available on option in their conventional cars. Consequently, its price is expected to be pretty high—even to the point of discouraging some potential buyers. 
When we took the wheel of the Sonata Hybrid, we were even more well-behaved than before, and our ratings came back as 89% economical , 11% normal and 0% aggressive. In all, we used 5.0 litres per 100 kilometres. 
As aerodynamic as a Tesla Model S
To maximize fuel efficiency, the two Sonata hybrids are made with slightly modified plastic that earns them a drag coefficient of 0.24—which is the same as the Tesla Model S. While the Tesla runs on electric power only, the two Sonatas are equipped with a 2.0-litre four-cylinder combustion engine that produces 154 horsepower and 140 lb.-ft. of torque. It works in tandem with an electric motor and together they offer 193 horsepower in the Sonata Hybrid and 202 horsepower in the Sonata Plug-in Hybrid. Fun fact: both vehicles come with a six-speed automatic transmission instead of a CVT. 
The same, yet different 
Neither vehicle offered a transcendent ride, and the road we drove had only modest curves. But we did notice that the regenerative braking was very gradual and not at all disconcerting. Like in conventional Sonatas, the interior offers plenty of space for the driver and passengers, but the Plug-in Hybrid's trunk has just 280 litres of cargo space, which is 100 litres less than the Sonata Hybrid.  
Pump or plug 
At the end of the day, these two new Sonatas should give Hyundai a viable chance to compete in this tight market, especially if they're properly priced. According to the Korean automaker, some 1,300 units of the Sonata Hybrid were sold in Canada last year, and they're aiming for 20% of all Sonata sales to be hybrids next year—a lofty goal. Gas prices will be a major factor in determining whether Hyundai hits this target or not. 
Share on Facebook