Gumball 3000 Rally Day Four: Amsterdam to Reno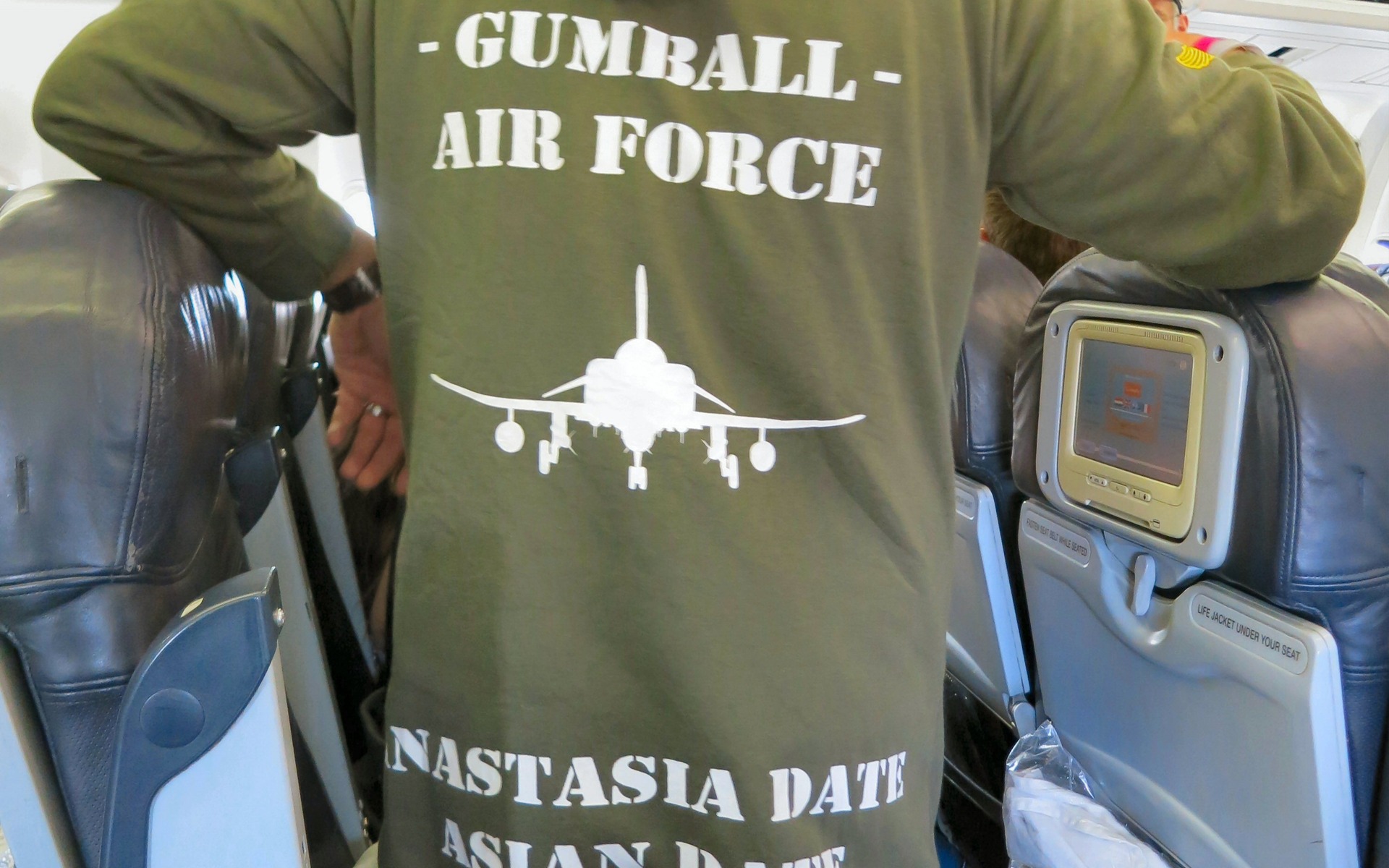 The problem with running a rally that stretches from Stockholm, Sweden to Las Vegas, Nevada, is that there's an ocean in the way. Logistically, this challenge has been met by way of a team of charter planes hired to take not just drivers, media, and support crews across the Atlantic but also the fleet of cars and trucks that we've been piloting during the European portion of the campaign.
Numbers don't lie, and the details of our air transportation dispel one of the many myths surrounding Gumball: the number of teams that are actually participating. With an advertised 120 vehicles making up the event, I counted perhaps 60 on the starting grid the first day in Stockholm, and now that number has been whittled down to 41 loaded up into the 747 (substituted at the last moment for our Antonovs) to tackle the American leg. This number will be complemented by roughly 20 additional new teams that are joining us exclusively for the U.S. portion of the rally, plus the several teams that elected to leave their original rides behind in Europe and either rent a car to finish or simply swap into a waiting vehicle upon landing. The spirit of the Gumball is perhaps represented by Michael, one of the latter group, who abandoned his Bentley at the airport in Amsterdam in favor of a Delorean sitting on the tarmac in Reno.
Up, Up And Away
It's an early morning to get to the chartered jet waiting for us at Schiphol airport, and as I emerge from the hotel elevator I discover the entire Asiandate.com and Anastasiadate.com team waiting for me in the lobby wearing matching air force green fighter pilot jumpsuits emblazoned with Gumball logos. There's one for me, too, and little do I know it but I am about to spend more than a full day wearing a onesie for the first time since infancy.
200 jumpsuits (as we've given one out to each and every Gumballer) make for an interesting experience at the customs line in Amsterdam, and there's no question that we're drawing a lot of curious looks. More telling are the slumped postures and dead eyes that reveal the toll that nearly four days of straight partying has taken on the assembled. Somehow, Steve our mechanic manages to exclude himself from this cohort of victims despite having been up past five am securing our pair of Camaros for transport to the United States, including the remains of the red car which has bathed its mechanical innards in a milky soup of oil, coolant and steel. Steve is bright-eyed and bushy-tailed, excited to get to Reno and start kicking ass on more familiar highways.
Somebody Get Our Travel Agent A Globe, Please
Of course, before we get to Nevada, we'll have to land in Portland. Wait, what? Sadly, it turns out that the biggest little town in America only employs three customs screening agents, who would be overwhelmed by our motley crew of international motoring miscreants in short order. The dictates a nine and a half hour flight to Portland, Oregon, where we'll be greeted by a much more capable immigration setup, along with an entire terminal to ourselves where we'll sit for 45 minutes before getting back on board our 767 to skip on down to Reno. It's the first time for security crews in both the Netherlands and the U.S. dealing with pat-downs and jumpsuits in combination, which made for what can only be described as a number of compromising, but ultimately entertaining photo opportunities for everyone waiting in line.
As for the flight itself, I'll say this: there was nudity, there was an impromptu DJ set played over the airplane's speaker system, and my very first (and maybe way too intense) pillow fight at 37,000 feet. Alcohol flowed freely, and by hour six the regret train had left the station at full steam, with its carnage perhaps best represented by a mournful plea for justice over the Boeing's PA after one unfortunate individual fell asleep a little too early and discovered that he had been manscaped below the waist whilst unconscious.
Can We Take A Bus, Please?
Reno greets us with open arms. City representatives, local police, and an entire high school marching band are waiting for us on the tarmac, flags waving and batons twirling to give our international participants a 'true taste of America.' We pause while taxiing to let the 747 carrying our cars land immediately in front of us. While this timing may seem poetic, it actually reflected the lack of forethought invested by Gumball planners in figuring out this portion of the drive.
Yes, that's right - I said drive. As we zombie-shuffle down the airplane's stairs into the too-bright Nevada sunshine, the realization sinks in that we still have at least three hours of highway ahead of us before we can rest our weary heads in San Francisco. Semi-conscious Gumballers mix with new additions like Motley Crue's Tommy Lee and DJ Deadmau5 in a private hangar while we wait for our vehicles to be unloaded and the itinerary for the next few days to be laid out. Sitting on the tarmac alongside glistening McLaren P1's and Challenger Hellcat's is Anthony's Pro Touring '69 Camaro, already stickered-up and ready to take over for its fallen comrade-in-arms.
We don't hit the road for at least two hours, at which point it's six pm Pacific time. Tired, cranky, and fighting tooth and claw for sobriety, our crew piles into a fleet of Expedition SUVs and strikes out, one at a time, for California. It's a lonely drive for the first few hours, and for a while the only other Gumballers we see are pulled over on the side of the road by the CHP, but by the time I take over behind the wheel we've caught up to one of our journalists, Sam, in the Super Street Lexus RC F. We follow him into the city across the bay bridge and park, beleaguered and barely functional, to the front of the hotel at ten pm, at which point I have been awake for over 25 hours.
There's no question in my mind that the four hour window separating Reno from San Francisco was the most dangerous part of the entire rally so far. Absolutely all of us on the crew were exhausted, which when compounded by the hard partying in the air by many of the teams made for a situation where no one should have been driving, period. It was a beyond boneheaded move by Gumball to schedule a drive immediately after a fourteen hour international flight lubricated by more alcohol than you'd find backstage at a Bacardi commercial shoot.
But we survived. And L.A. awaits.
Gumball By The Numbers: Day Four
Number of pillows used a projectiles above the Atlantic ocean: 85
Number of attempts by one Gumball driver to load another Gumball driver into an overheard compartment: 1
Team Crankiness Level: 11/10
Exotic Car Death Count: 1 (One of Team Betsafe's Vipers' was stranded in Germany by clutch trouble, a fact revealed when it simply didn't arrive at Schiphol that night)
Celebrity Oddness Meter: 6/10 (Dolph Lundgren and Tommy Lee in the same room?)
German Nudity Index: 5/10 (mid-air), 6/10 (airport security)
New Russian Words Learned: 'Poyehali,' which means 'Let's go!'
Follow Day Five of our Gumball 3000 coverage HERE, and read how Day Three went HERE.
Share on Facebook