2016 Honda Pilot: No Chip On Its Shoulder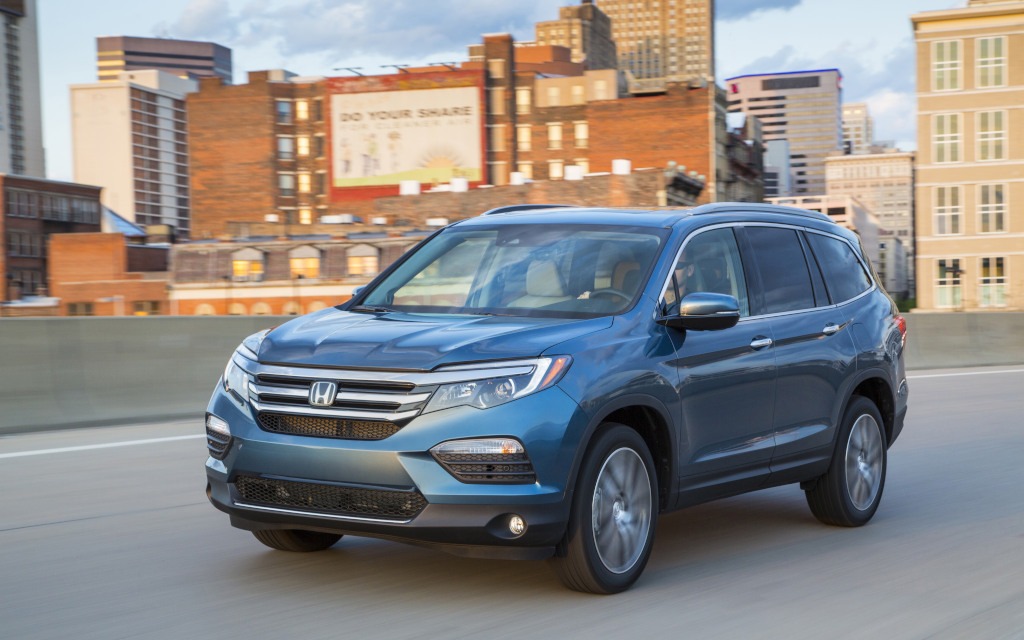 Strong points

Sophisticated mechanics
Nine-speed automatic transmission
Good road handling
High-performance engine

Weak points

Plain Jane appearance
Uncomfortable third row
The Touring is very expensive
Full report
After several years on the market, the Honda Pilot was starting to lose its competitive edge. Very few technical or esthetic modifications were made to the hefty SUV in six years. Its boxy shape had become outdated and it had fallen way behind on the technological front. In fact, many advancements offered by competitors were simply not available on the model. Painfully aware of the situation, Honda devised a third-gen Pilot designed to keep up with the category's big boys. 
While the result is nothing to write home about, it's also hard to find fault with. The new Pilot strikes a great balance between mechanical prowess, equipment level and road handling. True to the brand's philosophy, the old engine was updated, not replaced.
Still a V6
Honda engineers love their small and medium-sized engines, and that's for all their vehicles. The previous Pilot respected that line of thinking with its 3.5L V6, and the new generation is back with a 3.5L V6, but it's been seriously revamped and corrected on many fronts. Direct injection was added along with technology to deactivate cylinders whenever the engine isn't being taxed. It's the same as what Chrysler did with its V8 Hemi in 2005. What it means is that the engine is powered by only four cylinders when needs are reduced, in order to save fuel. Thanks to the other improvements, it also now produces 30 additional horsepower.
More speeds than before
To manage all those ponies, buyers can choose between two new automatic transmissions. The old five-speed gearbox is out and a new six-speed equips all models except the Touring. The more luxurious model comes with a new nine-speed transmission. It comes with an Idle/Stop system that shuts off the engine when the vehicle isn't moving. This time, no one will be able to accuse Honda of falling behind, as this upgrade keeps the manufacturer in the game.
The trend with all-wheel drive systems is to include traction control that adapts to road conditions. The Pilot gives you the choice between four modes, which are available at the push of a button on the central console. There's Normal, Mud, Sand and Snow. Depending on your selection, it changes shift speed, torque distribution and vehicle stability parameters. According to Honda, this system was put to the test on all four corners of the planet. 
Improved safety
Improvements were not limited to the engine, gearbox and all-wheel drive system. In recent years, substantial progress has been made in safety systems, but the Pilot was late in adopting them. That's been rectified now. Honda's Lane Departure Warning System doesn't just match what the competition has to offer, it's actually a bit better. Another cool addition is the Collision Mitigation Brake System, which warns you when you're about to plow into something. We had the chance to test it and discovered that if you don't brake when the signal sounds, the vehicle will do it for you. It comes to a full stop within centimetres of the obstacle. For real! And since they worked so hard on the obstacle-detection radar, it comes as no surprise that adaptive cruise control is included factory-standard on the EX and Touring. And that's not all. There's also a blind-spot warning system with rear cross traffic alerts.
Don't be fooled
Debbie Downer and her crowd said that the Ridgeline pickup handles like an SUV and the Pilot handles like a pickup. But pay no heed. Now with a more modern design, the Pilot is much more fun to drive and its handling is greatly improved. 
As soon as you get inside, you'll notice that it's actually much more spacious than what it looks from the outside. The exterior was specially designed to look smaller than it really is. As a result, there's lots of room and the third row is now easier to access than in the past thanks to the seats that slide at the simple push of a button. It's also worth noting that the driving position is good and the seats offer decent side bolstering (for the category). 
What else should you know? The dashboard is more understated than it was and a management system with a display screen has replaced the confusing buttons that were there before. 
Piloting the Pilot 
On the road, you'll appreciate the vehicle's soundproofing and the fact that the V6 engine packs more punch than in the past. We found acceleration to be responsive and linear thanks to the nine-speed automatic gearbox on our test vehicle. Shifting was also smooth. Like all transmissions of this kind, the top four speeds are overdrive gears designed to help you save on gas. The push-button gear selector wasn't very intuitive, though.
How does it handle? Precise steering allowed us to hug corners without ever having to correct the vehicle's trajectory. And that's a good thing, since the lane-departure warning system is a little on the sensitive side. Precise steering helps you keep its warnings to a minimum, which in turn keeps driver irritation in check. Even though the Pilot's centre of gravity is high, there's no significant body roll in corners and its handling is excellent.
In short, the Pilot is still as robust and practical as ever, but it's now more powerful, more fun to drive and up to speed on safety. 
Share on Facebook