Cars: They Ain't What They Used To Be!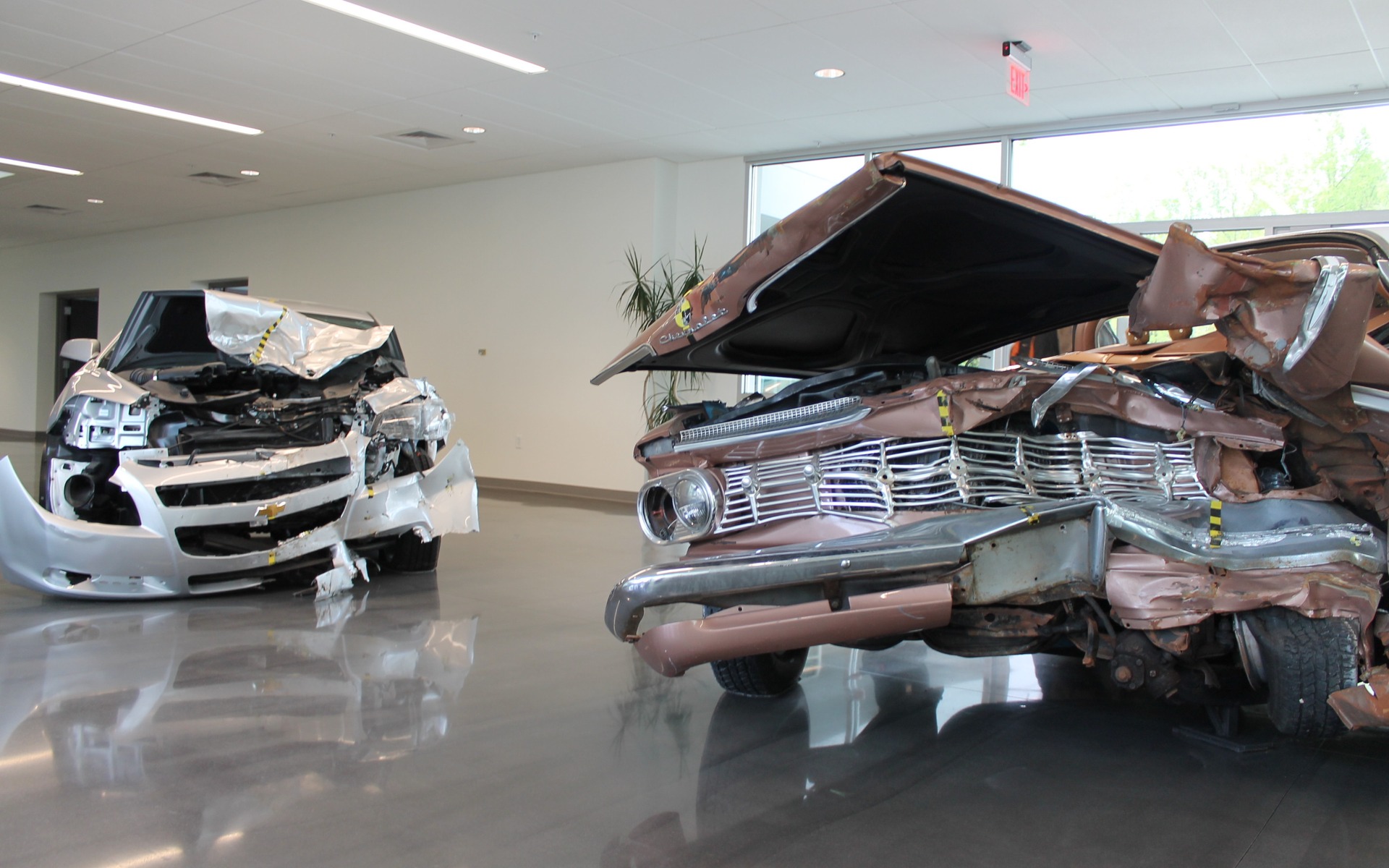 A few years ago, the Insurance Institute for Highway Safety (IIHS) had a very unique way of celebrating their 50th anniversary. 
Known for their collision tests, the IIHS literally pitted the 1959 Chevrolet Bel Air against the 2009 Malibu in a head-to-head confrontation. 
"When I told people what we were going to do, everyone said that they felt sorry for the Malibu," said Raul Arbelaez, vice-president of operations at the IIHS. "When I asked them why, they said that, today, cars aren't what they used to be."
Even though this happened a few years back, the photos of this showdown are still shocking. If the dummy inside the Bel Air were human, it would never have survived the crash. In contrast, the Malibu's dummy would have come away shaken, but not broken.
"In that sense, people were right," said Arbelaez. "We don't make them like we used to. And that's a good thing!"
Continuous improvement 
In the heart of Virginia, near the small town of Ruckersville, there's a sophisticated research centre that tests dozens of brand-new vehicles every year. 
Under the careful watch of engineers who specialize in automotive safety and countless cameras, these fresh-faced vehicles are immediately sentenced to a tragic fate: They are intentionally crashed. 
To properly asses the vehicles, the IIHS subjects each model to five distinct tests: two head-on collisions, one side collision, one roof strength test and one to see how the seats and headrests react to impact. 
When analyzing and assessing vehicles, the American organization uses disarmingly realistic crash-test dummies. They cost $200,000 each and are designed to react just like human bodies in the case of an accident.  
Once the analyses are complete, vehicles are given a rating for each of the test types. The four possible ratings are poor, marginal, acceptable or good.  
After all these years of research, analyses and collision tests, the IIHS has seen its share of results. And we don't have to look to far back in time to find models that simply weren't safe. 
Fortunately, things are very different today. Thanks to public pressure and frequent poor collision-test ratings, automakers have pulled up their socks. Vehicle safety is now constantly being enhanced. 
Next step: accident prevention
Some automakers obviously outperform others when it comes to safety. One of the leaders is Subaru, with five out of seven of their 2015 models making the Top Safety Pick+ category, which is the IIHS's highest distinction. 
To make the cut, vehicles must not only score well in the previously mentioned categories, but they must also come with an electronic anti-collision system. 
Subaru's system is called EyeSight. If the vehicle's camera determines that a collision is imminent, the brakes are automatically applied to prevent the accident—or at least reduce the damage. 
The IIHS recognized the relevance of these systems years ago and now assesses their quality. 
After improving the chassis and adding increasingly advanced air bags, the next step for manufacturers is to fine-tune their anti-collision systems. And a few years down the road, it will be a case of perfecting the vehicle's full autonomy. 
Street cred
The IIHS was created in 1963 by three major automobile insurance companies. 
As a fully independent, non-profit organization, the IIHS has to finance its operations on its own. All of the vehicles tested at the Virginia research centre are purchased from dealerships. As you may have guessed, they always turn down the extended warranty!  
Still today, the IIHS is primarily financed by insurance companies. The organization remains independent and has no authority of any kind. All it does is publish its results, and automakers can then decide if they want to take those results into consideration. 
Thanks to its commitment to quality and determination to remain independent, the IIHS enjoys a great reputation with automobile manufacturers. 
Located in the middle of nowhere, this independent organization has managed to have a major impact on automotive safety by quietly pointing out areas for improvement and publishing its results in a simple, honest way for everyone to see. 
Fatal automobile accidents are on the decline in most countries, despite the fact that there are more and more cars on the road. There's no doubt that the IIHS is at least partially responsible for this improvement in automotive safety.
Share on Facebook