2016 Cadillac ATS-V: A Track-Ready Cadillac? You Bet!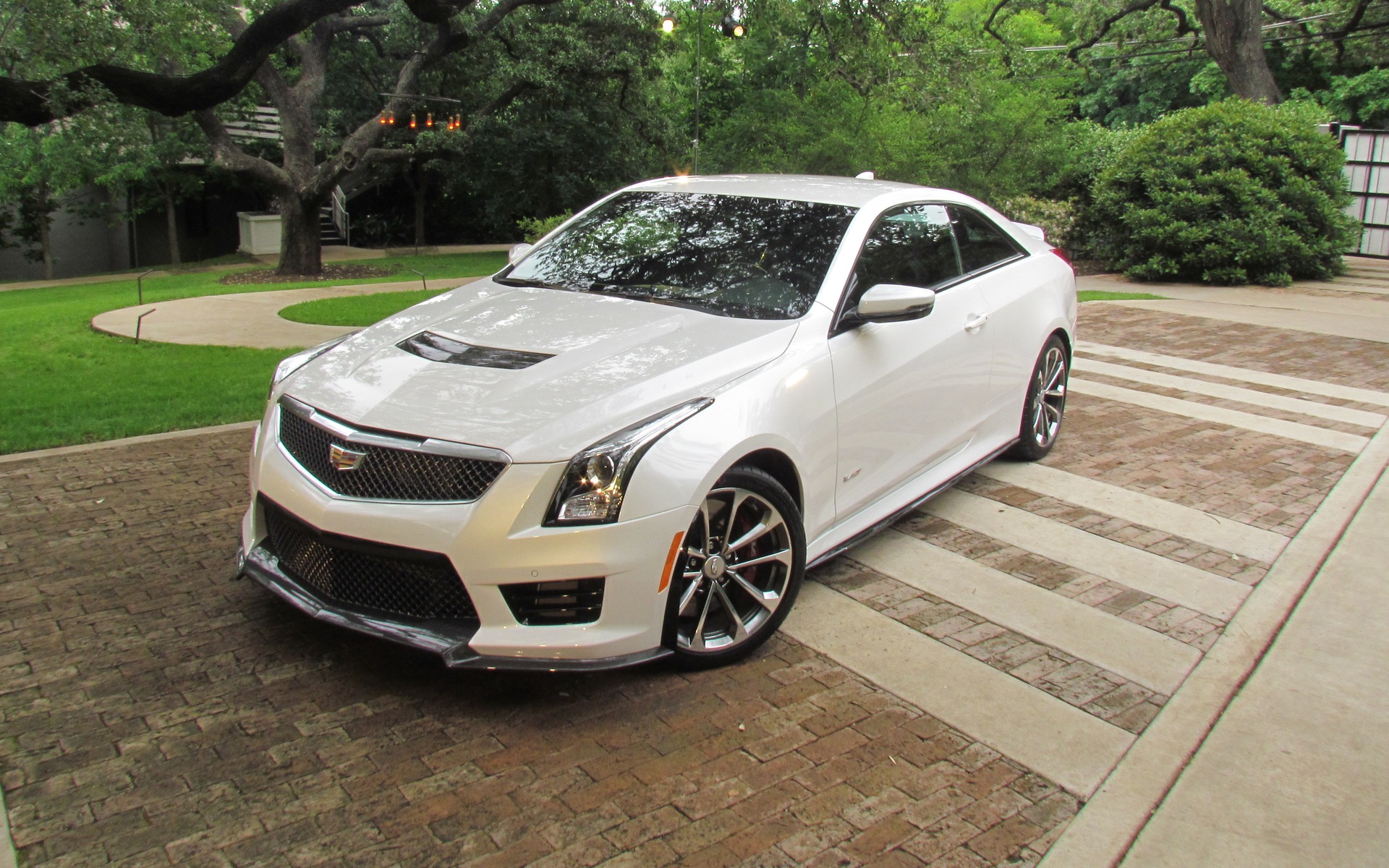 Strong points

Appealing lines
Excellent racetrack performance, great brakes
Priced lower than its European counterparts
Available with manual transmission
Available in Coupe and Sedan versions

Weak points

Poor rear visibility
CUE interface somewhat complex
Paddle shifters somewhat slow
No all-wheel drive option
Full report
Cadillac introduced its first high-performance V-series car in 2004, based on the 2003 CTS sedan. The CTS-V eventually became available in station wagon and coupe versions, but until now, however, the only other Cadillacs to have brandished the elusive "V" badge were the also-elusive XLR-V and STS-V.
That changes this year with the introduction of the 2016 ATS-V, in dealers now starting from $65,750 for the coupe and $68,055 for the sedan. Cadillac has really turned up the performance level on its latest V-car, and in a somewhat uncharacteristic move, has turned the focus heavily towards the racetrack.
To distinguish the V from the standard ATS there are several styling alterations, including a new fascia with two large grille openings. The hood is vented to allow the extra incoming cooling air to escape, and it is made of lightweight carbon fibre. An optional aero package adds a carbon-fibre front splitter and a slightly larger rear spoiler to balance out the added front downforce. 
Serious track muscle
A lot of testing went into developing the ATS-V, and it has been considerably modified to improve its racetrack performance. "The ATS-V is our smallest, lightest, most compact V-series," says Cadillac product director, Hampden Tener, "and we've got a very nimble, razor-sharp, toss-able, fun-to-drive track car."
Normally it would be unfathomable to attach those terms to a showroom-stock Cadillac, but when you scroll down the list of changes it becomes clearer that the ATS-V is serious about scrubbing down its Michelin Pilot Super Sport tires on a racetrack. Cadillac allowed us to sample the ATS-V's racetrack prowess at the fast and flowing Circuit of The Americas racecourse, near Austin, Texas.
The engine is an all-new, 3.6-litre twin-turbocharged V6 that produces 464 horsepower and 445 lb-ft of torque. It is not the LF3 twin-turbo V6 used in the CTS V-Sport, but rather a new LF4 with many internal modifications designed to allow it to spin up quicker. It uses titanium connecting rods, lighter rotors in the turbos, hollow exhaust valves, and it has very short runners from the turbo to the throttle bodies. The engine propels the ATS-V from zero to 60 mph in just 3.9 seconds
There are two available transmissions, a new eight-speed automatic (which will also be used in other models all the way up to the CT6), and a six-speed manual. The automatic features several shift modes, as well as manual paddle-shifting, and the manual transmission features automatic rev-matching for drivers who haven't yet mastered the heel-toe shift method, and it has a no-lift shift feature allowing you to shift gears without letting off the gas. Launch control is available with both transmissions. Power is transfered to the rear wheels via an electronically controlled limited-slip differential that now uses different-diameter half shafts to reduce the wheel hop of the previous-generation CTS-V.
A chassis built to take turns, hard
Chassis torsional stiffness has been increased by up to 30 percent by adding several rigidity-enhancing panels and braces beneath the car, and strut-tower braces under the hood. Suspension bushings are stiffer, and in some cases they have been replaced by ball joints, while the adjustable MagneRide suspension now has 40 percent more maximum damping to handle the higher racetrack loads.
The ATS-V has four driver-selectable drive modes—Tour, Sport, Track, and Snow/Ice—and each one adjusts steering feel and engine response, traction and stability control parameters, as well as suspension settings. Within Track mode you can also select from five sub modes—Wet, Rain, Sport 1, Sport 2, and Race, each mode backing off traction management progressively.
Enhanced racetrack performance, regardless of how effective it is at making a car lap quickly, can be unravelled quickly if the brakes can't slow the car down from speed without bursting into flames. Brembo stepped in with six-piston monobloc calipers and large floating rotors up front, and two-piece four-piston calipers on rigid rotors in the rear, while cooling ducts dissipate heat at speed.
Caddy-lapping at COTA
The ATS-V interior greets you with luxury nonetheless. The optional 16-way Recaro seats mimic racing seats in appearance, and once properly adjusted offer ample lateral support to keep you planted when cornering at high speeds.
Standard on the ATS-V is a GPS-enabled Performance Data Recorder that captures both track data and high-definition on-board video, which you save on an SD card and can later scrutinise either by viewing the video or by analysing the data on a computer using third-party software. It is controlled via the CUE touchscreen, which offers tactile feedback when making on-screen selections.
Selecting either Sport or Track modes enhances the engine sound in the cockpit through the sound system. Although the ATS-V lacks the aurally delightful rumble of a V8, it nonetheless has a rich, sporty-sounding exhaust note, which is backed by a delightful forward rush when you put the gas pedal to the floor. The twin-turbo V6 has a very broad, flat powerband, and continues sinking you into the seat until the rev-limiter kicks in at around 7,000 rpm.
In Track mode the suspension is quite firm, and combines with the taut chassis to allow you to corner precisely and confidently, permitting effortless mid-corner corrections if needed. Turn in feedback is mostly communicative, and there is minimal body roll, but front-end feedback is a tad insulated due to the electric power steering, despite being in its firmest setting while in Track mode.
The ATS-V did exhibit some understeer, but mostly when entering a slightly off-camber third-gear right hander. It was easily managed with the throttle, exemplifying the car's well-balanced nature. 
I spent more time on the track in the manual-shift version, and discovered that the no-lift shift feature is my new favourite thing. It allows you to change gears by pushing on the clutch pedal and working the shifter with your right foot planted solidly on the floor. I also resorted to using the rev-match feature when downshifting, allowing me to focus more on lines and braking markers.
A couple of sessions in the automatic revealed it was no less engaging to drive, though the there was a slight delay when operating the paddle shifters manually. I resorted to automatic mode anyhow, as shifting was quicker and more accurate than what I could muster with my fingertips.
Perhaps most impressive were the ATS-V's brakes. Although we were allowed only three laps at a time, the brakes stopped the car with eyeball-bulging force, exhibiting very little fade, and this despite efficiently slowing the car from 145 to 30 mph for the hairpin turn at the end of the back straight. The only other braking systems I've experienced to date that offered comparable, fade-free braking on a racetrack were composite-rotor systems on Porsches and AMGs, which are options costing upwards of 10 grand.
It even has some street cred
The ATS-V isn't only a track car, and in all likelihood, the majority of its buyers will never drive on a racetrack. On the street, however, they will not be disappointed, because the ATS-V has a quiet, very composed ride, which even in Tour mode, is firm but not choppy or harsh. Unlike the BMW M3 or the AMG C63, which roll on 19-inch wheels, the ATS-V rolls on 18-inch wheels, with their slightly taller sidewalls offering better bump absorption than its European counterparts. 
The final V word
The 2016 ATS-V surprises with its racetrack capability, and not just because it is a Cadillac. It combines luxury, comfort and smart styling, with a level of performance and handling you'd expect in more expensive special-edition European cars (the M3 and C63 each start at $10,000 more, the RS5 almost $20,000 more). 
The last car I drove that was this track-ready right off the showroom floor was the Mercedes-AMG C63 Black Series in 2012, and although it had about 50 more horsepower, much stiffer track-oriented suspension and composite brakes, it also cost more than twice as much as the ATS-V. It was also more of a compromise on the street (rear seats were optional, for example), with a harsh ride and loud cabin. The ATS-V is a much more accommodating car on the street, easily capable of handling everyday driving duties in comfort.
You can literally drive the ATS-V from the showroom floor to the racetrack, and spend a day dicing with other track-day enthusiasts without spending an extra penny. And who would have expected that from a Cadillac?
Share on Facebook