2015 Chevrolet Trax: They Kept Their Word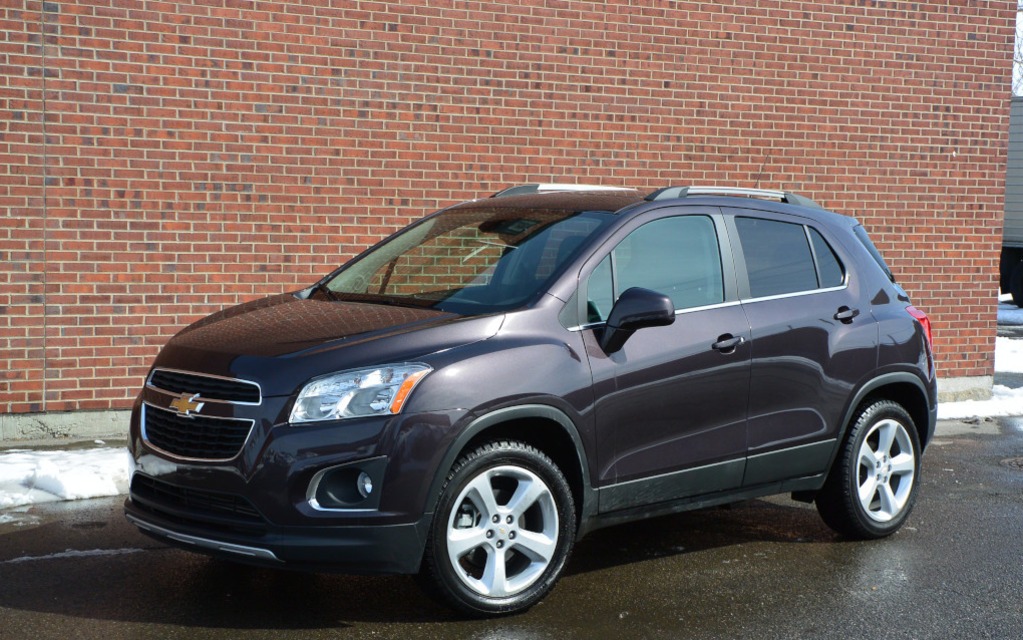 Strong points

Elegant silhouette
Spacious
Decent handling
Meticulous finish
Smooth all-wheel drive

Weak points

Barely adequate power
High price with options
Touch screen functions by touch only
Bounces on bumps
Full report
When the Chevrolet division launched this compact SUV a little more than two years ago, there was no shortage of naysayers. Back then, it wasn't sold in the United States and being a Canadian exclusive isn't always an accurate gauge of success. The American manufacturer was, in some respects, blazing a new trail by offering a model that was practically the only one in its class at the time. Two years later, however, the Trax is now sold in the U.S. (where it is enjoying a certain amount of success) and it continues to be available in Canada, where everyone seems to love it. Unlike what went on a few years ago, this model seems to have been well planned and its execution is above average. What's more, when I tested it in Ottawa in December 2012, my first impressions were positive.
That was the very beginning. This past February, while our part of the world was in the grip of a Siberian cold, I had the chance to take the Trax for another test drive to see if it remained competitive in a category that now includes several models. In recent months, Mazda has unveiled the CX-3, while Honda is preparing to market the HR-V, a compact version of the very popular CR-V. Jeep has joined the party with the Renegade, as has Fiat with the 500X. You can also add the Mitsubishi RVR and MINI Countryman to the list, although the latter is much more expensive and more sophisticated from a technical standpoint. Oh, and let's not forget the Buick equivalent of the Chevrolet Trax, the Encore.
Let's see how things went with this second encounter with the Trax.
An all-terrain Sonic
This model's mechanical design can be described as an all-terrain version of the Sonic, with which it shares its platform. However, the wheelbase is now 30 mm longer while the overall length has been increased by 241 mm. Of course, the compact SUV is also wider and taller to make it roomier. Note that the stylists did a great job with its silhouette: raised fenders, an imposing air intake under the grille and the plunging roofline give it kind of a sporty look. It earned many compliments during our test drive. The black paint job, however, wasn't ideal for showing off its silhouette.
The mechanical design is relatively simple: front-wheel drive equipped with a 1.4-litre four-cylinder transverse engine. Paired factory standard with a six-speed manual gearbox or an optional six-speed automatic, it produces 138 horsepower thanks to a turbocharger and direct injection. As you'd expect from vehicles in this class, all-wheel drive is optional. It's an on-demand system that transmits power to the rear wheels when the front end wheels start to slip. It's not overly sophisticated, but it worked without a hitch during our test drive and turned out to be just as efficient as that of most of its competitors.
In order to reduce costs as much as possible, the Trax is equipped with a rear torsion bar suspension. It may not be the pinnacle of sophistication either, but its geometry is good and it manages impacts well, so there are no complaints about its efficiency. On the other hand, the relatively short wheelbase is particularly noticeable when going over bumps. Basically, there's nothing too spectacular when it comes to the drivetrain and platform, but it's well balanced and well designed. It's a long way from some previous attempts from Chevrolet that tried to set themselves apart with often bold – but ultimately disappointing – technical solutions.
Still got it
On countless occasions, General Motors has come under fire for its cheap plastic-covered and poorly assembled passenger compartments. Since the reorganization at the number one American automaker, progress has been made in this regard. It's easy, though, to criticize the Trax's hard plastics and their uninviting texture. It almost seems like GM has returned to its old ways. Upon closer inspection, although it's true that it's still completely grey, the plastic is good quality and the assembly is impeccable. What's more, the dashboard design is attractive and innovative. The elegant main gauge is inspired by that of a motorcycle and it's easy to read. Our test vehicle was equipped with a display screen integrating the MyLink system that helps control the infotainment system. It's easy enough to use but note that all the settings are adjusted using the touchscreen, including the volume. Personally, I didn't find it user-friendly.
The front seats are surprisingly comfortable and the lateral support is good, at least for this category. The back seats are roomy for a vehicle of this size and the legroom is amazing. Furthermore, there are multiple storage spaces in addition to two glove boxes. The Trax's trunk space is also good and it can transport enough baggage for four people without any problems. 
On the road, the Trax demonstrates balanced handling and comfort, and is an urban SUV that's up to the task. Its all-wheel drive isn't necessarily great, but can hold its own. Slightly less assisted steering would have been nice, but since most of the driving will be in town, we can live with it. As for the engine, twenty more horsepower would give it a little more punch, but it's adequate. Then again, considering its engine capacity and direct injection, its fuel consumption might be a bit high. On the other hand, it's worth noting that this test drive took place in Arctic temperature conditions.
Basically, for once, GM has managed to innovate without screwing it up. The Trax isn't reinventing anything, but is a serious rival for other members of this category. Two years after its launch, the Trax has still got it.
Share on Facebook