2016 smart fortwo: A Nice Little Thing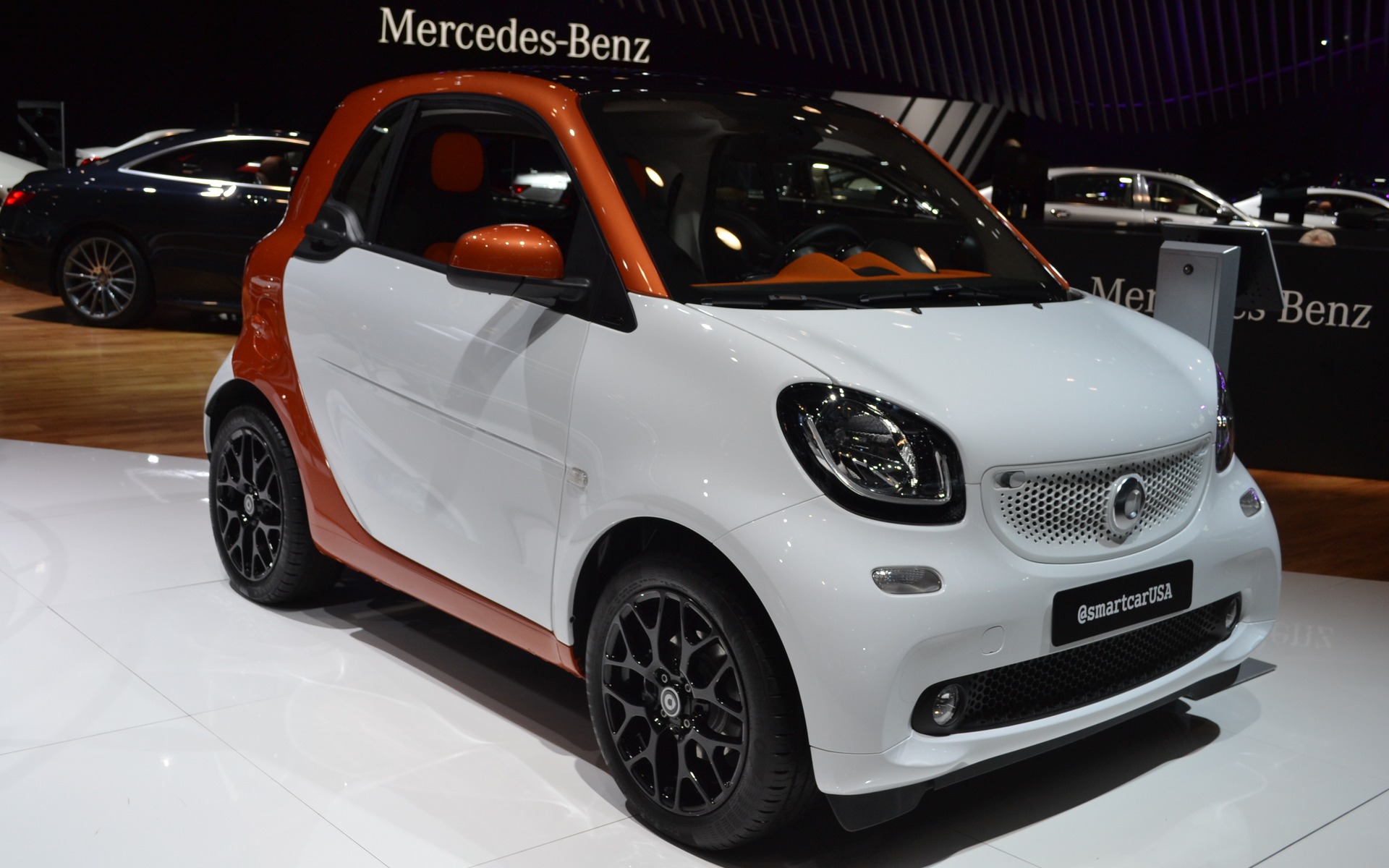 The new smart generation that launched last fall in Europe made its North American debut at the 2015 New York Auto Show—and it's taking direct aim at city slickers. The message from Dr. Annette Winkler, Head of smart, couldn't be clearer, "This is the ultimate city car." With its short overhangs, minimal length and high steering angle, the smart has what it takes to manoeuvre easily, make sharp U-turns in narrow streets and park with ease. In fact, the smart has different tire sizes front and rear; narrower front tires combined with a high outside wheel turn angle contribute to the small turning circle.
Small but very colourful
It's all in the details: the wheels are positioned further outwards, the track is 100 mm wider, the grille is slightly larger and features a perforated honeycomb pattern. The radiator trim is available in a variety of colors to match the tridion, including black, cool silver and white. 
The color contrast between the body and tridion cell panels is still a characteristic feature of the smart brand. Around 40 combinations of options between body panels and tridion cell are available. There are new colors, including moon white (matte), lava orange (metallic) and hazel brown (metallic), which can be applied to contrast with new colors for the tridion cell, such as cool silver (metallic) or lava orange (metallic/Edition #1 only).
The interior design
The dashboard itself consists of two sections: a large, concave inner section incorporating the functional elements and a bold outer section that can optionally be covered with fabric. The infotainment center with radio/navigation appears to hover in front of the dashboard. The three-spoke multifunction steering wheel can be used to control the radio or navigation unit positioned in the center of the dashboard. Smart wants to reflect the values of a young, urban, active and networked generation. 
Safety features and comfort
Smart has maintained the safety concept embodied by the preceding version. The interior is protected from harm by a shell called the tridion cell. The new smart vehicles performed well in frontal collisions with the S- and C-Class, according to the company's representative.
The engineers have changed the De Dion rear axle for greater comfort. New components include twin-tube shock absorbers, separate barrel-shaped helical springs, and a MacPherson suspension with a triple-path head bearing for the front axle. Each wheel is controlled by a wishbone under the wheel center.
An advanced standard-fit assistance system called Crosswind Assist is able to defuse dangerous situations caused by strong gusts of wind while overtaking trucks by carrying out specific braking intervention when the vehicle threatens to drift off track. 
Yes for no more head-nodding 
A new turbocharged all-aluminium three-cylinder engine will be standard on the new smart fortwo, which goes on sale in September of 2015.  The 898-cc engine gives maximum torque of 100 lb.-ft. at 2,500 rpm and is rated at 89 hp.
A five-speed manual transmission and the twinamic six-speed dual clutch transmission will be available. The new dual-clutch will prevent head-nodding, which is a very good improvement over the previous smart.
The new lines
The entry-level version includes plenty of equipment, such as LED daytime driving lights, cruise control, central locking with radio remote control, a multifunction steering wheel, Bluetooth (hands free/audio streaming), an exterior temperature indicator, an instrument cluster with an 8.9 cm color display and a trip computer plus power windows.
The three lines which serve to upgrade the entry-level version are called "passion," "prime" and "proxy." Their features include a leather multifunction steering wheel, power and heated mirrors, height-adjustable driver seat, armrest and retractable cargo cover.
Unfortunately the smart forfour will not be sold in Canada. However the smart fortwo is definitely a stylish car made for a very specific clientele who want to stand out from the crowd. 
The key dimensions of the two new smart models:
Length (in.): 106.1
Width (in.): 65.47
Height (in.): 61.22
Wheelbase (in.): 73.74
Turning circle (curb-to-curb) (in.): 273.62
Turning circle (wall-to-wall) (in.): 287.40
Interior length (accelerator pedal to rear end) (in): 78.85
Body space index (ratio of length to interior length) (%): 75
The new smart model at a glance:
Number of cylinders/arrangement: 3/R
Engine capacity: (cc) 898
Rated output: (hp) 89
at rpm: 6200
Rated torque: (lb.-ft.) 100
at rpm: 2500
Fuel economy: tbd
Acceleration 0-60 mph (s): tbd
Maximum speed: (mph) 96
Figures for vehicles with a manual transmission, but a double-clutch auto transmission will also be offered in the U.S.
Share on Facebook