2016 Kia Sorento: One Model To Straddle Two Categories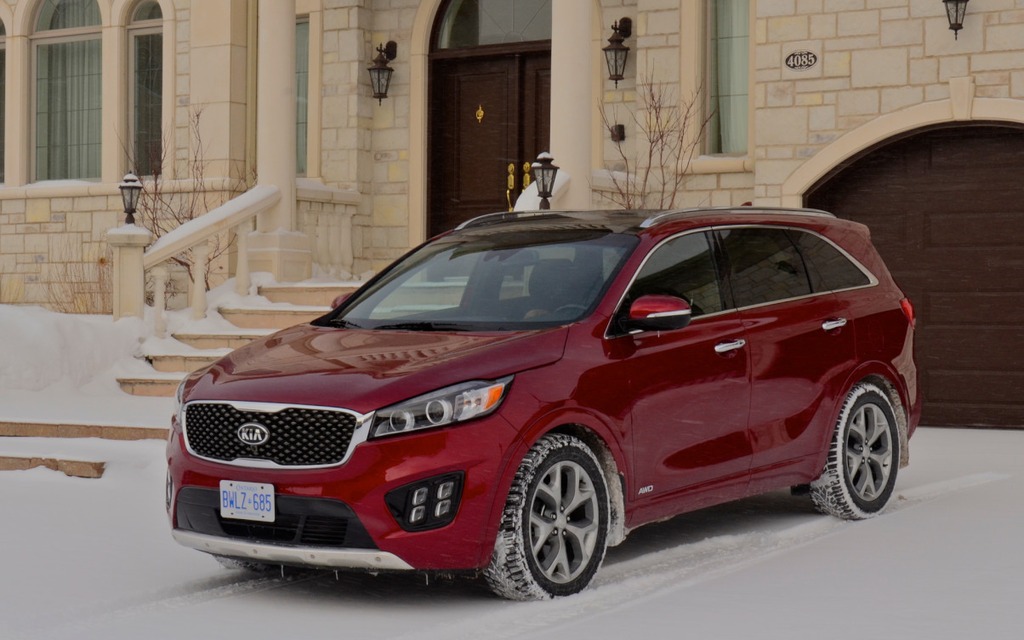 Like many Kia models, the Sorento comes in several different configurations, each of which can be equipped with plenty of options to top off the reasonably good standard equipment. There's also a significant range in price, considering that the most affordable Sorento, the LX, sells for $27,795. That's $2,503 less than the next most affordable SUV in the category, the Nissan Murano.
All other intermediate SUVs cost more than $30,000. According to Kia, its main competitors in this category are the Nissan Murano, Toyota Highlander, Hyundai Santa Fe XL and Ford Edge. There are many other models in the category, but the ones listed here are the Sorento's direct rivals. A fully equipped Sorento SX+ costs $46,695. It includes a plethora of safety and comfort systems, and is powered by a V6 with all-wheel drive. This trim compares very well to its previously mentioned competitors. That said, the EX (mid-point trim) is the most competitive in terms of equipment and options. Selling for $10,000 less than the SX+, it's equipped with a 2.0-litre four-cylinder turbo and all-wheel drive.
One SUV, two targets
According to Kia's marketing team, the new Sorento isn't just targeting other intermediates. Even though its dimensions haven't changed, they believe this SUV will appeal to buyers looking for a compact SUV. There's no magic trick to make it smaller, buyers will instead be attracted by the compact price of the base trim—plus the fact that the Sorento offers more space for roughly the same price as a compact model.
Essentially, Kia is betting that some people will prefer the Sorento's added space over additional equipment they might otherwise tack on to a compact SUV for the same price. After all, the Sorento's equipment level is pretty good anyway. The Kia Sorento intends to challenge the Ford Escape, Hyundai Santa Fe Sport, Nissan Rogue and Toyota RAV4. Some readers may add the Honda CR-V, Mazda CX-5, Chevrolet Equinox and others, but the names mentioned here are the ones we got from Kia.
The belief is that compact SUV buyers are attracted by lower purchase cost, lower fuel consumption, good value for money and all-wheel drive. The new Sorento hits all these targets, according to its manufacturer. However, keep in mind that there's the Sportage compact SUV in the same family. To this, the marketing reps said that once buyers have crossed all the competitor's models off their lists, they will ultimately have to choose between the smaller Sportage or the more spacious Sorento.
In fact, many manufacturers have a similar point of view. Kia's just being much more open about it. And I'm certainly not going to question the marketing policies of a manufacturer that has made spectacular progress on the world's markets over the past five years.
Share on Facebook