2015 Volkswagen
Golf R

: GT, Not GTI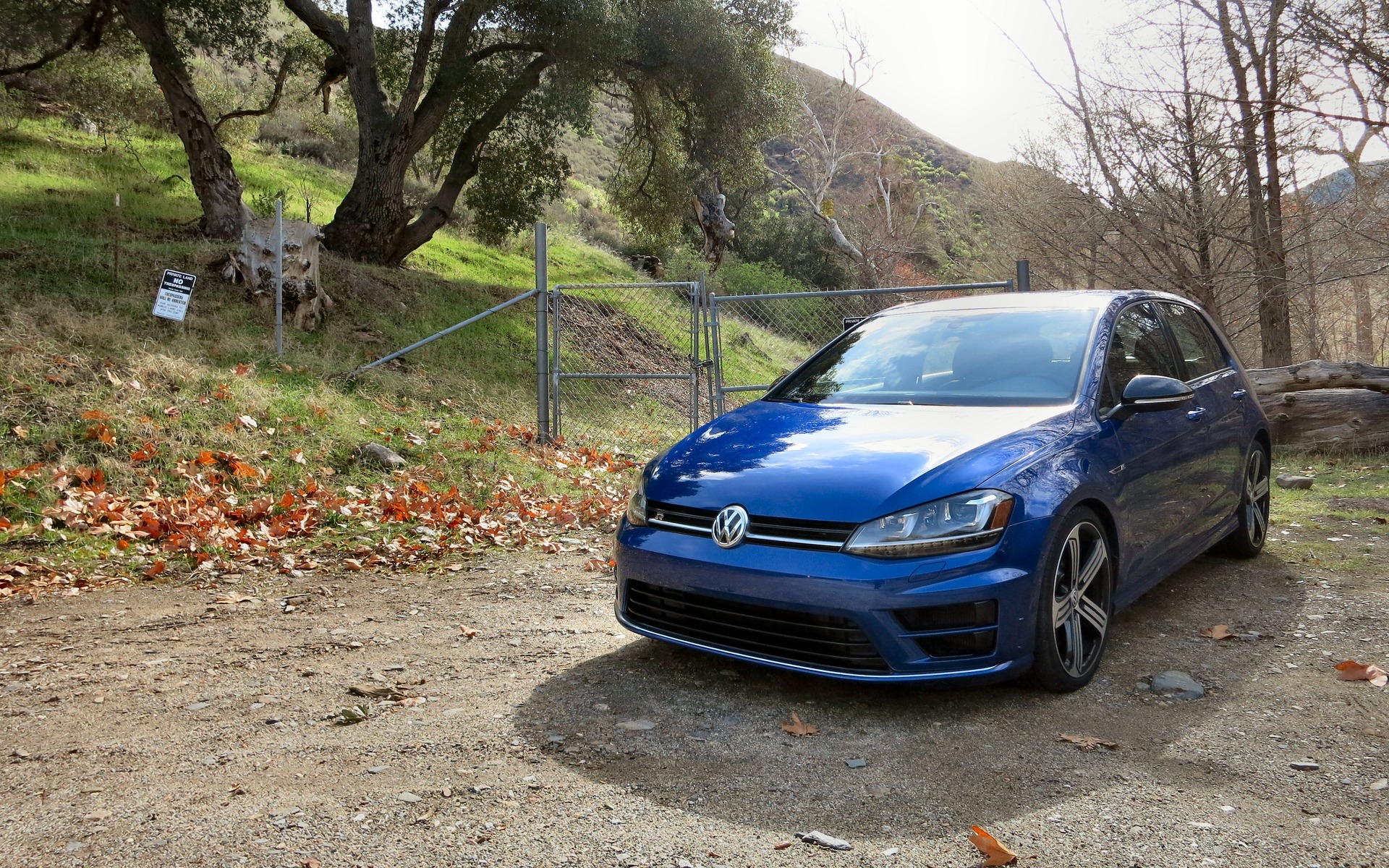 Strong points

Practical four-door hatchback body style
Powerful turbocharged engine
Standard all-wheel drive
Very quick off the line with launch control
Comfortable ride
Impressive handling

Weak points

Expensive
No launch control for manual models
Interior very similar to GTI
DSG hesitation at lower speeds
Full report
The 2015 Volkswagen Golf R isn't just the most powerful version of the popular compact hatchback to be loosed on Canadian streets, but it's also the most refined.  Depending on your point of view, this is either a good or a bad thing: gone is the rawness of Golf R's past, but in its place is the stability and comfort provided by the new MQB platform that is set to underpin so many upcoming products.
Longer, larger inside, and even a tiny bit lighter than the Golf R that preceded it, the 2015 edition of Volkswagen's compact performance flagship points to the upscale direction that the brand is taking its entire model range.  After sampling this hottest of German hatches on the challenging roads of San Julian, California, it's hard not to feel as though the Golf R is more of a GT car sized-down than merely a still-faster version of the GTI.
An Audi S3 By Any Other Name
One of the side effects of Volkswagen's relentless platform-sharing initiative is the chance to sample almost identical vehicles wrapped in different sheet metal.  Such is the case with the 2015 Volkswagen Golf R, which boasts mechanicals lifted directly from the Audi S3 sedan under its hatchback get-up.  To wit: a 292 horsepower, 2.0-litre turbocharged four-cylinder engine (also capable of generation 280 lb-ft of torque) is standard with the car, as is an all-wheel drive system and a DSG dual-clutch automated manual transmission.  A traditional manual gearbox will be made available later this summer once 2016 models roll into dealerships, an option that differentiates the VW from its Audi cousin.
Everyone's A Winner
If you're like me and consider the Audi S3 to be one of the best new vehicles to have been released during the 2014 calendar year, then I have no doubt you'll be equally taken with the 2015 Volkswagen Golf R's ample charm.  For starters, the 2.0-litre turbocharged four-cylinder engine is more than just a re-flashed GTI mill in disguise, as VW has installed a more robust turbo and made a significant effort to enhance the motor's breathing.  The end result is a fat powerband that makes the car leap off of the line when launch control is activated (DSG transmissions only), letting it crest 100 km/h in a mere five seconds.
Volkswagen's dual-clutch technology is certainly capable of rapid gear shifts that put human drivers to shame, but for those of us who are willing to forgo launch control the vehicle's six-speed manual transmission is much more rewarding to drive.  VW lined up a few European-market Golf R models with a traditional box to sample, and I have to say it was much easier to get into the groove working the car's traditional clutch when playing through the S-bends.  It's significantly harder not to bog the vehicle off of the line when driving the manual but everything else is wonderful, and I recommend putting a deposit down on the non-DSG car.
Neutral Handling
Volkswagen had developed somewhat of a reputation for building front-heavy R models in past iterations of the hot rod Golf, but I'm happy to say that the latest iteration suffers from no such handicap.  Neutrality was the name of the game behind the wheel of the 2015 VW Golf R, as its all-wheel drive system engaged the rear axles when necessary but never ploughed the hatchback through the corners in the same manner as less-adept implementations of four-wheel traction.
It would be a stretch to describe the car's electric power steering as communicative, but I found the Golf R to be the automotive equivalent of a point-and-shoot camera, able to embellish my driving skills with its own natural aptitude (and computerized, brake-based limited-slip front differential).  An adaptive suspension system is also offered for 2015, as is a 'Race' mode that gives you more leeway with stability and traction control (which can also be turned off completely in a stunning reversal of the standard VW-driver trust relationship.)
More Gear, More Money
From the outside, you'll most likely have to be a fanboy to identify the 2015 Volkswagen Golf R alongside the equally-sporty GTI, for though it boasts a somewhat more aggressive body kit and revised front and rear fascias (including quad exhaust tips), there's little flair to betray the car's rally-inspired roots.  Inside it's a similar story, with leather sport seats and R badging the only real clues that you're driving something special.
It's the Golf R's window sticker that signals the most glaring difference between the all-wheel drive model and its lesser GTI sibling.  If you had been hoping to snag Audi goods at a VW price, be warned: although no official MSRP has been released, it seems a safe bet that the Golf R will top the previous generation's $40k ask, which places it closer to luxury territory than you might think.  While the Golf R comes standard with a number of features that would check in as additional cost options for the GTI (especially in higher trims), there's still a substantial price gap between the two models - one that may send you into Ford and Subaru showrooms in search of similarly-powerful compact alternatives.
Even still, despite its lofty price tag Canadian Volkswagen fans have a reason to rejoice with the 2015 Golf R.  Its all-wheel drive grip seems custom-tailored to our horrific winter weather, and its small, yet practical dimensions, improved fuel efficiency, and smooth, commuter-friendly character give it considerable daily driver appeal.  It's the best Golf R to date, and by default it also happens to be the best version of the Golf ever built.  Even if you never plan to hit up your local race track, I'm certain you'll enjoy your time behind the wheel of this Volkswagen as much as I did when it arrives this summer as a 2016 model.
Share on Facebook