2015 Cadillac ATS Coupe: The Anti-U-Boat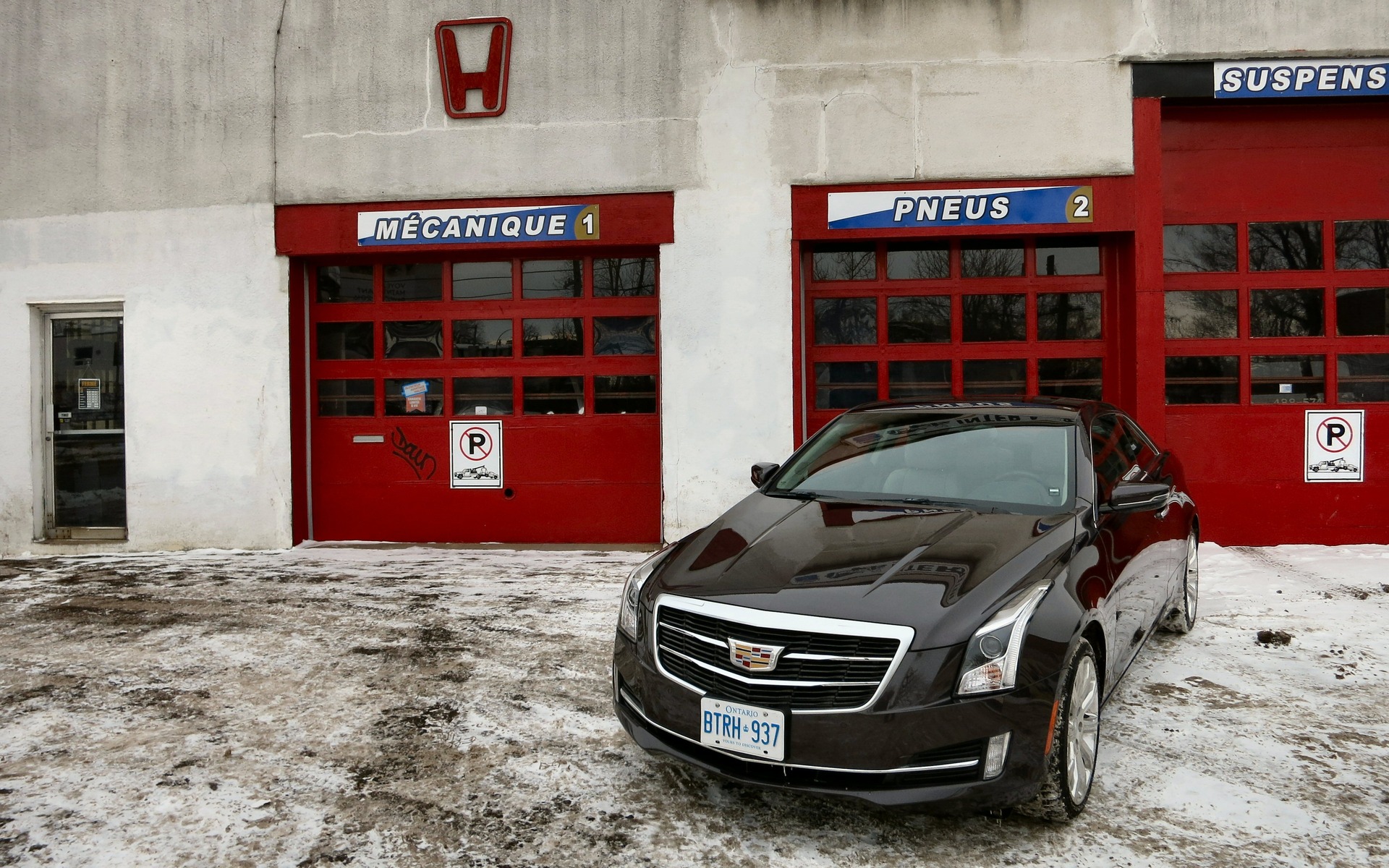 Strong points

Classy styling
Strong acceleration from V6
Available magnetic ride control
Option of all-wheel drive
Classy interior
Affordably priced compared to German rivals
Manual transmission offered with turbocharged, rear-wheel drive models

Weak points

Rear seat is small and difficult to access
Doesn't have the 'wow' factor of the CTS Coupe design it essentially replaces.
Manual transmission can only be had with four-cylinder turbo model
CUE can be frustrating to use
Full report
Cadillac's coupes keep getting smaller. After the demise of the Eldorado (or ESC) in 2002 and the recent retirement of its not-quite-as-large replacement, the Cadillac CTS Coupe, we have been given the all-new 2015 Cadillac ATS Coupe as the latest, and only, bearer of two-door style in the luxury brand's line-up. It's a strategy that makes sense: moving the CTS up-market put it outside the entry-level luxury coupe realm, and dynamically the lithe ATS platform is a far better building block for creating a sporty alternative to established rivals like the Audi S5 and BMW 4 Series.
After spending over 2,000 kilometres at the wheel of the 2015 Cadillac ATS Coupe while travelling between Montreal, Quebec, and Detroit, Michigan for the North American International Auto Show, I came to the realization that even though the ATS might be smaller than its predecessors, it carries on their grand touring tradition in a remarkably faithful manner. It's hard to engineer a car that drives both big and small, depending on the situation, but the Cadillac ATS is the perfect example of a luxury coupe that can easily adapt to whatever the road might throw its way.
Understated Drama
Visually, the 2015 Cadillac ATS Coupe is instantly recognizable as the sibling to the four-door ATS sedan, for while many aspects of its sheet metal are new – including the fenders, trunk, and even the front bumper and grille – in profile the car lacks the same aggressive Art and Science design that we came to accept from the wilder CTS Coupe. This is particularly true in the car's rear fenders and greenhouse, which together feel almost subdued, trading coupe sexiness for a subtle class that is appealing, but not extroverted.
The long doors of the ATS Coupe offer easy access to a cabin that is replete with price-appropriate wood trim, leather upholstery (above the base model), and soft plastics. Easy access as long as your destination is one of the two well-appointed front positions, that is – it's a tight squeeze to fold one's self into the smaller and narrower rear buckets of the Cadillac, and one that's made more difficult by the awkward, trip-me-please positioning of the car's seatbelts. You won't want to spend much time back there anyway, what with a lower roofline and less legroom than the already-small sedan's rear quarters crowding out most adults. Ultimately, I'm not too concerned with the practicalities of the car's 2+2 seating layout, as most luxury coupes are intended to ferry a pair of passengers at most in day-to-day operation.
CUE Me Once
Cadillac's CUE interface, a combination touchscreen/touch panel/LCD display system that lords over most important vehicle functions inside the 2015 Cadillac ATS Coupe, is really a tale of two distinct user experiences. I loved how CUE was integrated into the gauge cluster immediately in front of the driver, allowing me to customize three separate LCD screens underneath the speedometer to display a useful array of vehicle information, navigation instructions, and entertainment options by way of steering wheel-mounted buttons. I was less enamoured with the touchscreen at the top of the car's centre stack, however, as it was frequently unresponsive to my commands. I also found the car's navigation system to be difficult to use in map mode, as it displayed a tiny grey car amidst a sea of equally-grey buildings when driving through an urban environment. The 4G LTE wireless Internet option that came with my tester performed flawlessly, however, linking to my mobile phone without any hassles.
V6 All The Way
There are but a pair of engines available to slot under the hood of the 2015 Cadillac ATS Coupe, as the sedan's uninspiring 2.5 litre four-cylinder unit has been banished from the two-door's order sheet. Base models feature a 2.0 litre, turbocharged four-cylinder good for 272 horsepower and 295 lb-ft of torque, while higher trim levels make a 321 horsepower, 3.6 litre V6 available as an option.
My tester was equipped with the robust six-cylinder mill (which also generates 275 lb-ft of twist), and after having sampled both editions of the car back-to-back I have to say that I prefer the smoother power delivery of the V6 to the more rambunctious, but less refined turbo. Of course, selecting the 3.6 litre means opting for a six-speed automatic transmission rather than the 2.0 litre's six-speed manual, but given that my vehicle featured all-wheel drive a manual box wasn't in the cards regardless of which engine was providing the motivation.
Grand Touring, Not Gran Turismo
The ATS Coupe is a respectably quick automobile, and although it does feel a smidge slower off of the line as compared to the BMW 435i, it's certainly got enough power to satisfy the vast majority of luxury shoppers. Handling was also crisp and assured in the Cadillac, and the car's all-wheel drive system provided me with unwavering security during several winter storms that assaulted me on my journey. When it came time to throw caution to the wind, with the vehicle set to Sport mode and traction control turned off I could still avail myself of the coupe's near-neutral weight balance and toss it around slick roads while steering with the throttle.
Even still, despite the Cadillac ATS Coupe's willingness to dance, I found myself appreciating it more for its inexhaustible kilometre-eating tendencies than any exuberant handling that might lay locked in its chassis. Intriguing, but not a true driver's car, this is the duality of personality that I alluded to in my opening remarks, as the Cadillac reminded me of several large two-door cruisers I had the pleasure of knowing in my youth without embodying any of their more negative, weight-induced attributes. The ATS Coupe is a phenomenally comfortable car that kept me alert and well-rested during a succession of 10-hour days behind the wheel, yet it's also one that's willing to cut loose from time to time on secondary roads if you ever tire of the main thoroughfare and want to experience life outside of the toll way.
Luxury First, Performance Second, Everybody Wins
Kudos to Cadillac for building a sleek-looking coupe that doesn't immediately assume every luxury shopper is seeking a pretend sports car as a daily driver. You can certainly up the fun quotient in the 2015 Cadillac ATS Coupe by installing options such as magnetic ride control and retaining the shift-it-yourself gearbox found with the car's blustery turbo, but were it my money I'd emphasize the long legs and effortless calm of its confident V6 instead. The ATS Coupe delivers a premium experience at a substantial discount compared to BMW and Audi, and properly configured the gap between the Cadillac and its rivals remains almost purely financial – and in your favour.
Share on Facebook