The 2015 Subaru Legacy: Better Than Ever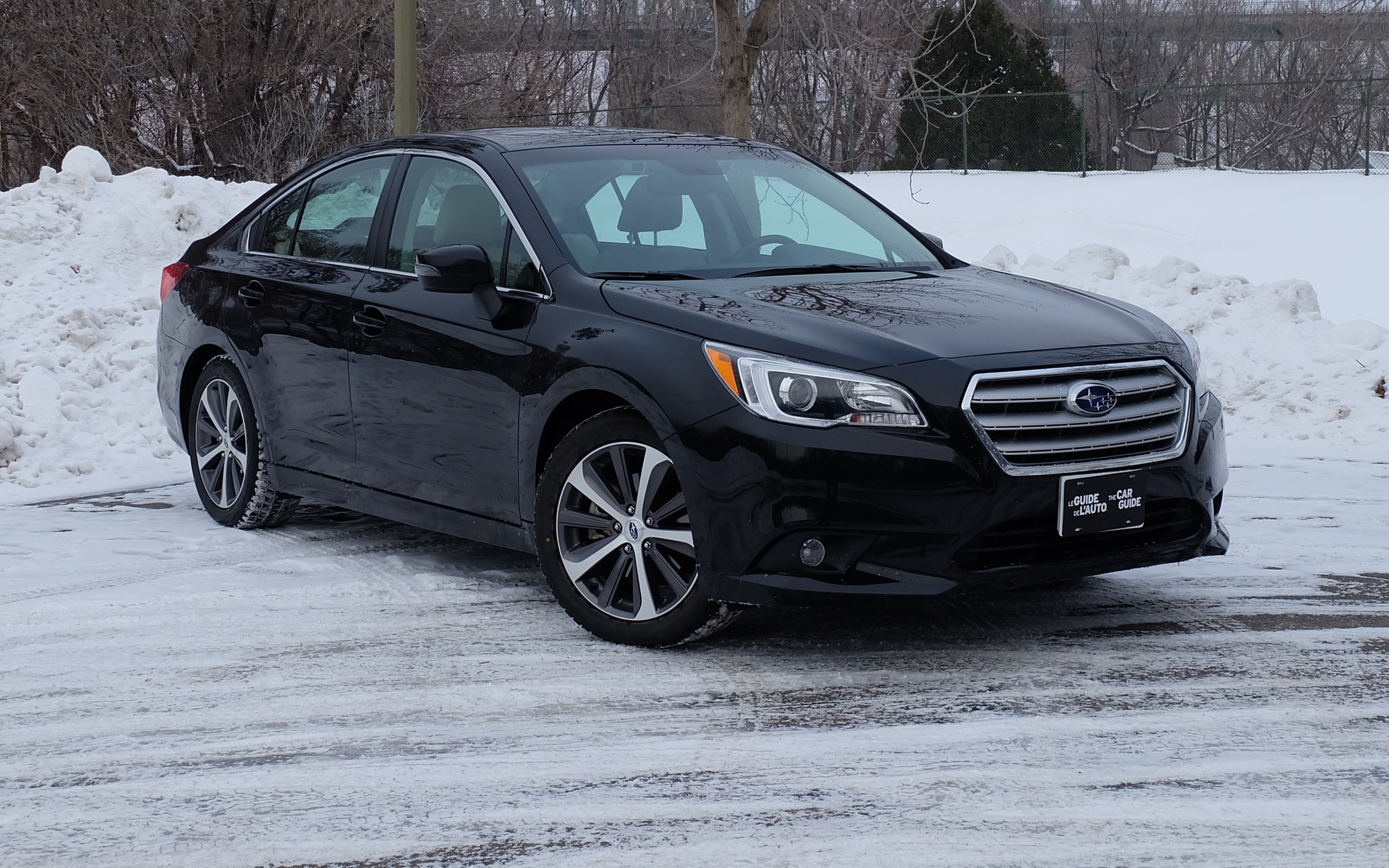 Strong points

New shape
Classy interior
Adequate 6-cylinder power
Spacious and comfortable
Efficient CVT transmission

Weak points

Interior lacks character
Some versions on the expensive side
Limited trunk depth
Full report
As soon as we hear the name Subaru, we think of all-wheel drive, and snow-covered forest trails that are perfect for rallying. However, Subaru also makes a mid-size sedan that offers a more comfortable – indeed, luxurious – way of enjoying their signature AWD. Subaru's Legacy has been in production since 1989, when it was actually a compact, and has grown over the years while maintaining its luxurious, dignified image and leaving the sporting aspirations to its little sister, the Impreza WRX.
Revised and improved 
For 2015, the Subaru Legacy has been completely redesigned. Its big wraparound headlights have been replaced by more conventional headlight clusters surrounded by LED running lights, the grille has a squared-off shape and the general outline of the sedan is sleeker than that of its predecessor. The 2015 Legacy has picked up some styling elements from the Legacy Concept, but they have been adapted for the production vehicle. The doors open to a very conservative interior: Straight lines are everywhere, whereas many manufacturers are generous with their fluid curves. Subaru preferred to dress up their interior with silvery stripes and a few wood trim pieces. The straight-line theme does give prominence to the two gauges in the instrument panel which, apart from the steering wheel, the control knobs and the cupholders, are the only round things in sight. They have blue backlighting and are easy to read, because they refrain from presenting a plethora of unneeded information.
The vehicle's vital signs are displayed on a 5-inch screen right in front of the driver. Everything else – radio, GPS navigation and Bluetooth – is controlled from a 7-inch screen. Subaru has even found a way to improve touch-screen design: instead of having to look to see what you are pressing, the controls for returning to the main menu, changing a CD track or accessing the GPS are slightly depressed. This lets you keep your eyes on the road.
My tester came with the Technology group, which includes EyeSight: this set of Subaru-developed features includes pre-collision braking and brake assist, pre-collision throttle management, adaptive cruise control and lane departure and sway warning. In broad terms, EyeSight guards against momentary losses of concentration, keeping a constant eye on what is going on ahead of the driver.
Lastly, while the driver's seat could use a little more padding, the rear bench is very comfortable. It is also heated, if you choose the Limited group.
Reassuringly mainstream 
Driving a Subaru is a way of preserving your peace of mind: you know that regardless of road conditions, you will make it to your destination. This goes double for the 2015 Legacy: not only will AWD get you out of potentially dangerous situations (or an unshovelled driveway), but you will travel in impressive silence. The higher trim levels enjoy Stablex speed-sensitive shock absorbers. Because my tester was a Legacy 3.6R Limited, it had the 3.6 litre 6-cylinder boxer engine under the hood. There have been reports that it is nearing the end of its career, which is a pity, because it provides adequate power with 256 bhp and 247 foot-pounds of torque, it does not vibrate, no matter how hard it is pushed, and the noise level is perfectly suited to a sedan of this type: quiet in ordinary driving, but more assertive if you put your foot down.
Like all Subarus with automatic transmissions (base versions of the Legacy are still available with a manual transmission and a 2.5 litre flat four), my sedan had a continuously variable transmission. The CVT no longer requires an introduction, but the Subaru's is worthy of mention: in normal driving, it keeps the engine below 2,000 rpm, but if more power is required, preset "steps" or ratios can be selected using the column-mounted paddles. The CVT gave me gas consumption of about 12.3 litres per 100 kilometres. That may seem high, but remember that this is a mid-size sedan with a 3.6 litre engine and all-wheel drive.
As to the way it drives, I have only one complaint to make about this Subaru: unlike other examples of the brand, its AWD systen sends most of the power to the front wheels; if adhesion is lost, torque is vectored immediately on demand to the rear wheels. This decision was made because most purchasers have more experience with front-wheel drive, but for someone who has driven an Impreza or an earlier Legacy, the tendency to understeer if you accelerate to avoid an obstacle could catch you out.
A good offering in a competitive market 
Almost every manufacturer has a contender in the family sedan market. While the Toyota Camry and the Honda Accord are dominant, almost everyone wants to grab a slice of the cake. Subaru has never really tried to offer the cheapest car in the segment, preferring to sell something safe and comfortable to its devoted customers. With the 2015 Legacy, it has a vehicle that is better suited than any of its predecessors to attracting customers looking for a sedan with AWD, a not inconsiderable advantage in our part of the world.
Share on Facebook