2015 Audi S3: Hero, Revisited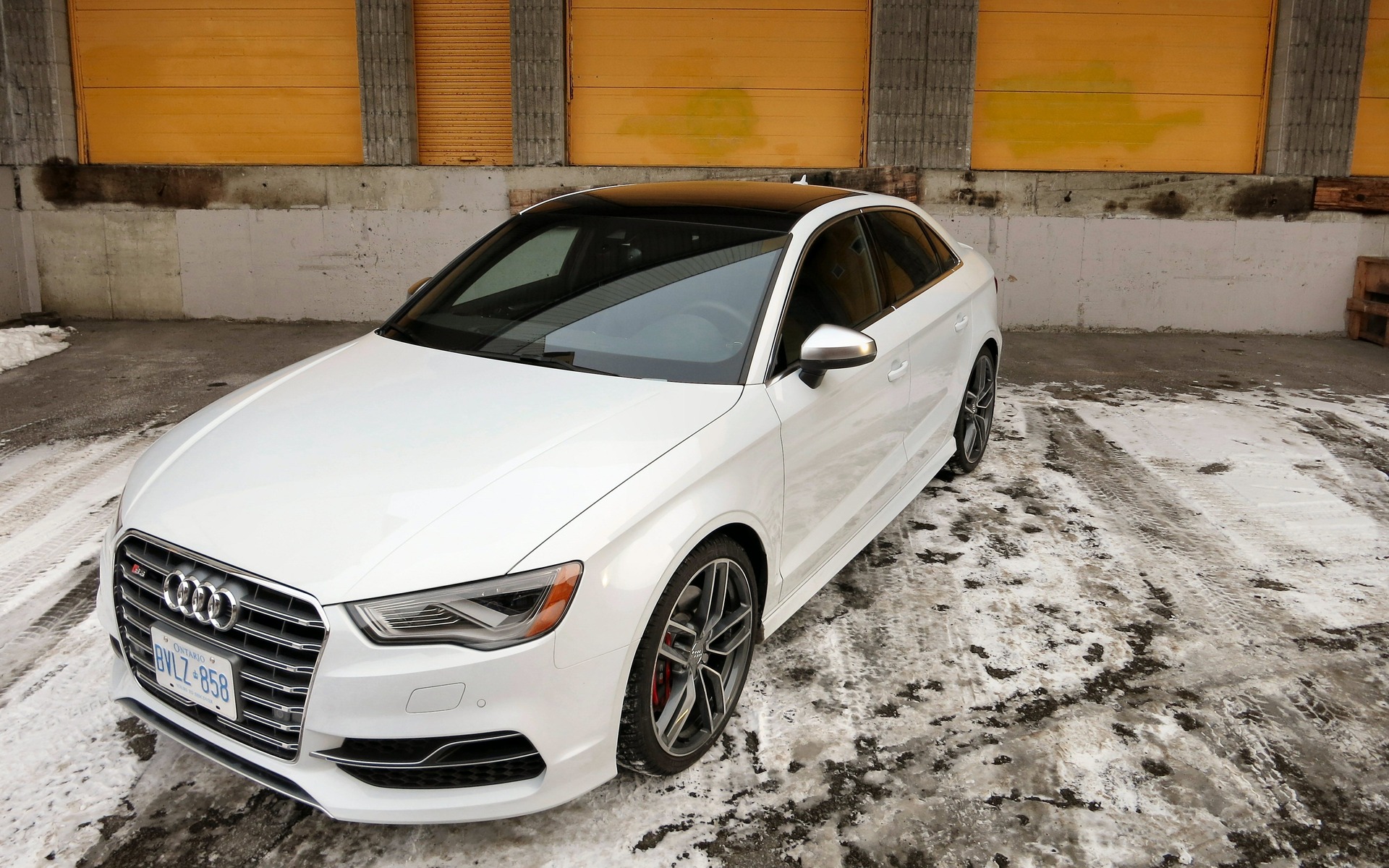 Strong points

Standard all-wheel drive
Gobs of turbo power
Classy styling
Fun to drive
Relatively affordable
Standard launch control
Comfortable ride

Weak points

No manual transmission option
S-tronic gearbox hesitates off of the line
Rear seat is a bit tight
Steering feel is numbed by all-wheel drive / electric assist
Full report
If there was one car that did more to change enthusiasts' impressions about Audi in North America, it was the B5-generation S4.  At the beginning of the previous decade this four-door sedan (also available as a wagon) provided entry-level luxury shoppers with a genuinely sporty alternative to the BMW M3, made possible by the pairing of turbocharged power with all-wheel drive grip and exceptional suspension tuning.
Flash-forward to the present day and you'll find that the Audi S4 is still very much a fixture of the German brand's line-up, but one that's grown bigger and more expensive than its predecessor.  Enter the 2015 Audi S3, an all-new compact model that updates the original S4's form factor with a full slate of modern high performance technology – only this time, there's no analog to be found in the BMW showroom.
Four Seasons Sensation
My previous experience behind the wheel of the 2015 Audi S3 came nearly a year ago on the sun-kissed shores of the Mediterranean, piloting the sedan through the streets of Monte Carlo and along the twisting mountain roads that encircle the principality of Monaco.  How appropriate, then, that my second S3 dose occur during the first major snowstorm of the year here in Montreal, a circumstance that provided me with ample opportunity to put the car's standard all-wheel drive system through an entirely different kind of torture test.
It's rare to encounter an automobile that is so uniquely suited to both the bone-dry asphalt of coastal France and the slush-drenched city streets of Quebec.  With 292 horsepower and 280 lb-ft of torque on tap from its 2.0-litre turbocharged four-cylinder engine, the Audi S3 was perhaps even more fun to drive when dealing with ominous snowdrifts and ice-slicked surface streets than it was hustling high-altitude switchbacks.
Featuring the ability to turn electronic traction and stability control completely off (and with a safety-first Sport setting in between), the S3's quattro system's rear bias presented endless opportunities for tail-out antics, all within a safe and controlled envelop defined by the car's ability to assert all-wheel grip in an instant.  Neither sleet nor hail nor absent ploughman could halt the Audi's forward progress, which was heralded by a satisfying 'whump' from its quad tailpipes on every up-shift.
No-Manual Blues
Those gear changes were accomplished by way of steering wheel-mounted paddle shifters, because every version of the 2015 Audi S3 sold in Canada comes exclusively with the brand's S-tronic dual-clutch automated manual transmission.  The lack of a traditional manual is disappointing, (especially considering I had a taste of the forbidden gearbox last year in Europe and found it to be quite engaging), but aside from moments of frustrating hesitation off of the line the DCT performed admirably during our time together.
If showy drifts aren't your thing, then you'll be happy to know that the Audi S3 also offers must-have features such as an adjustable magnetic suspension system (offering Normal, Dynamic, and Auto modes) as well as a launch control feature.  The latter goes a long way towards mitigating the S3's reluctance off of the line: I recorded a 0-96 km/h time of 4.7 seconds with it active, which was a full second faster than the result achieved when just stomping the pedal.
Luxury Lite
The 2015 Audi S3's minimalist take on entry-level luxury won't appeal to everyone, but I found it an above par alternative to several of the less-impressive interiors and feature sets offered by similarly-sized rivals.  The car's MMI system is a bit fussy at first with its dial, buttons, and toggles, yet once learned it's easy enough to use when navigating the infotainment system displayed on the LCD panel that slides in and out of the S3's dashboard on start-up and shutdown.  The vehicle's leather sport seats were right-sized and supportive, and while rear seat room suggests shorter, rather than longer trips, there's much more headroom to be enjoyed than is found in the S3's most direct competitor, the Mercedes-Benz CLA45 AMG.
With the car's suspension system set to 'Normal' you'll even benefit from a ride that feels calm and collected in daily driving.  The adaptable magnetic system absorbs potholes and cracks in the pavement without punishing passengers, making the S3 a viable alternative to a dedicated sports car for those who need a one-stop performance solution.
One Of The Best Cars Of 2015
My enthusiasm for the 2015 Audi S3 knows no bounds.  It's the perfect size, features a reasonable curb weight of 1,600 kilos, loves to be tossed around on both the snow and the pavement, and packs a near-300 horsepower punch with the loud pedal to the floor.  Only the slight hesitation of the dual-clutch transmission and the absence of a traditional manual gearbox mar what is otherwise the ideal four-season compact car package.
Throw in the S3's sleek and subtle styling (lowered ride height, available 19-inch rims, aero enhancements front and rear) and you've also got a car that's stylish enough to turn heads without causing pedestrians to question your mid-life crisis quotient.  As I mentioned in my introduction, it's almost as though Audi turned back the clock on the famed S4 - only instead of transporting a carbon copy of the sedan through the mists of time they instead chose to rebuild it not as it was, but as we all remember it.  I think that's all we can ask of our heroes, automotive or otherwise.
Share on Facebook