Mazda Finally Unveils The 2016 CX-3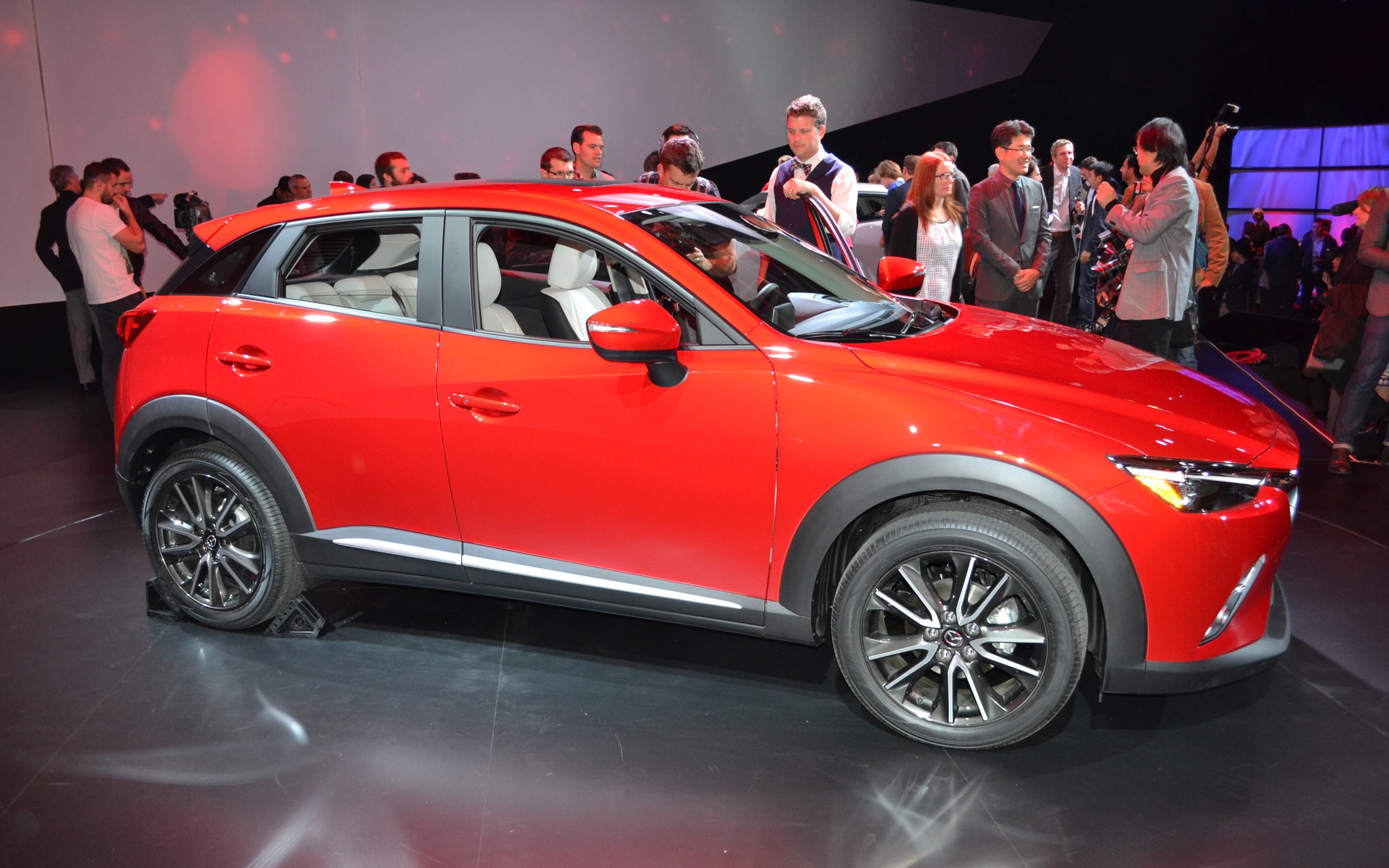 Mazda is taking advantage of the Los Angeles Auto Show to introduce the latest addition to the family, the 2016 CX-3. This ultra-compact SUV sits directly under the CX-5 and will run up against the Chevrolet Trax, Nissan Juke, Jeep Renegade and the all-new Honda HR-V. The CX-3's timing is right because, according to the experts, this is the segment that should grow fastest over the next few years.
At first glance, the CX-3 looks very different from other Mazda models. Even though it also incorporates the Kodo "soul of motion" style philosophy, it's definitely not a mini CX-5, nor is it a Mazda3 on stilts. It's rounder and stockier-looking, thanks in large part to its higher beltline and the 18-inch wheels on the show model. This effect is further emphasized by the big grey accents surrounding the wheel wells, the rear-plunging roofline and the more aggressive front treatment. It is much less eccentric than many of its rivals.
Size-wise, the CX-3 is 280 mm shorter, 400 mm narrower and 155 mm lower than the CX-5. There's room for five passengers, but there's less space for gear compared to its larger siblings.
Available AWD, but just one engine and transmission
Under the hood, there's just one powerplant available for the CX-3, a 2.0L four-cylinder. In the CX-5, it produces 155 horsepower and 150 lbs.-ft. of torque, so we can expect something similar in the CX-3. It comes standard with front-wheel drive but can be equipped with Mazda's new-generation all-wheel drive system with active torque control. There will be no manual transmission this year, with the only one available being the SKYACTIV-DRIVE six-speed automatic. According to Mazda, it should help save on fuel and be as much fun to drive as a manual transmission.
The Mazda CX-3 is the fifth model in the family to incorporate the full suite of SKYACTIV technologies, which aim to keep the vehicle's fuel consumption to a minimum.
On board, the overall presentation is reminiscent of the Mazda3, but it seems less cluttered. We liked the sophisticated, easy-to-read instrumentation that adds a nice kick of sportiness. The attention to detail and quality of the materials are immediately noticeable. The multimedia screen is in the centre of the dashboard, as it is in the Mazda3 and at Mercedes-Benz.
The CX-3 is going to appeal to drivers looking for a vehicle that's as fun to drive as a small sedan and as agile as a taller SUV.
Share on Facebook