Full Inspection: The Massive 2015 Cadillac Escalade ESV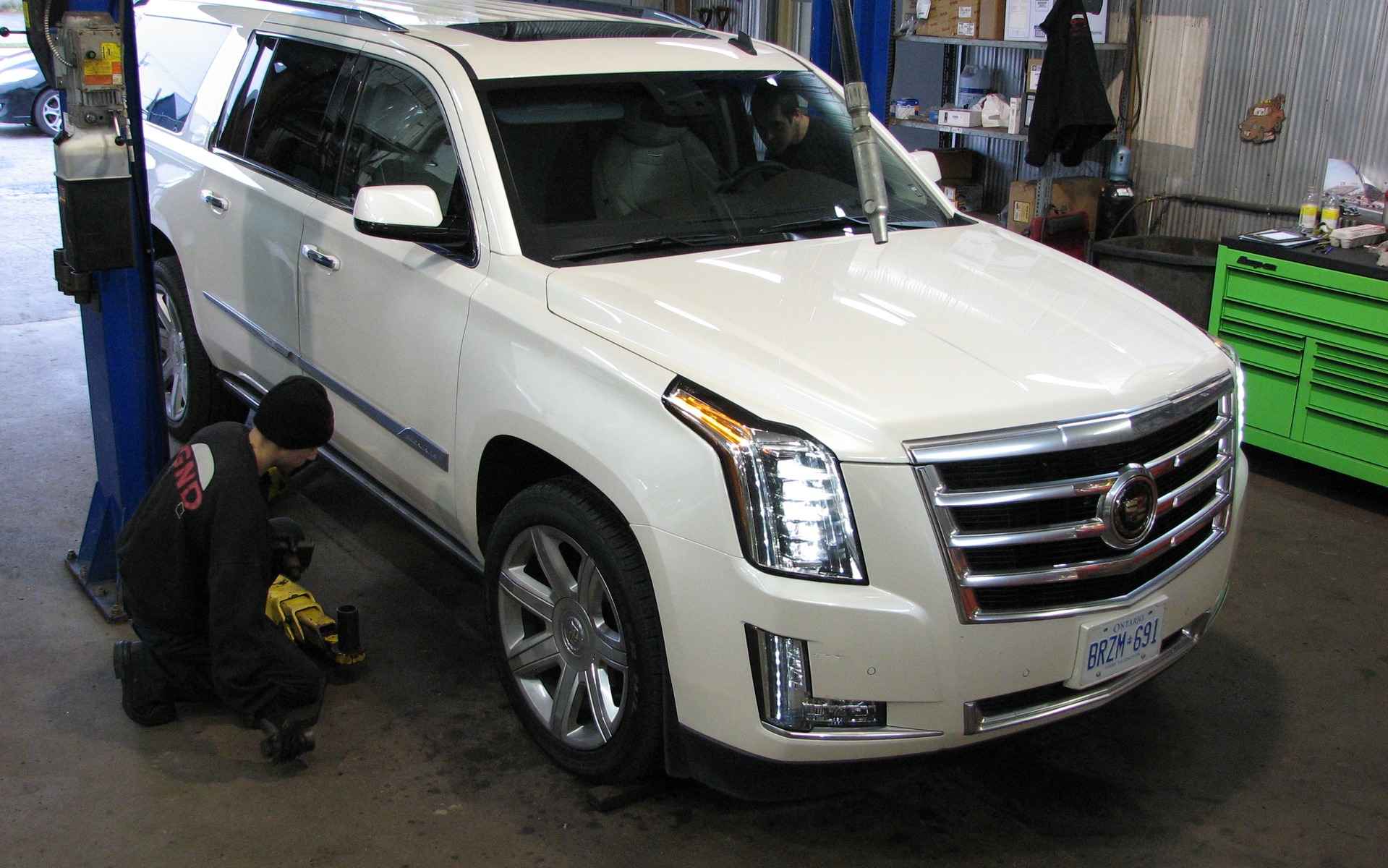 Looking to attract a younger and more dynamic group of buyers, Cadillac is breathing new life into its lineup. The traditional brand has updated the exterior of its vehicles and equipped them with the latest technologies. We recently inspected Cadillac's most recent vehicle, the 2015 Escalade ESV, and the exercise allowed us to see just how serious the American automaker is about refreshing its products. At Nicolas Demers' garage in Saint-Étienne-de-Lauzon, Quebec, we scrutinized the underbelly of the massive vehicle.
Even though it measures 5.7 metres long, this stretched Escalade looks rather svelte and dynamic thanks to a number of components designed to give the impression of lightness. These include 22-inch wheels, oversized headlamps and taillights, generous ground clearance and expansive windows. Combined, these features make the vehicle look long and athletic. You don't really realize how gigantic it is until you get up close to it.
As soon as we rolled into the garage, the mechanics pointed out details that, to us, had seemed benign. The long tail lights, sizeable tires and retractable steps are all very expensive to replace or repair. But we figure that anyone who can afford a $100,000 vehicle can also afford the routine maintenance for it, right?
Under the hood, the Escalade isn't hiding anything too special, other than its gargantuan 6.2-litre gas-powered V8. It's neatly hidden under a plastic cover that emulates the drivetrain perfectly. We noticed that the air filter is actually quite small for such a big engine, but we figure it must be very effective. Due to the height of the hood, shorter people will need a stool to peer inside, change the oil, add windshield wiper fluid, and so forth. This could pose a safety problem if you need to do any of these operations on the side of the road. Several parts come directly from the Chevrolet Tahoe and Suburban, and even the Silverado pickup.
Under the Escalade, no one was surprised to find that the chassis comes from the American automaker's pickup truck. The position of the gas tank, spare tire and exhaust is very similar for both vehicles. The use of solid, well-secured materials is evidence of GM's extensive experience making pickup trucks and SUVs. There isn't much plastic protection under the vehicle, despite the fact that this would have helped diffuse air when travelling at highway speeds (though it might have caused problems in off-road situations). In front, the air dam is very close to the ground and the power running boards may have trouble deploying in winter when ice becomes a factor. The magnetic suspension and steering components are assembled in a way that is both classic and effective.
Check out the photo gallery and inspect it for yourself. Every photo comes with a short description, often including the mechanic's opinion.
Share on Facebook