2015 BMW
4 Series

Gran Coupe: Move Over 3 Series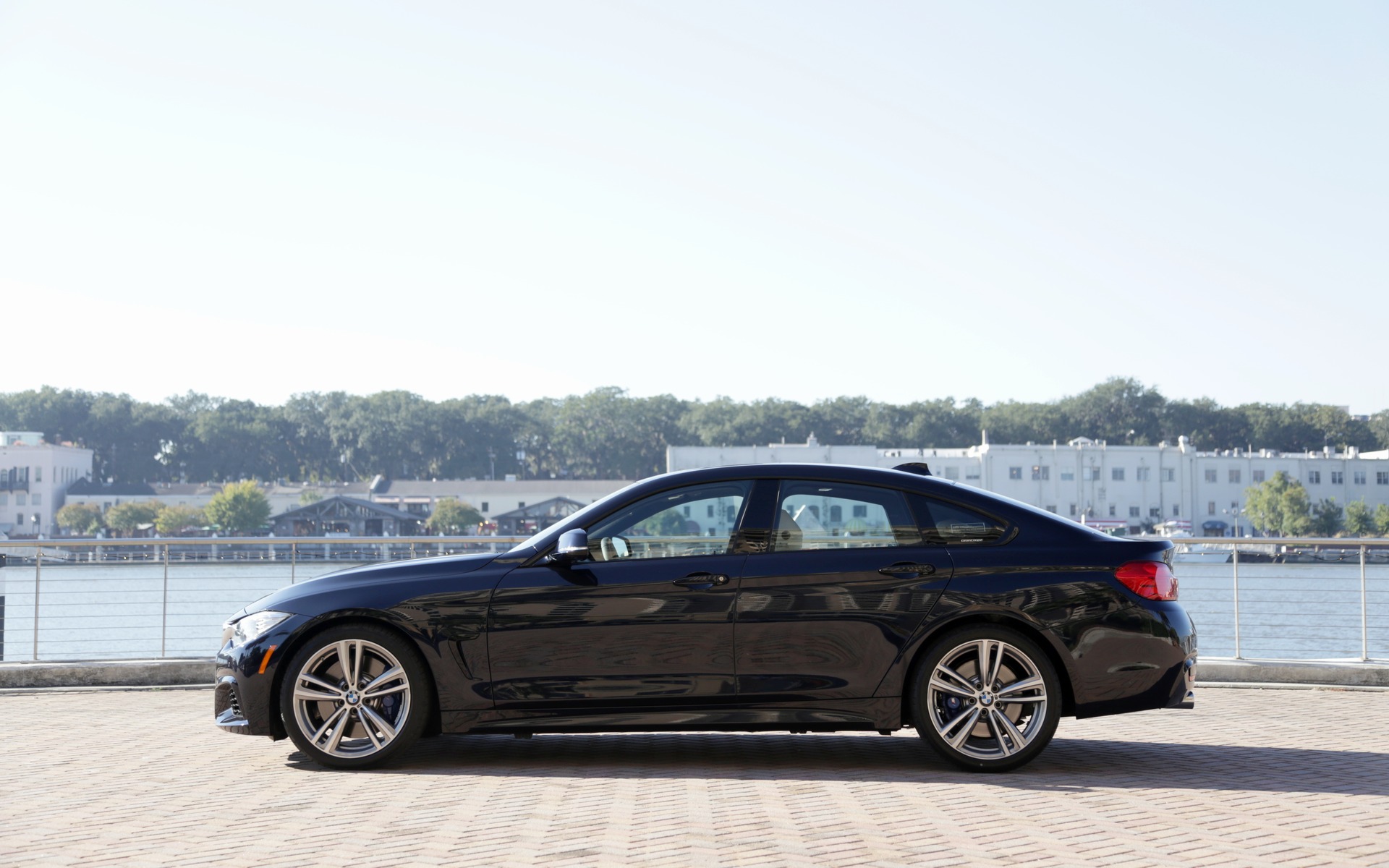 Strong points

More attractive than 3 Series sedan
More interior room than 4 Series coupe
SUV-like cargo space
Smooth and quick driving experience

Weak points

Somewhat more expensive than 3 Series on which it is based
Interior is not as attractive as exterior styling would indicate
Sloping roof intrudes on headroom
Four-cylinder engine is good, but not great due to additional weight of design.
Full report
Having the ability to choose is always a good thing, as long as you don't feel overwhelmed by the number of options being presented to you. The 2015 BMW 4 Series Gran Coupe piles on to a semi-bewildering array of entry-level vehicles available from an automaker that has spread its tendrils into every conceivable niche in an effort to be all things to all luxury car shoppers. Cutting and pasting bits and pieces of the 3 Series sedan, the 4 Series coupe, and at least spiritually, the 6 Series Gran Coupe, this latest sloped-back member of the BMW family looked like it had the potential to be a train-wreck-by-committee.
Only, it isn't. In fact, when measured objectively, the 4 Series Gran Coupe might be the best of the bunch. It's got the looks, the power, the smoothness, and above all the practical nature that combine to create a vehicle that's greater than the sum of its crowd-sourced parts.
Coupe Doesn't Have To Mean Cramped
I'm not a fan of the 'four-door coupe' concept in general, as far too often it has forced function to follow form and dramatically reduced the day-to-day usability of the vehicle in question. The 2015 BMW 4 Series Gran Coupe deftly side-steps this issue by making an important concession to practicality that goes hand-in-hand with the adoption of an arching roofline, and that's the swapping of a traditional trunk lid for a more usable rear hatch.
The result is astonishing: just over 1400 litres of cargo space available with the back row folded forward, which is enough to challenge several small SUVs for bragging rights. The generous hatch makes it easy to load larger items, too, without having to Tetris them into an oddly-shaped trunk. This is a marked contrast to the 'SUV coupes' also produced by BMW that restrict, rather than expand available storage room compared to their standard siblings.
Of course, there's still the intrusion on headroom in the back seat suffered by most coupes, two or four-door, but at least with the Gran Coupe it's mitigated by a 25.4 mm drop in seat height front and rear - a design decision that also helps the 4 Series feel more snug inside without reducing legroom or shoulder room. Average-sized adults will be far happier in the back of the Gran Coupe than they would in the standard BMW 4 Series coupe, but taller individuals will want to call shotgun as soon as possible.
Well-Proportioned Sausage
The 2015 BMW 4 Series Gran Coupe doesn't just leverage its sleek bodywork in order to maximize the number of suitcases you can carry inside of it - it also stands apart as a more attractive option than the 3 Series sedan. Losing much of the premium anonymity that has begun to define its numerical precedent, the 4 Series Gran Coupe's wider track, lower roof height, and short wheelbase help to give the car excellent proportions to match its fastback looks. It's not quite as extroverted as that other famous German hatch, the Audi A7, but the brief rear deck and more graceful profile does define the Gran Coupe as something special as compared to the 3 Series.
The 4 Series Gran Coupe's cabin is a bit of a missed opportunity, however, given that it's lifted lock, stock, and leather-wrapped barrel from its sedan cousin. This means you get the same features and trim as the 3, including the iDrive vehicle interface, respectably soft hides for the seats, and a navigation system, but there's nothing special inside the Gran Coupe to set it apart once the doors have been closed. I understand the decision to borrow from a cost perspective, but it's still a bit of a letdown given the car's elegant sheet metal.
Smooth Sailing
The engine bay of the 2015 BMW 4 Series Gran Coupe sees a pair of familiar faces, as both of the vehicle's drivetrain options have been taken from the 3 Series options list. The Gran Coupe starts out with a 2.0-litre, turbocharged four-cylinder engine good for 240 horses and 255 lb-ft of torque, but given that the four-door coupe is about 100 kilos heavier than the two-door 4 Series, I recommend paying more for the 3.0-litre, turbocharged six-cylinder engine, which has been tuned to deliver 300 horsepower and 300 lb-ft of torque.
When driving the latter with its eight-speed automatic transmission handling the gear shifting duties (the unit is standard with the Gran Coupe), one has the impression that BMW might be fibbing a bit about just how much output its turbo mill is producing. Acceleration is swift and linear and accompanied by a pleasing exhaust note, and there's of course the potential for all-wheel drive grip when ordering either motor. Handling for the 4 Series Gran Coupe isn't exactly sporty but it's a confident and comfortable grand touring car at all speeds, which is what most buyers are looking for in this segment.
Invest The Extra Cash
You're going to have to pay more to get behind the wheel of the 2015 BMW 4 Series Gran Coupe, as compared to a 3 Series sedan or traditional two-door 4 Series coupe, but the rewards for doing so are tangible. The Gran Coupe is perhaps BMW's best-looking model at its price point, and the practicality embodied by its hatchback design is a significant plus. Kudos to BMW for managing to make something different out of such a familiar template, and for going in the opposite direction of the philosophy embodied by its 'four-door coupe' SUVs like the X4 and X6.
Share on Facebook