2015 Kia Sedona: The Minivan That Isn't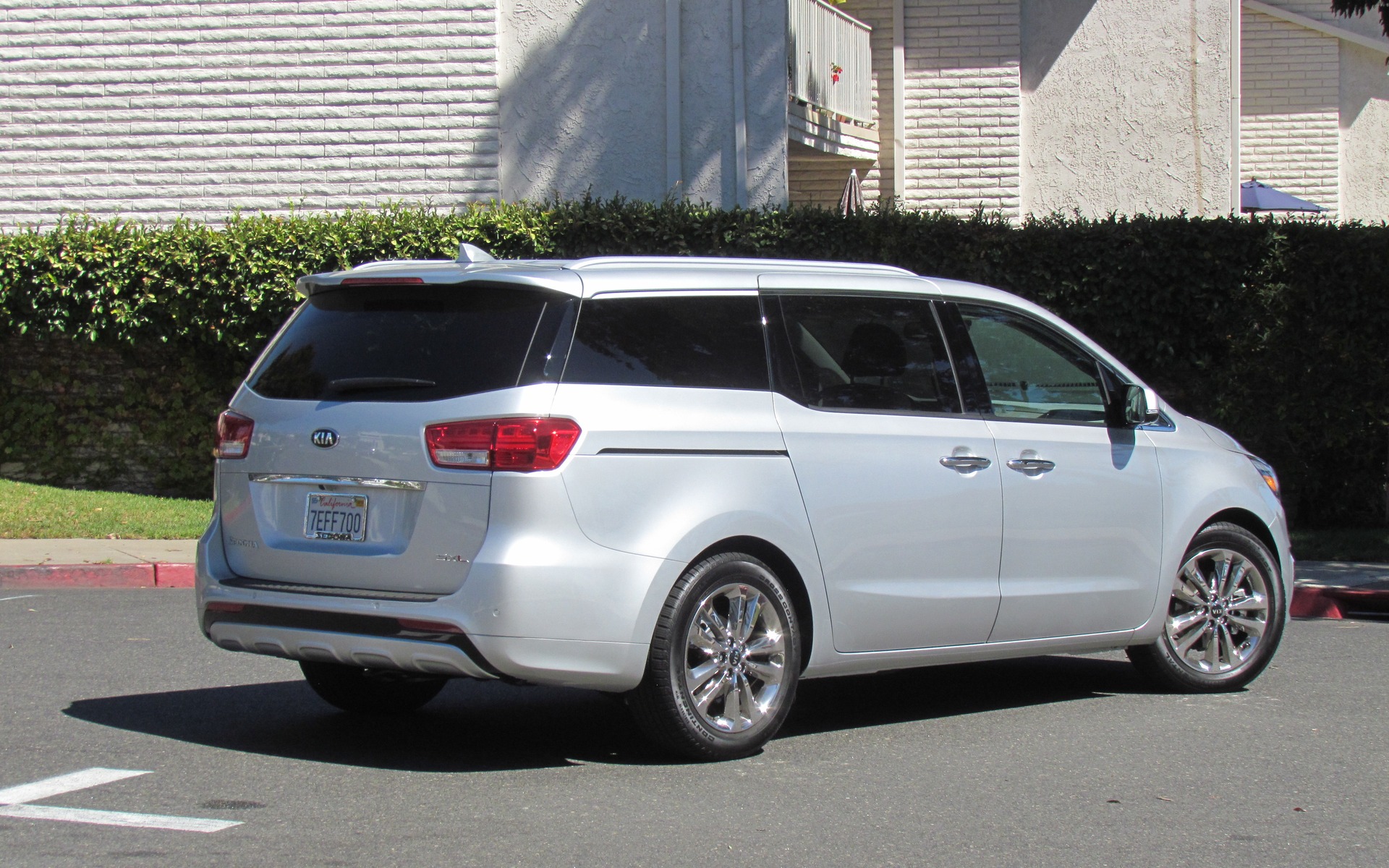 Strong points

Contemporary styling
Spacious, luxurious interior
Very quiet ride
High level of available safety features

Weak points

Reduced cargo space compared to the competition
Electric power steering reserved for up-level models only
No available DVD player to distract the kids
Full report
Minivans are the nerdy siblings of the auto world. Not particularly good looking and often awkward, they are nonetheless smart and dependable, yet no one really wants to be seen with them. Well, Kia has changed that and the 2015 Sedona is one hot nerd.
New look, new appeal
Even Kia acknowledges that there's a stigma surrounding minivans; they represent a maturing driver, one whose priorities have moved from the youthful and exuberant to the abstemious and familial. Late nights in the clubs have become sleepless nights feeding crying babies; picking up your friends for a night on the town has become dropping off the kids at soccer practice. This is why Kia has cleverly avoided using the term minivan in all of its literature, referring instead to the Sedona as a multi-purpose vehicle, or MPV.
Well, this may have been necessary with the previous generation Sedona, but there's no shame in calling the new Sedona a minivan; it's sleek, aerodynamic new lines give it a streamlined, sporty appearance that's unbecoming of a family hauler. The fascia, especially, is aggressively styled and from the front wheels forward, could pass for an SUV nose. It is the handiwork of Kia's chief design officer Peter Schreyer, who once penned cars for Audi.
It is, however, a minivan at heart, with two sliding rear doors, available seating for up to eight occupants, and cloth seats that are reportedly stain resistant. There's also a Smart Power lift gate that opens automatically when the key fob is sensed for more than three seconds, and can be programmed to rise to a specific height to accommodate drivers of different heights.
Seven models to choose from
Pricing starts from $27,495 for the base L model, to $49,995 for the lavishly equipped SXL Plus. The L model comes with a generous amount of standard features, like heated power exterior mirrors, power windows, tilt and telescoping steering wheel, air conditioning, cruise control, and a four-speaker sound system with an auxiliary jack and satellite radio receiver. The three L models are equipped with cost-saving hydraulic power steering, while the SX models feature more efficient electric power steering.
Heated front seats are available from the LX model upwards. My fully loaded SXL Plus came equipped with a heated steering wheel, leather seats, automatic climate control, power tailgate, HID headlights, aviator-style reclining second-row seats, a 110-volt inverter with two household outlets, a multimedia interface with navigation system, and "smart" cruise control that will slow the vehicle down when approaching another vehicle, but it will not stop completely, unlike most other active systems.
One engine, one transmission
Under the hood, a new 3.3-litre, direct-injection V6 replaces the outgoing model's 3.5-litre engine. It claims 276 horsepower and 248 lb.-ft. of torque, an increase of 7 hp and 2 lb.-ft. The new 3.3-litre is the only engine to use direct injection in this category, and its best fuel consumption is 9.5L/100 km highway and 12.9L/100 km city on the SX model (fuel consumption varies depending on equipment), though the new five-cycle testing prevents a direct comparison with the previous generation Sedona.
This is slightly better overall than the Dodge Grand Caravan (9.4/13.7), and the Honda Odyssey (10.6/12.3), and about on par with the Toyota Sienna (9.5/13.0), its three main competitors. The engine drives the front wheels via a six-speed automatic. There are three drive modes available from the SX model upwards, which adjusts transmission and steering settings in Normal, Comfort or Economy modes (there are seven trim levels to choose from: L, LX, LX Plus, SX, SX Plus, SXL, SXL Plus).
Spacious interior
The disguise continues inside, where you'll find a wraparound cockpit with a large centre console. Kia avoided placing the gear selector on the dashboard like its competitors, which lends to the non-sedan-like feel of those minivans. It is instead located at the centre console, where you'd naturally reach for it in a car.
The interior is spacious for all passengers, and only the tallest passengers will find headroom tight in the third row, though there's ample legroom throughout the Sedona. My test vehicle was the top-of-the-line SXL Plus, which comes with chrome 19-inch wheels (17- and 18-inch wheels are also available depending on the trim) and individual reclining captain's chairs in the second row. These seats are adjustable fore and aft, and side to side, and have extendable leg rests and headrests. You will not find more comfortable seats in the executive cabin of an airplane.
The downside of these seats is that they cannot be removed or folded into the floor for added cargo space, but rather they are "slide-n-stow" seats that slide forward and fold up against the front seats. The third row seat does fold into the floor. The maximum cargo volume available is in the base L model, and with all seats folded away you can squeeze 4,022 litres of cargo into it, which is less than any of its competitors, though it achieves this without having to remove any of the seats.
A sedan in minivan clothing
On the road, the Sedona impresses with a serene interior. Road and wind noise are minimal, and about at the level you'd find in expensive German sedans. There's no mistaking the Sedona for a sporty sedan in handling, however, but it does reward with a comfort level found mostly in luxury cars.
This will please drivers who might otherwise experience elevated stress levels from boisterous backseat preteens on the way to school. Unfortunately, for those longer drives there's no available DVD player to distract noisy kids, so you'll have to scour the aftermarket if you want to plug in the latest Disney movie.
The engine is silky smooth and the transmission shifts gears almost imperceptibly. Steering effort is light, and suspension compliance is set on the plush side. Despite this, the ride does not feel sloppy. Acceleration won't get your adrenaline pumping, but it's more than adequate for highway passing, at least with only two occupants aboard.
Standard safety features include dual front and dual side airbags, and curtain airbags go back to the third-row seats. There's also an impact sensing door unlock feature and hill assist. Available driver assists include blind-spot mirrors, rear parking sensors, rear view camera, lane departure warning, front collision warning and a 360-degree camera.
Worth that look
There's no doubt that Kia will rock the minivan world. Okay, admittedly it's a very small world, but the new Sedona brings a fresh take on this family-oriented four wheeler, with an exceptionally smooth ride, a lavishly appointed interior, and great value. Manufacturers' rebates notwithstanding, the Sedona is competitively priced against the competition; it has the lowest starting price, and aside from the Grand Caravan, has the lowest price for its top-of-the-line model.
But great value isn't everything, and if you have some reservations about buying a minivan and are leaning towards an SUV or CUV as a family vehicle, the Sedona might just change your mind. 
Share on Facebook