2015 Kia Soul EV: Kia's Soul Goes Gas-Free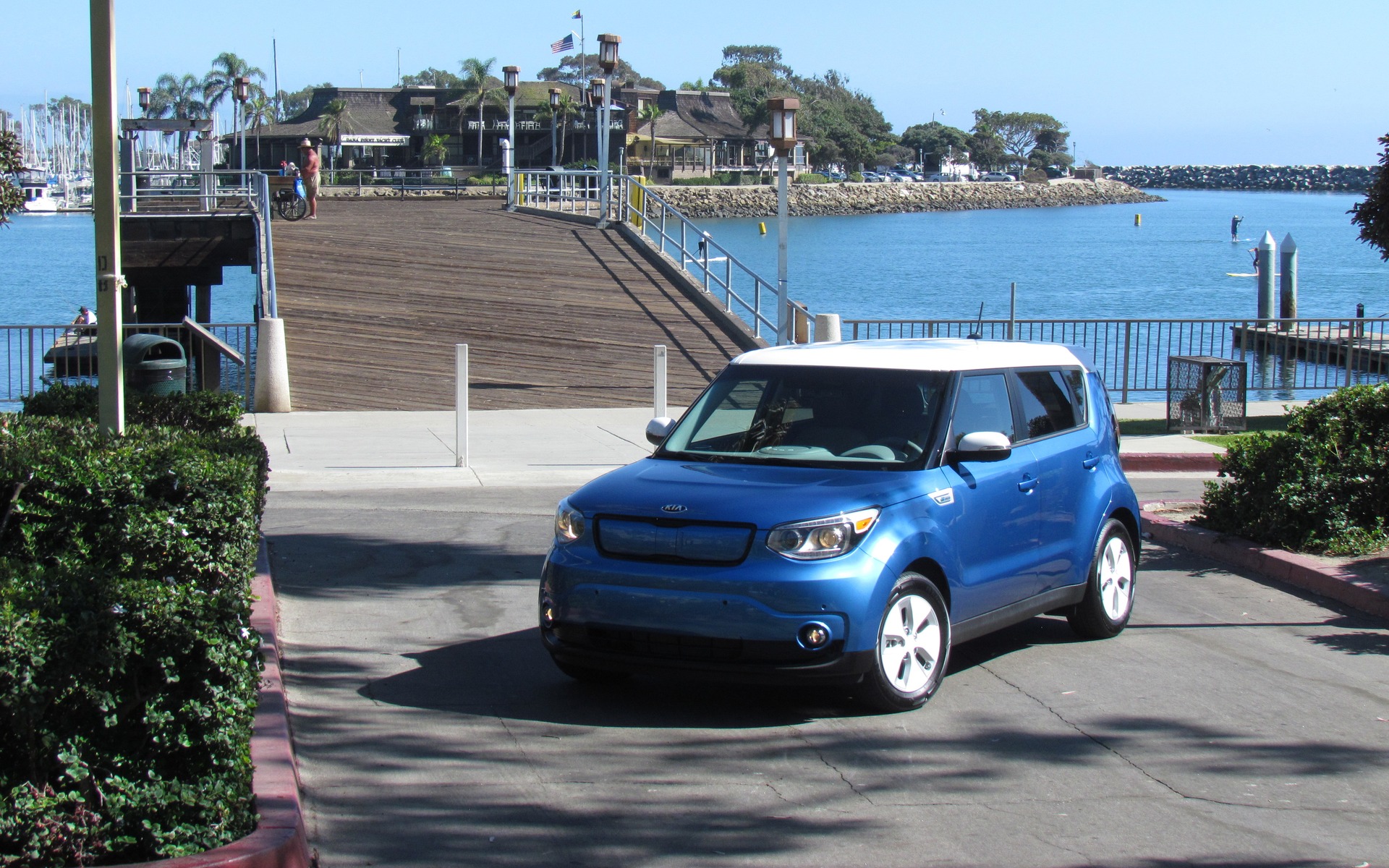 Strong points

Longest range aside from the Tesla Model S
Attractive styling
Roomy interior
High level of standard equipment
Free 240-volt charger

Weak points

Slightly more expensive than its direct competitors
Super low rolling resistance tires also low on grip
Range limits you to mostly city driving
Full report
Kia is the latest automaker to enter the zero-emissions playground with the introduction of the 2015 Soul EV. The non-electric Soul, which was redesigned for 2014, is a cute city car, so it makes a natural platform for Kia's first all-electric car in Canada.
Electrifying a soul
Kia has done a thorough job of making this all-electric Soul convenient to operate. It comes equipped with two charging ports, an SAE J1772 port (level 1 and level 2 AC), and a 480-volt CHAdeMo fast-charging port. A full charge takes 24 hours using 120 volts, to just over four hours with 240 volts. A quick charge to 80 percent capacity can take as little as 24 minutes when using a 100 kW quick charger, or up to 33 minutes when using the more common 50 kW charger.
A 27 kWh lithium-ion polymer battery (3 kWh larger than the current industry standard) is located under the floor, and is claimed to provide up to 149 kilometres of gasoline-free driving. The only electric car currently on the market that claims a longer range is the Tesla Model S. Kia has incorporated some additional bracing beneath the battery for extra protection, but this also increases torsional rigidity by 5.9 percent.
The 360-volt, AC synchronous permanent magnet electric motor produces 109 horsepower and 210 lb-ft of instantaneous torque (instant torque is a benefit of electric motors). It's connected to the front wheels via a single-speed gearbox, and claims a top speed of 145 km/h. The Soul EV accelerates from zero to 60 mph in 11.2 seconds, four seconds faster than Nissan Leaf.
The battery extracts a minimal toll on interior space, with only a 7.9-cm reduction in rear passenger legroom compared to the non-EV Soul. Cargo space behind the rear seat is unchanged at 512 litres.
The Soul EV is the first vehicle ever to receive an automotive environmental validation by Underwriters Laboratory (UL) because it uses 23.9 kilos of bio-based organic materials in its construction. Components made from plastics derived from corn and sugarcane include the door panels and roof pillars, the headliner, trim on the seats, and the carpets.
Electric, yes; Boring, no
The Soul is boxy, but it has its curves in all the right places, so the overall effect is quite cheery. There are only a few exterior styling cues that distinguish the electric Soul from its gasoline-burning brother, like distinctive badges, and there's no front grille per se, but rather a colour-matched cover, beneath which hide the two charging ports. There are also three two-tone colour schemes unique to the EV.
Inside, there's little to indicate you've entered an electric car other than the complete silence that follows after you push the start button. There's a high-quality fit and finish, and everything is laid out in a familiar manner—there's no futuristic accenting or bizarre instrumentation. The interior is roomy for all passengers, and you can barely notice the missing legroom when seated in the rear.
Instruments are specific to the Soul EV. Directly ahead of the driver is an LED screen that displays battery charge level, range, speed and power consumption level, and in the central array you'll find an 8-inch multimedia touchscreen that displays navigation system info, entertainment info, or charge level and consumption information.
In the centre console is a shift lever that works just like a shifter for an automatic transmission, but below the Drive position you'll find a "B" position that selects the regenerative braking mode. 
The Soul EV has undergone extensive cold-weather testing, and one unique feature available on the up-level Soul EV Luxury is a heat pump that channels heat from the vehicle's electrical components to the interior. This system reduces electrical consumption by 27 percent when the heater is on compared to the standard EV.
Putting it in drive
Aside from the lack of engine noise, driving the Soul EV feels very much like driving a regular car. Acceleration is more than adequate to keep ahead of traffic if needed, and wind and tire noise is very well subdued at highway speeds.
When selecting B mode, the regenerative braking is somewhat aggressive, making brake use almost redundant. On long downhill sections it was sometimes better to select Drive mode, which provided much less regenerative braking, thus allowing you to maintain a steady speed while still trickling some power back into the battery.
The chassis is rigid and the suspension is refreshingly compliant, making the Soul EV a pleasure to drive around town. The only hitch in its handling comes from the super low rolling resistance tires, which are claimed to provide 10 percent less rolling resistance than regular low rolling resistance tires, but they also have less grip, and will sometimes squeal when cornering enthusiastically.
After completing our 90-kilometre test route, which included about a half/half split of city and highway driving, a 26 percent charge remained in the battery, and this was while driving normally, with no effort made to conserve energy other than to roll down the windows and turn off the air conditioning.
Good electric value
The Soul EV starts at $34,995, and the EV Luxury at $37,995 before incentives. Standard features include heated front seats and steering wheel, automatic climate control, tilt and telescopic steering, six-speaker infotainment system with navigation, power windows and cruise control, and a list too long to mention here. That's a bit more expensive that the Nissan Leaf, which starts $31,789, though the latter is not as well equipped and claims 15 percent less range.
Quebec offers an EV rebate of up to $8,000, and an additional $1,000 towards a home charger, while Ontario offers up to $8,500, and $1,000 towards a charger. British Columbia is currently seeking funding to reinstate its rebate programme. As an added incentive, Kia will give new owners a 240-watt charger with each purchase of a Soul EV, bringing potential savings to about $10,000.
The Soul EV has all the safety and driver assist features of the gas-powered Soul, including six airbags, ABS, stability control, panic brake assist, and hill assist, as well a tire pressure monitoring system, reverse camera, available front and rear sonar, and an external noise warning at speeds below 20 km/h to alert pedestrians.
There will be only 50 Soul EVs coming to Canada this year, to be distributed to 11 dealers across the country, in British Columbia, Ontario and Quebec. So, if you're looking for a sensible, stylish electric car, you should place your orders quickly.
Share on Facebook