It's A Jeep Thing: YJ vs JK vs YJ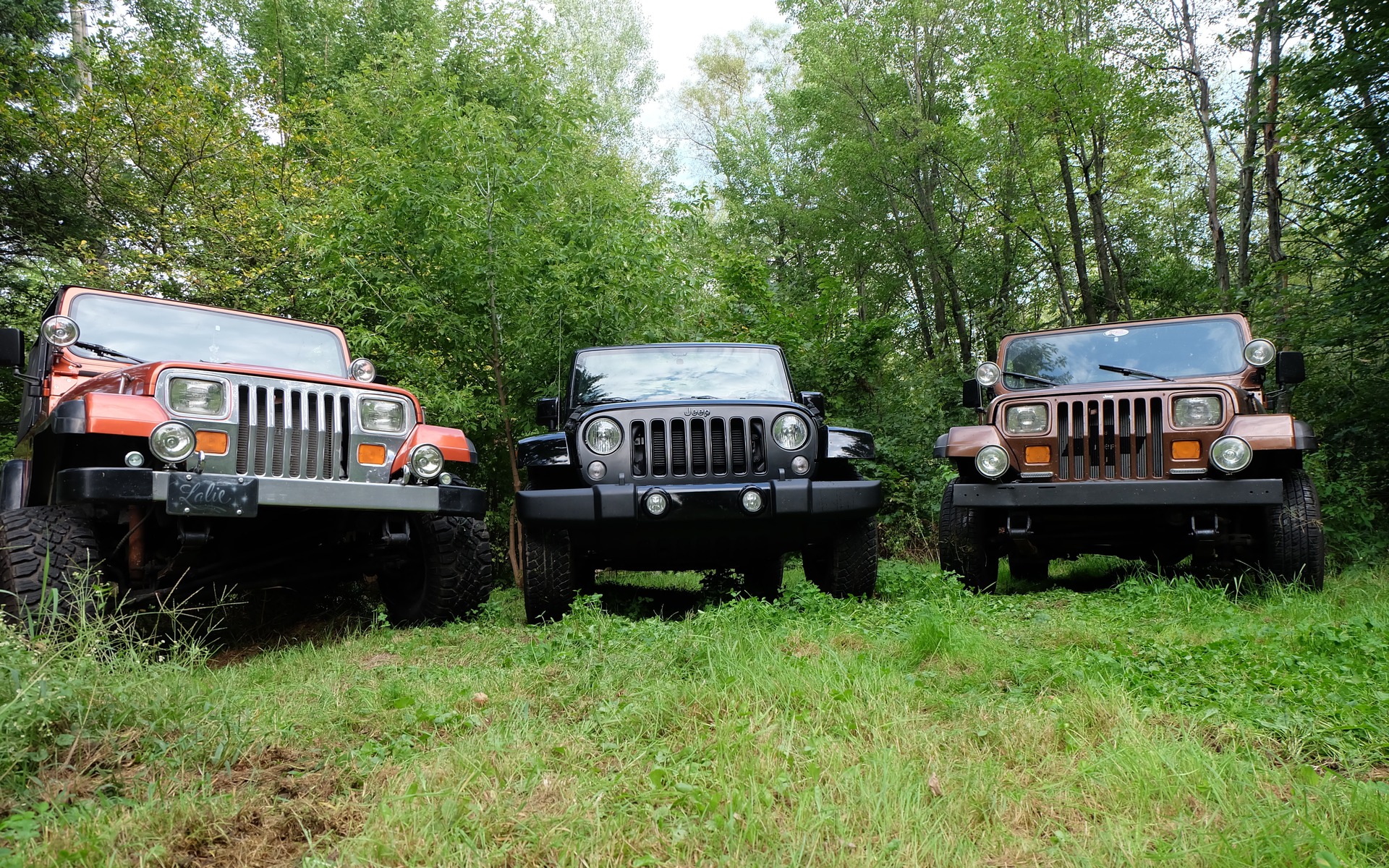 Very few vehicles are as universally recognised as the Jeep Wrangler; its design has remained practically unchanged for the last 70 years. However, its ageless design is a double-edged sword: some people think that the chassis of the 2015 Wrangler is the same as the one that were used to free France in 1944. To blow that myth out of the water (and to have an excuse to drive a new Wrangler for a full week) I rang up Chrysler and asked them to lend me one of their 4x4s, and I drove it to a couple of friends who own not one but two Jeep YJs, from 1987 and 1989. Here are how the competitors of today's match:
The modern 4x4
First of all, the newcomer. It's a 2015 Jeep Wrangler Unlimited (meaning it's got four doors) Sahara. Among Jeep fans, Wranglers are known by their chassis name, and this one bears the JK designation. The modern Wrangler is loaded with options, from the Katzkin heated leather seats and GPS navigation to air conditioning and a soft top. Under the hood is the Pentastar 3.6L V6 that is now fitted to a lot of cars and trucks from Chrysler. In this application, it pumps out 285 horsepower and 260 pound-feet of torque. The Wrangler comes with a fantastic 6-speed manual transmission, however our test subject was equipped with a 5-speed automatic gearbox. While it shifts well, it is not as engaging to drive as the manual is (at least according to our testers). This is a $1495 option that we would have done without. This JK also features the Altitude package, giving it a fully blacked-out treatment: 18-inch wheels, interior trim, bumper covers and even a matte sticker on the hood are all painted black. No doubt about it, this Jeep is the perfect incarnation of the modern 4x4.
An upgrade named SBC
If you place this 1987 Jeep YJ next to the new one, you immediately see a few major differences. Not surprising, since contrary to popular belief, they don't share a single part. And since its current owner has bought it, something important was changed: while this Jeep left the factory with a four-cylinder mill designed by AMC under its hood, it now features a 5 litre V8 (commonly called a 305) that came out of a 1984 Pontiac Trans Am. Mated to it is a 5-speed manual transmission that came out of a Chevrolet Blazer. This engine swap may seem like blasphemy to Mopar fans, but it is actually a pretty common conversion, since the stock powerplant was pretty gutless.
Higher and shinier
The last Jeep of our match has also been modified, but differently: while you can easily see the huge 33-inch tires and the orange paint, there is another surprise under the hood. The previous owner took the stock mill out, and replaced it with a V6 that was previously used in a Chevy Astro van. It was fuel-injected, but it gained a carburetor during the swap, since the owner thought that they were easier to work on. This YJ is also 15 centimetres higher.
2015 Wranglers are not meant for comfort on the road. Their independent suspension is designed to offer lots of travel. They are not aerodynamic by any means, and their steering is designed to be vague to help in off-road driving. But compared to the older models, the JK is a Rolls-Royce. The YJ shakes and rattles at every bump, the short wheelbase ensures that you will hit said bump with all four tires at the same time (although this also gives it a very short turning radius), and the interior is utilitarian.
However, the two older 4x4s have an advantage that the JK doesn't. Everything is mechanical: the pedals, the shifter and the steering are all directly connected to a part of the vehicle. This makes them infinitely more engaging to drive. I was worried that the V8-powered YJ would possibly be fuel-efficient: was it possible that a small vehicle with a big powerplant and a manual transmission could beat my modern Jeep? After a short drive, my fears were washed away as the JK drank fuel at a rate of 15.6L/100 km, while the Trans-am powered YJ couldn't do better than 19 L/100 km. As for the lifted one, its tires negated any fuel economy that could be gained by the V6: its fuel consumption hovered around 20 L/100 km during the whole trip. I can already hear Muscle Car fans shouting, ''But the GM V8 must be way faster!'' Compared to the stock 4-cylinder it came with, yes. But once again, technology wins: the 4-door Sahara runs from 0 to 100 km/h in 10 seconds flat, a solid 2 second advantage over the V8 YJ. However, the old Jeep sounds much better during flat-out acceleration!
It's a Jeep thing
I have been struggling to find a way of summarising this matchup: even though the 2015 Jeep Wrangler Unlimited wins in every measurable competition, I couldn't help but laugh and smile every time I got behind the wheel of the YJs, something I couldn't quite manage in the newer vehicle. For everyday driving, the JK is the obvious choice: it can be driven in deep snow, cruise down the highway with the top down or sit pretty in front of a fancy restaurant, all with equal ease.
But if you like to tinker with the innards of a vehicle, the older YJ offers nearly limitless possibilities for modification. If you wish to build and maintain a unique vehicle by yourself (and you don't mind being mercilessly punished by a harsh suspension), you will find a unique type of fun in those Jeeps.
And, if you hit a tree during an off-road expedition, you will feel much less guilty when looking at the bashed-in fender of your old YJ than you would looking at a scratch on your shiny new $45,000 Sahara…
Share on Facebook