Coming Home: Driving The 2015 GMC Yukon Through The Yukon Territory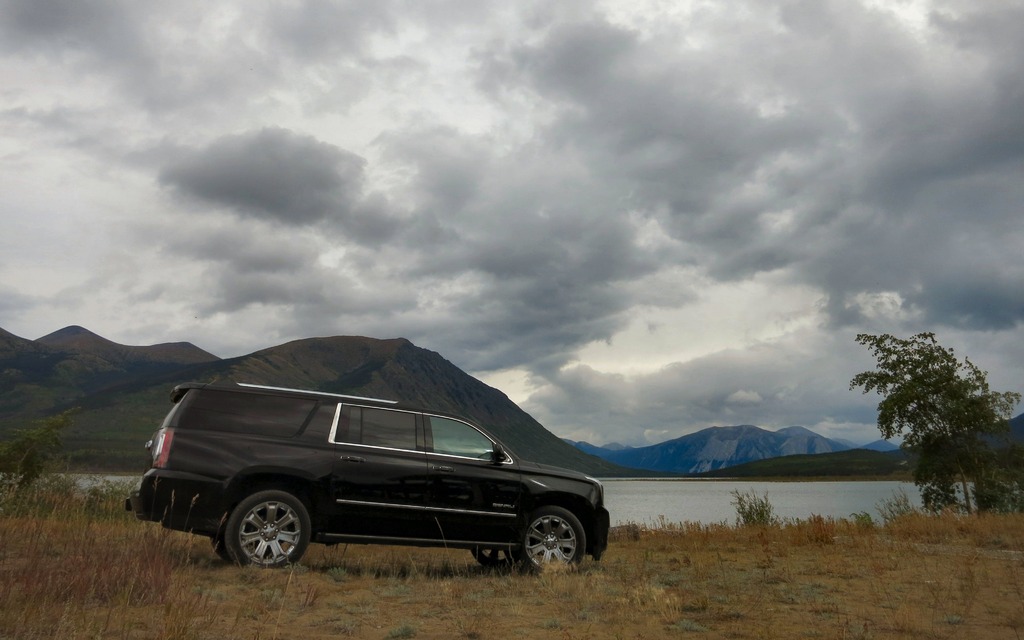 Strong points

Excellent practicality and utility
Large passenger compartment
Above-average handling when equipped with Magnetic Ride Control suspension
6.2-litre engine is quite powerful
Comfortable interior in Denali spec

Weak points

Expensive when fully optioned out
5.3-litre V8 is good, but not outstanding in terms of acceleration
Without Magnetic Ride Control you really notice the live rear axle
Fuel consumption is higher than most crossovers due to weight and power
Full report
Seemingly, you'd have to be more than a little crazy to hurtle a two-ton SUV up and down a 60 kilometre Yukon mountain mining road so steep that there's simply nowhere to even attach a guard rail.  And yet I found myself doing exactly that this past week behind the wheel of the 2015 GMC Yukon Denali, proving to all the world that strange things indeed are done 'neath the midnight sun in Canada's most westerly Territory.  As the gravel flung by my behemoth's tires pinged relentlessly against its steel undersides, I found myself not at all terrified by the sheer mass I was sliding from one corner to the next across a marble-strewn surface pocketed by bowling ball-sized potholes and pools of standing water.  In fact, I wore a grin that any disciple of Tommi Makinen-by-way-of-Detroit, Michigan would easily recognize: the thrill of beating down a treacherous stretch of tarmac in an isolated, forbidding part of the world.
Isn't that why I had been brought here to the Yukon, to test out GMC's redesigned namesake in the heart of the wilderness frontier that had for the past two decades signalled rugged capability to sport-utility buyers? To prove that the 2015 GMC Yukon's moniker was more than just marketing hype, and to show that this traditional full-size hauler still had something to offer family buyers after years of being increasingly crowded out by more car-like crossovers? Like so many of the once-bustling towns located this close to the Arctic Circle the GMC Yukon finds itself at the edge of a receding frontier, soaking up the remnants of the SUV gold rush by sticking to its guns and further refining the tough character and considerable practicality that made it so appealing when it first hit the scene in the early 90s.
Northern Passage
To say that the Yukon Territory is large is to understate the vastness that represents Canada's northern heritage.  One quickly becomes aware of just how much distance separates one pocket of civilization from another here when asked to travel from the capital city of Whitehorse (home to more than half of the Yukon's 60,000 residents) to the considerably smaller, but no less historically significant settlement of Dawson 500 kilometres closer to the Pole.  The gap between these two towns is exactly that, a void punctuated only occasionally by evidence of human occupation – an abandoned mining claim, a collection of trailers huddled around a fuel station.  The rest is a seemingly endless procession of pine and birch trees lining either side of the highway, giving way to soaring vistas of green-blue lakes surrounded by a sentinel of mountain peaks.
From behind the wheel of the 2015 GMC Yukon it all becomes a blur of stunning natural beauty framed by the loneliness that marks Canada's great expanses.  In many ways, this full-size rig is one of the best options for braving the long haul between the capital and one of the Territory's farthest outposts, especially considering that there was one more iconic northern locale present and accounted for during my traverse from Whitehorse to Dawson, a brand that has become familiar to a generation of luxury-seeking SUV shoppers: Denali.  This top-tier edition of the Yukon bundles in all of the luxuries one would expect from a near-$90k SUV (heated and cooled leather seats, sunroof, LCD entertainment and gauge displays, retractable running boards, wood trim, and a slew of active safety features) and combines them with several drivetrain upgrades and innovations that seemed almost custom-tailored to the untamed terrain that surrounded me on my journey.
Magnets Make Everything Better
Of these, perhaps none was more welcome than the 2015 GMC Yukon Denali's new 'Magnetic Ride Control' suspension.  Similar to the system available with the Chevrolet Corvette (and licensed by Ferrari for its exotics), the adaptive design uses magnetically-controlled shock absorbers that can instantaneously react to road surfaces – or the lack thereof – in order to maintain confident handling and a composed cabin.  This feature becomes doubly-important when considering the Yukon's live rear axle, clearly its Achilles' heel in the face of so much crossover competition.
The difference in comfort and poise between a non-Denali edition of the truck (which does not benefit from such technological wizardry) and the range-topper is dramatic, and never more pronounced than when making the transition from gravel to asphalt to muddy ruts as I did while enduring the Klondike Highway's numerous idiosyncrasies.  It's also the sole reason I was able to boot the truck as hard as I did along the final day's rally stage, as the Yukon Denali's magnetic magic combined with its standard four-wheel drive system to soak up washboards and deal with soft sand with remarkable alacrity.
Super-Size My Engine, Please
The Yukon Denali also brought another big gun to my northern expedition in the form of an exclusive 6.2-litre V8 engine.  Capable of producing 420 horsepower and 460 lb-ft of torque, this unit is only available with the luxury-oriented Yukon model, as all other versions of the SUV feature a 355 horsepower, 5.3-litre V8.  To be sure, the smaller motor is still a robust one that offers class-adequate acceleration and towing, but the 6.2-litre mill is on another level – a fact demonstrated time and again when pulling out to pass one of the many camping trailers ponderously making their way along the same stretch of empty road.  The six-speed automatic transmission that is yoked to either motor works well enough, but an eight-speed autobox is on the way later this year in order to further improve performance as well as join the vehicle's variable-valve timing and cylinder deactivation technology in a bid to crank up efficiency.  An automatic engine start/stop system is also in the cards for the GMC.
Top Of The World
The irony of such a luxurious mode of transportation being named after two of the world's roughest locales is not lost on me, nor is the incongruity of sampling the northern wilds from behind the wheel of a leather-laden fortress on wheels like GMC's latest design.  And yet, despite its throwback body-on-frame chassis and yesteryear large-displacement engine options, it's hard to deny that the Yukon is still one of the better choices for conquering such a harsh environment, where even during August's endless summer twilight temperatures can drop to single digits within the space of an hour, and where roads at times feel more like suggestions than hard and firm paths to your final destination.  Like the ghosts of hometown writers Pierre Berton and Robert Service who haunt the dusty, unpaved streets of Dawson after dark and whose words evoke a time when this remote station was a bustling contributor to Canada's burgeoning growth as a nation, the 2015 GMC Yukon serves to remind us that the curtain has yet to fall on this particular class of SUV.
Share on Facebook