The 2009 Montréal International Auto Show: A can't-miss experience!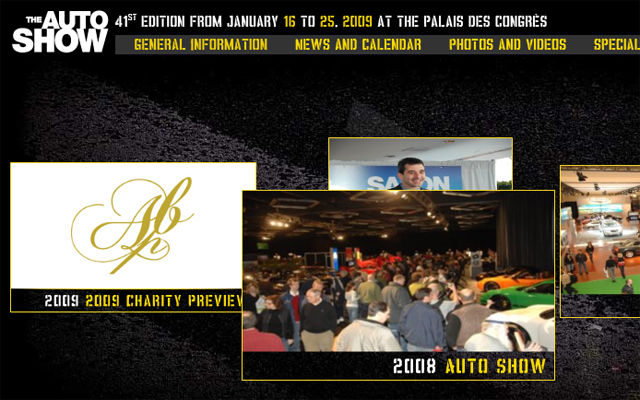 From January 16 to 25, 2009, the Palais des congrès de Montréal will host the 41st Edition of the Montréal International Auto Show (MIAS). Once again this year, this incredible event will feature a truly exceptional line-up of amazing vehicles! This is one event you won't want to miss!
Innovation - Evolution
The Auto Show's newest attraction: Innovation - Evolution, will bring back fond memories for some... and astound everyone else! This exposition will group together automobiles which have managed to stand out over the years due to their uniqueness or rarity, along with some vehicles which will undoubtedly leave a lasting impression on the drivers of tomorrow! We have even asked some 6th graders in the Montréal Area to show us how they perceive their future vehicle, thanks to the "Draw the Car of the Future" contest. The five winning masterpieces, chosen by a special panel, will have the honour of being displayed throughout the attraction.
Ticket to paradise
Once again for 2009, the MIAS invites you to make a heavenly pit stop at its astonishing 7th Heaven. This amazing attraction will most certainly pique your curiosity and fuel your automotive dreams with its unique collection of wonderfully exotic automobiles. A truly breathtaking exposition!
"Give blood. Give life."
Faithful to its tradition, the Montréal International Auto Show's annual blood donor clinic, organized in conjunction with Héma-Québec and CTV Montreal, returns again this year at the Grande-Place of Complexe Desjardins, from Monday, January 19 to Friday, January 23, 2009. In exchange for their precious gift of life, each donor will receive a free admission ticket to the 2009 MIAS.
2009 blood drive schedule (Monday through Friday):
•   Monday, January 19, from 10:00 a.m. to 6:00 p.m.;
•  Tuesday, January 20, from 9:00 a.m. to 8:00 p.m. (CTV Montreal personalities in attendance throughout the day);
•  Wednesday, January 21, from 10:00 a.m. to 6:00 p.m.;
•  Thursday, January 22 and Friday, January 23, from 1:15 p.m. to 8:00 p.m.
Share on Facebook