2015 Subaru WRX: Everyday Hero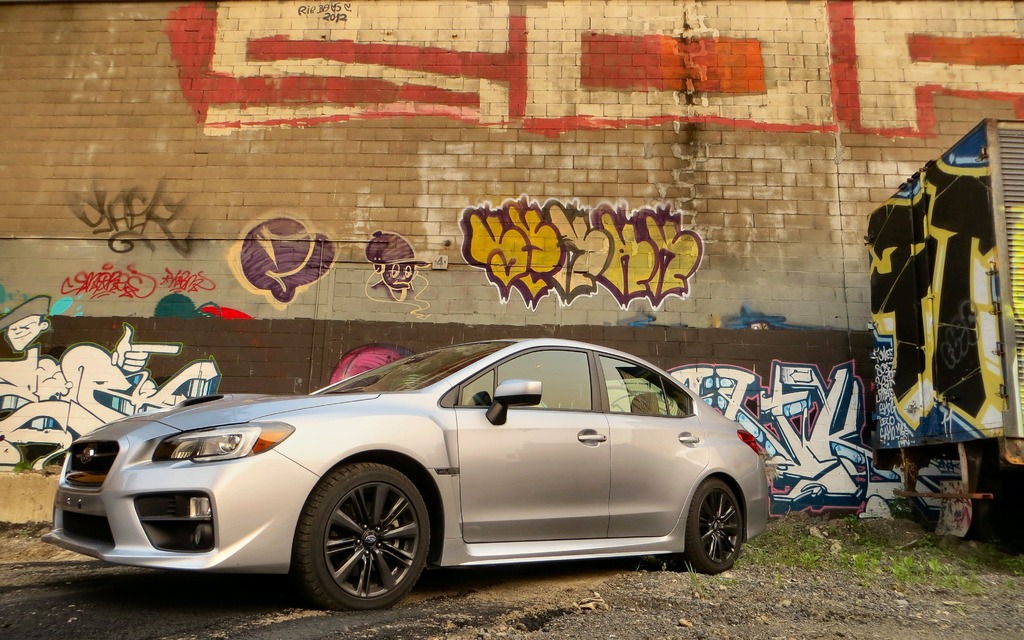 Strong points

Strong acceleration from new 2.0-liter turbo motor
Standard all-wheel drive
Excellent handling
Comfortable ride
Relatively affordable
Improved interior

Weak points

Terrible base stereo system
No more hatchback body style
Exterior styling not as striking as in past years
Boost gauge should be in front of driver
Full report
The 2015 Subaru WRX is a triumph in more ways than one.  A lucky 13 years removed from the very first WRX to grace Canadian shores, the Japanese automaker has not only proven that there exists a market for an affordable, rally-inspired compact performance sedan in North America but has in the process managed to make that vehicle the face of the brand to legions of young shoppers.  Don't forget that until 2002, the only people who associated the words 'Subaru' and 'performance' outside of Japan and Europe were the cult of World Rally Championship fans staying up until 2 am to watch coverage of their beloved motorsport on pirate satellite TV.
More importantly, however, the 2015 Subaru WRX has finally found its legs as a legitimate daily driver.  Not that there was anything 'wrong' with past generations of the sedan (or hatchback, although that ultra-practical body style has been discontinued as of the current model year), but there were definitely sacrifices to be made in terms of comfort, efficiency, and feature availability if you chose to make the turbocharged car your regular commuter.  After spending a week with the new WRX I can safely recommend it to anyone who wants to live a life less ordinary once they've punched out at the end of the day, without having to pay a price on the slog back into work the next morning.
Smooth, Creamy Drivetrain
The 2015 Subaru WRX has graduated to the same 2.0-litre turbocharged four-cylinder engine that can be found in the performance-oriented Forester XT SUV, and it also gains a new six-speed manual transmission sourced from the top-spec WRX STI model.  It's impossible to overstate just how much smoother this new drivetrain is compared to the 2014 edition of the car, which suffered from overly long throws between ratios as well as a rubbery feel from the shifter itself.  The sixth cog also helps to improve the WRX's efficiency on the highway compared to the now-departed, five-speed-only 2.5-litre motor, and in fact the manual gearbox helps the Subaru consume less fuel than when it is equipped with its newly-optional continuously-variable automatic.
Spec watchers will undoubtedly notice that power hasn't changed all that much for the 2.0-litre mill when compared against last year's larger motor, but you'll only complain about this seeming lack of progress until you actually drive the 2015 edition of the WRX.  There's no question that the compact car's 268 horsepower and 258 lb-ft of torque are far easier to access in the new Subaru than they were before, with the direct-injected engine featuring a broader torque band as well as less turbo lag than WRX owners were accustomed to.  You still notice the surge in power that appears at 3,000 rpm, but when driving the car in an urban environment at responsible speeds it's surprising how willing the 2.0-litre unit is when asked to pull in second or third gear.
All-New Chassis
Hand-in-hand with the 2015 Subaru WRX's new drivetrain is a dramatically revised chassis that is 41 percent stiffer than what was offered by the model it replaces.  Despite this rigid design the WRX features a much more compliant personality on rough road surfaces, transmitting some, but far from most, of the raucously rough pavement that made up my Montreal test loop into the cabin of the car in the form of noise and vibration.  This improved ride doesn't come at the expensive of handling, either, as the car still boasts a 50:50 viscous-coupling torque split (in manual edition cars) for its standard all-wheel drive system as well as a torque vectoring feature that applies the brake on the inside front wheel while cornering to help pivot around sharper bends.
Class-Competitive Interior
If you're going to drive a car every day it better have an interior that doesn't make you sigh deeply as you stare at the dashboard while stuck in traffic.  The 2015 Subaru WRX makes substantial improvements in this department, trading in much of the previous generation's utilitarian feel for a sportier look that makes ample use of soft-touch materials and includes comfortable, supportive seating front and rear.  You also now get an LCD screen mounted at the top of the dashboard that features data concerning fuel consumption, torque distribution, and trip monitoring, as well as a digital boost gauge that was cool, but that I would have rather had right in front of me on the driver's cluster.
Considerably less impressive is the base stereo system that comes with the WRX, with its two-line display and completely baffling Bluetooth pairing process.  When spending more than $30,000 on an automobile there's no excuse for such a terrible-sounding and difficult-to-use audio setup, even if it is semi-augmented by the dashboard LCD screen.  Subaru makes a much nicer touchscreen stereo available on the top-tier Sport-tech Package car: it should be standard across the board.
Fun For All Seasons
The Subaru WRX has always felt custom-tailored for the Canadian market, a turbocharged pocket rocket whose all-wheel drive system makes driving just as fun during our horrific, snow-packed winters as during the brief warmer months.  With 2015's long list of upgrades and improvements the WRX loses a lot of its niche character and makes a genuine play for the hearts and minds of anyone who's ever wanted a performance car they could also strap a car seat into - or take on a long-distance trip in without cursing every single expansion joint or pothole along the way.  Mass appeal hasn't diluted the WRX, it's actually made it better, and how many times have you been able to say that about anything else you've driven lately?
Share on Facebook