2015 Dodge Challenger Hellcat - It's All About The Horsepower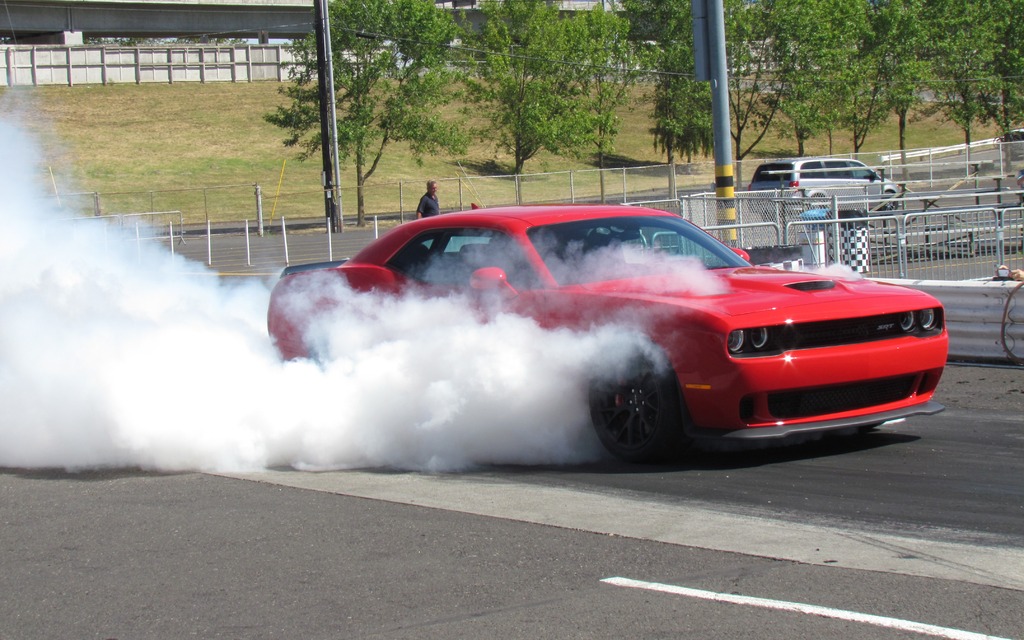 Strong points

Great styling
Muscle car lineage
Great sound
Heart-palpitating power
Excellent brakes

Weak points

Poor rear visibility
Heavy
Unspecified, yet likely poor fuel economy
You'd better have a good connection for tires
Full report
Flexing muscles is a top priority when you're in the muscle car business, but instead of measuring muscle mass, it's the horsepower numbers that dictate who's got the biggest biceps. Chevy ruffled a few feathers when it introduced the Camaro ZL1 with 580 horsepower, and it wasn't long before Ford kicked some sand in Chevy's face with the 662-horsepower Shelby GT500. Well, Dodge has just taken the stage with the 2015 Challenger SRT Hellcat, and its biceps have ripped its T-shirt to shreds.
Although the late 1960s and early 1970s are known to be the golden years of muscle car production, with many classic examples from that period easily fetching six-digit prices at Barrett-Jackson auctions, we are currently experiencing the true muscle car era. Horsepower numbers have never been as high as they are today, and Dodge is at the top of the heap with the all-new 6.2-litre supercharged Hemi V8 in the Challenger SRT Hellcat, which claims a tire-shredding 707 horsepower and 650 lb-ft of torque.
Never mind muscle cars, this is supercar territory. If you're a number cruncher, note that the Hellcat makes 157 horsepower more than the Audi R8 V10 Plus, 110 horsepower more than the Ferrari 458 Speciale, and 17 horsepower more than the Lamborghini Aventador. And you could buy a $63,995 Hellcat for each family member in your household for the price of just one of those exotics.
However, if you're not one of those drivers who takes his horsepower intravenously, then there's also a new 6.4-litre naturally aspirated Hemi V8, available in the $45,995 Challenger Scat Pack and the $51,995 SRT 392, which produces a more humane but still quite potent 485 hp and 475 lb-ft of torque, an increase of 15 hp and 5 lb-ft over the current 6.4-litre.
Moving on down the horsepower chain, there's also the 375-hp/410 lb-ft, 5.7-litre Hemi V8 that comes in the $36,995 Challenger R/T, and finally, for those who pay more attention to fuel economy than engine output, there's the 3.6-litre Pentastar V6 that claims a not-too-shabby 305 hp and 268 lb-ft, while consuming just 7.8L/100 km on the highway according to the new five-cycle test.
Transmission choices include a standard TorqueFlite eight-speed automatic throughout the engine range, while a six-speed manual is optional on the V8 models for just $1,000 more.
Okay, It's Not All About The Power
Among the modern muscle cars, the Challenger is the most faithful to the original design, and it exudes a muscular and mean presence. Some minor cosmetic changes that hark back to the 1971 Challenger have been applied to the 2015 Challenger line up, including a new split grille and split LED tail lights, as well as 11 colour choices including some bright retro selections. Only the Hellcat's bulging hood with two large cooling ducts, and "Supercharged" logos on the fenders give clues to the 700-plus horsepower mayhem beneath the hood.
Inside there's a new, driver-centred dashboard that features an available 8.4-inch Uconnect colour touchscreen, and instrumentation now includes a driver-configurable 7-inch display flanked by a round speedometer and tachometer. You can also get paddle shifters on automatic models.
The electric power steering now features three selectable modes—Normal, Comfort and Sport—each one altering effort and feel, and if you select the Performance package when you order your Challenger, you get selectable drive modes, which include Street, Sport, Track and Custom settings, each one altering steering, engine and automatic transmission parameters for varying conditions.
There's also a multitude of new driver aids available, including adaptive cruise control, forward collision warning, blind-spot and cross-traffic warnings and a rear-view camera.
But Does It Handle?
Muscle cars of yesteryear were loud, boisterous beasts that did all of their hard work in a straight line. When it came to cornering and braking, well, you needed some faith and a strong heart. The Hellcat is loud and boisterous, yet it is also surprisingly competent on the racetrack, and this despite its 2,018 kg weight. You won't find yourself flicking it through turns, as you would, say, a Subaru BRZ, and you certainly need a judicious right foot to keep the rear end from leading you out of corners, but there's minimal body roll, easily manageable understeer and an altogether decent level of cornering grip.
What really helps the Hellcat lap a racetrack quickly—aside from its ungodly power—is its stiffer suspension, large-diameter, solid stabilizer bars, sticky 20-inch Pirelli P Zero tires, and huge Brembo brakes.
We had the opportunity to track test the Hellcat and other Challenger models at Portland International Raceway in Oregon. My first session was in a manual model, and its shift feel wasn't very conducive to track driving, with long, notchy shifter throws, though with more time in the saddle it's something I'd get accustomed to and gladly live with. It's the automatic that was really impressive on the track. When in Track mode, gear changes were positive and quick, feeling almost like a dual-clutch transmission instead of an automatic, and the engine management even matched engine revs on the downshifts.
Two runs on the quarter mile also revealed just how potent the Hellcat is. With what I can only describe as rather uninspiring launches hampered by poor grip and a lack of practice, I managed a 12.1 second ET, about a second off the reported low-11-second times the car is capable of achieving on street tires.
You Know You Want One
If you want a Hellcat you'll be glad to know that it is a regular production vehicle (it's built right here in Canada at Chrysler's Brampton, Ontario plant), and not a limited-run special edition. If you're a horsepower junkie, you'll find the power-per-dollar ratio very attractive, and probably the best on the market right now (about $90 per pony compared to more than $550 for the 458 Speciale). You'll also be getting a burly, eye-catching car that looks as angry as it sounds.
However, you should also allocate an annual budget for rear tires (or monthly depending on your horsepower affliction), and if you haven't done so already, get a physical from your family doctor because you don't want to find out that you have a heart condition by stepping on the Hellcat's gas pedal.
Share on Facebook