2015 Subaru Legacy: Knocking On Your Front Door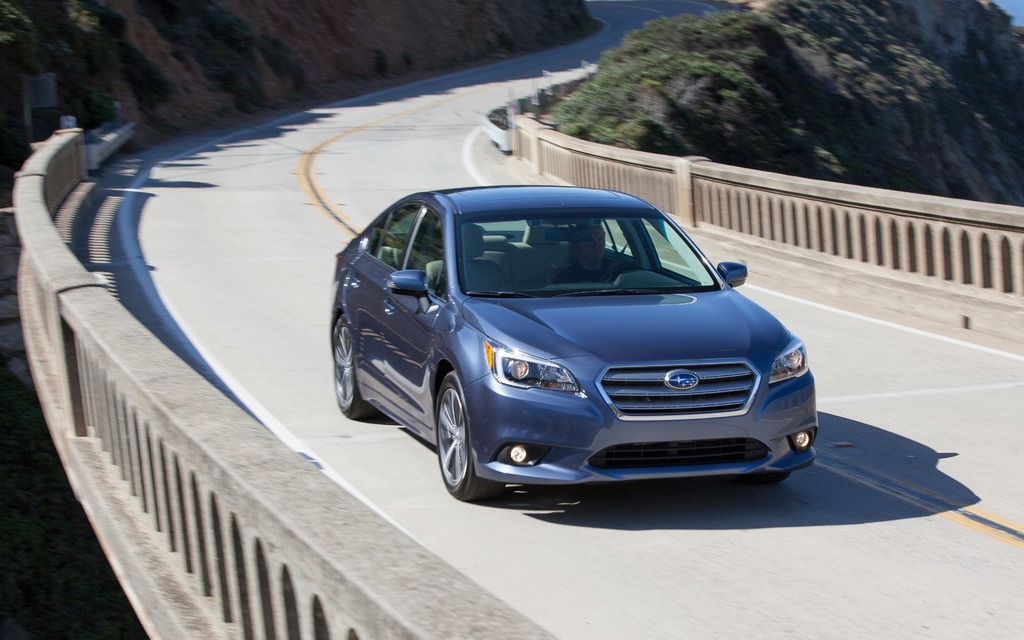 Strong points

Standard all-wheel drive
Improved interior design
Better fuel efficiency compared to past models
Modern infotainment system
Sleeker styling
Comfortable ride
Advanced safety gear is class-leading

Weak points

Power is still mid-pack, especially for entry-level sedan
Not as fun to drive as certain mid-size rivals
Only a single trim level for V-6 model
Styling doesn't stand out from other sedans in its class
Full report
How do you get ahead in the mid-size sedan segment?  If you're the all-new 2015 Subaru Legacy, you do it by combining trademark standard all-wheel drive - a segment exclusive - with fresh styling and improved fuel efficiency that finally puts you on par with the industry's leading lights.  After years of walking its own distinct path, the redesigned Legacy has decided to play ball with the rest of the other kids in the schoolyard, giving it broader appeal in a bid to boost historically modest sales figures.
Has the Subaru Legacy lost any of its individuality in the process?  Is the sedan still identifiable as a member of the Subaru family, or has it been watered down in its quest for mass appeal?  I'm happy to say that after sampling the new Legacy along the northern coast of California, the four-door family car isn't just better than before, but is still charming enough to keep long-time Subaru fans coming back for more.
Just Shy Of Sporty
Subaru has always enjoyed the loyalty of Canadian car shoppers due to its offering of all-wheel drive free-of-charge on almost every one of its products.  The 2015 Subaru Legacy is no different, combining four-wheel grip with a new torque-vectoring system up front that makes use of the brakes to help pivot the car through a corner.  Taken together with the Legacy's revised suspension system and stiffer chassis, it's safe to say that the redesigned version of the car feels tighter than the model it replaces, and indeed trumps more pedestrian rides like that of the Nissan Altima when it comes to handling.  It's not sporty in the vein of the Mazda Mazda6 or Ford Fusion, however, keeping the Legacy comfortably at mid-pack.
Power-wise, it's a similar story.  Although the vehicle's 2.5-liter four-cylinder engine is marginally more robust for 2015, offering 175 horses and 174 lb-ft of torque, most of the changes that have been made to the entry-level mill have been with an eye towards shifting its output to the mid-range rpms so as to improve drivability.  The 3.6-liter, horizontally-opposed six-cylinder engine that is offered as an upgrade with the Legacy follows a similar philosophy, matching 2014's production (256 horsepower, 247 lb-ft of torque) but shifting the torque sweet spot down to the 2,000 rpm mark.
Helping put it all together is a new continuously-variable automatic transmission that has been re-tuned for each respective engine (a manual gearbox is still offered with the base motor).  Fuel efficiency is considerably improved with the CVT installed, and it also does an admirable job of doling out power when required, with very little drone.  You also have the option of selecting a 'virtual' gear ratio by pulling back on one of the Legacy's steering wheel paddles.  The six-cylinder engine in particular benefits from driver intervention in the shifting process, adding extra engagement and accenting the car's exhaust note.
All Grown Up Inside
A word frequently used to describe the current generation of Subaru interiors is 'mature,' an indication that the hard plastics and unadorned designs of years past are on their way out across the brand's line-up.  The 2015 Subaru Legacy certainly offers an improved passenger compartment when compared against the vehicle it replaces, displaying a control layout that's functional without being 'function-first,' and making use of trim and other interior materials that don't feel nearly as utilitarian as they did in the older sedan.  Also new is a touchscreen infotainment system that provides modern graphics and easy-to-use menus, replacing the uninviting single-line audio displays and difficult-to-parse systems from Subaru's past.  Finally, there's a bit more room to be had inside the Legacy, thanks to a slight increase in width, length, wheelbase, and overall interior volume over the 2014 edition of the car.
Safety Stays Paramount
Subaru has always gone above and beyond federal requirements when it comes to passenger safety, and this trend continues with the 2015 Legacy.  Specifically, Subaru has shrunk its EyeSight camera system so that it takes up less space at the top of the windshield, but given it greater visual acuity to the point where it can now see in color and catch a red brake light that much quicker.  This allows for better reaction times from the sedan's forward collision mitigation system and adaptive cruise control, which combine with a lane keeping feature as well as a blind spot monitoring system to help protect driver and passengers from coming to harm out on the road.
Brave New World
The 2015 Subaru Legacy is courting mainstream acceptance in a way it's never before been able to do.  Fortunately, it hasn't gone too far down the road of homogeneity that so many of its mid-size market-mates have elected to tread, which means that what made the sedan appealing in the past continues to hold true today.  The new Legacy improves in the areas where it needed to - especially concerning fuel efficiency and interior design - but remains affordable and doesn't lose its all-wheel drive trump card.  It's a worthwhile effort from Subaru that should keep long-time buyers in the family while simultaneously luring fresh blood into showrooms.
Share on Facebook