2015 Kia Soul EV: Best Range in Class!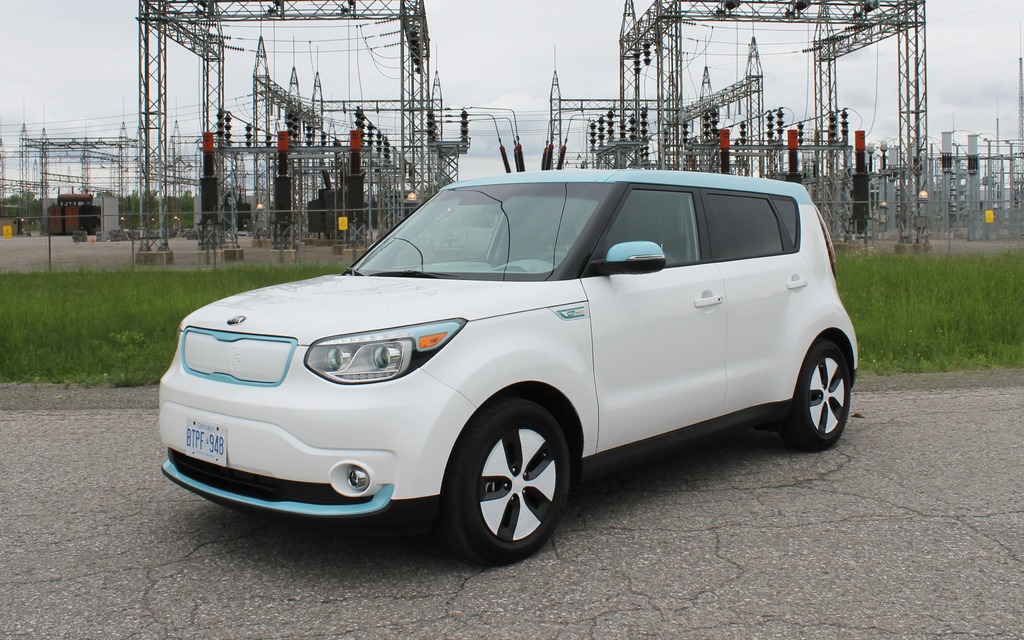 When it rolls into select Canadian dealerships next fall, the 2015 Kia Soul EV will immediately knock its main competitors out of the endurance race, starting with the Nissan Leaf.

Kia's first all-electric vehicle to come to America is boasting 160 kilometres of range, which is the best we've seen among electric compacts. Not only that, but when driven in ideal conditions this car can apparently beat the 200-kilometre psychological threshold, which is fully 50 kilometres more than other vehicles in the same category.
We briefly drove the pre-prod version of the Kia Soul EV last week in Montreal. Here are a few of our most surprising discoveries about this electric vehicle:
Our 22 kilometre trip used only 18 kilometres worth of electric power, with our remaining range dropping from 88% to 77%. These great results are thanks to the regenerative braking that returns up to 12% of kinetic energy to the accumulators, marking one of the industry's best recovery rates.
Like all electric vehicles, the Kia Soul EV and its single-speed transmission delivers linear acceleration that seems more dynamic than the advertised 11.5 seconds it takes to go from 0-100 km/h. When we tested it, we managed to race to 100 km/h in less than nine seconds!
The 282 lb battery increases the Kia Soul's overall weight by 15%. But since it is under the rear bench, it doesn't handicap cargo space or prevent the rear seat back from folding down. (At the most, it slightly reduces the amount of wiggle room left for your toes in back.) And as a bonus, it lowers the vehicle's centre of gravity, improving on a car whose gas-powered version was already fun to drive.
Obviously, they kept the torsion beam in back as it offers a little more spring than an independent suspension. But with go-kart-worthy (power) steering and increased torsional rigidity (up by 6% thanks to additional crossbars), the vehicle is agile, dynamic and well-balanced.
It comes with four modes: Drive is just for normal driving while B enhances the regenerative braking. Both can be paired – or not – with Eco mode. But to keep things simple and get the most out of the electric experience, just leave it set to B and Eco. It doesn't take long to get used to the serious engine brake, which (almost) saves you from ever having to step on the brake pedal.
A word on the tires: The P205/60R16 tires offer such little resistance that they sometimes lack traction, even on dry surfaces. As a result, the Low Traction warning flashed on our instrumentation. We would definitely trade in these super low rolling resistance tires for some more aggressive rubber.
Is blue the new green?
Compared to the current Kia Soul, the electric version is only distinguishable by a few exterior cues—most notably the distinct tires and the exclusive two-tone paint themes (much like the 2012 Track'ster Concept). In the photos we shot, you can admire the Barbie-esque combination of Pearl White and Metallic Sky Blue, but the other choices include Electric Blue or Sterling Silver. The line creates a "floating roof" and the rear views are Polar White.
It goes without saying that instead of a gas engine, there's an alternative mill. It's a 81.4-kW synchronous motor that almost looks like a traditional engine. With a nearly musical sound, it delivers 109 horsepower and 210 lb.-ft. of torque (which is 23 lb.-ft. more than the Nissan Leaf). In an industry that almost solely relies on fairly normal lithium-ion batteries, Kia has opted for 360-volt lithium-ion polymer accumulators (or "batteries" in layman's speak). A quick hunt on the Internet revealed that this polymer technology is safer in the event of overload, but its capacity and longevity is reduced. We'll have to see how it fares over the long term.
Eligible for an $8500 rebate
Beyond the "eco electric" emblems on the Kia Soul EV's hatch and fenders, the other distinguishing feature is the grille. It's completely hidden by a fixed panel and houses two charge ports: a standard North American SAE J1772 and a ChAdeMO like in the Nissan Leaf and Mitsubishi i-MiEV.
According to Kia, charging takes 4.5 hours when you use a 240-volt outlet. Quick charging will be possible on the production model. An 80% battery boost takes just 24 minutes with a 100 kW charger, but this remains to be verified, much like the vehicle's range and official price.
For the time being, the starting price is said to be $35,000 for a well-equipped model and $38,000 for a very well-equipped model (ventilated seats, heated rear bench and steering wheel, etc.). This prices the Soul EV a little lower than the Ford Focus Electric ($36,900) but a little higher than the Nissan Leaf ($33,800), and significantly higher than the Mitsubishi i-MiEV (reduced to $28,000). Drivers living in Canada will be glad to know that their government has confirmed a $8,500 rebate (the maximum available) for this model, in line with the discount offered on the Nissan Leaf, Ford Focus Electric, Mitsubishi i-MiEV, BMW i3 and smart fortwo electric drive.
This generosity shouldn't hit the government too hard, however, as fewer than 100 units of the 2015 Kia Soul EV will be offered in Montreal, Toronto and Vancouver.  They will be sold by Kia's Platinum dealers, which already have exclusive distribution rights on the Kia Cadenza and Kia K900.
Loveable interior
We fell for the Kia Soul EV as soon as we climbed aboard. The interior is nicely executed, indicating a concerted effort from the automaker. The quality of the materials and craftsmanship are better than most other electric cars, and we really liked the mousey grey colour of the seats (leather on our test model) spruced up with light blue accents. The touch screen controls are easy to figure out and customize. Kudos for the EV button, which brings up all the essential information, including range, remaining charge level and closest electric charge stations.
Our final nod of approval goes to the heating and air-conditioning system. It was tweaked to decrease its power consumption rates. Not only is there an optional heat pump that recovers heat from various systems and uses it to warm the interior, there's also a feature that deactivates all vents except those around the driver (useful for when you're the only one in the car). It's so brilliant that all vehicles – electric or not – should offer the same.
Last word
This is not Kia's first electric vehicle. Koreans have been driving the Kia Ray EV for three years already. Moreover, Kia's Canadian spokespeople twice mentioned that the Kia Soul EV's electric system could easily be adapted to other vehicles, such as the Kia Forte. There's a chance that Kia might offer home charging stations factory standard. Or they may at least cover half of the cost, as the government program already covers the other half (up to $1,000).
While a lot of automakers look to contractors to design and build various electric parts, Kia developed almost all of the Soul EV's organs in-house. The exception is the accumulator cells, which are made by SK Innovation.
Kia hopes to sell 5,000 units of the 2015 Soul EV in its first foray into the international electric car market, which covers Asia, Europe and North America. It's a pretty conservative goal considering that last year Nissan sold ten times as many Leafs worldwide.
Share on Facebook