Rolls-Royce Launches the Waterspeed Collection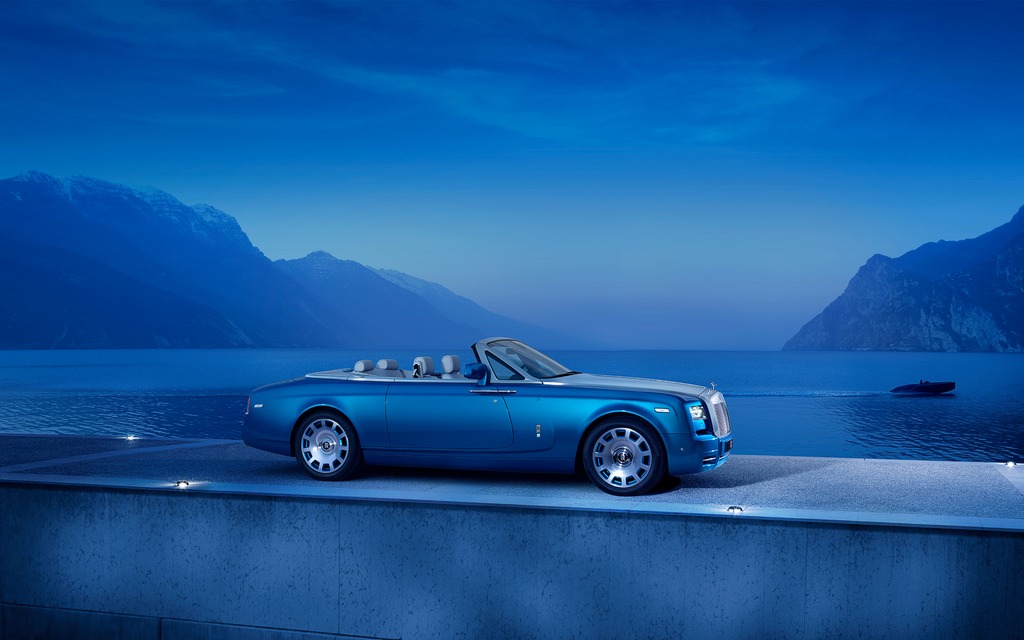 The latest land-barge to come out of Rolls-Royce Bespoke shipyards workshop is the Drophead Coupé Waterspeed Collection. They are a tribute to an English speed freak, Sir Malcolm Campbell. In 1937, he stole the water speed record from the Americans, going over 202 km/h in his Rolls-Royce-powered Bluebird K3 speedboat.
The most notable aspect of this Drophead Coupé is probably the exterior. Painted using nine coats of Maggiore Blue, the bodywork is then sanded and lacquered to a mirror-like finish. The hood and tonneau cover are made from brushed aluminium. The latter is a first for the company, as this piece is usually made from teak. It is first pressed into shape by a machine, then hand-beaten by an artisan for 70 hours, and then brushed for another 10 to give it its final shape.
But the real beauty of a Rolls-Royce is in the details. The engine is painted blue to complement the exterior; a first at Rolls-Royce. Another new feature is the use of abashi wood in the car. This detail comes from Africa, and is normally used in saunas, since it doesn't hold heat. The armrests are decorated with an engraving of Sir Campbell's boat. Each one takes about four hours to make…
Even the instrumentation is unique to this car! The power reserve, speedometer and even the clock are inspired by the Bluebird K3.
Only 35 happy millionaires will be able to buy one of these Rolls-Royce Drophead Coupé Waterspeed Collections. In a typically British statement, no mention of the price was made.
But if you have to ask…
Share on Facebook