2014 Nissan Pathfinder Hybrid: Sophisticated but Disappointing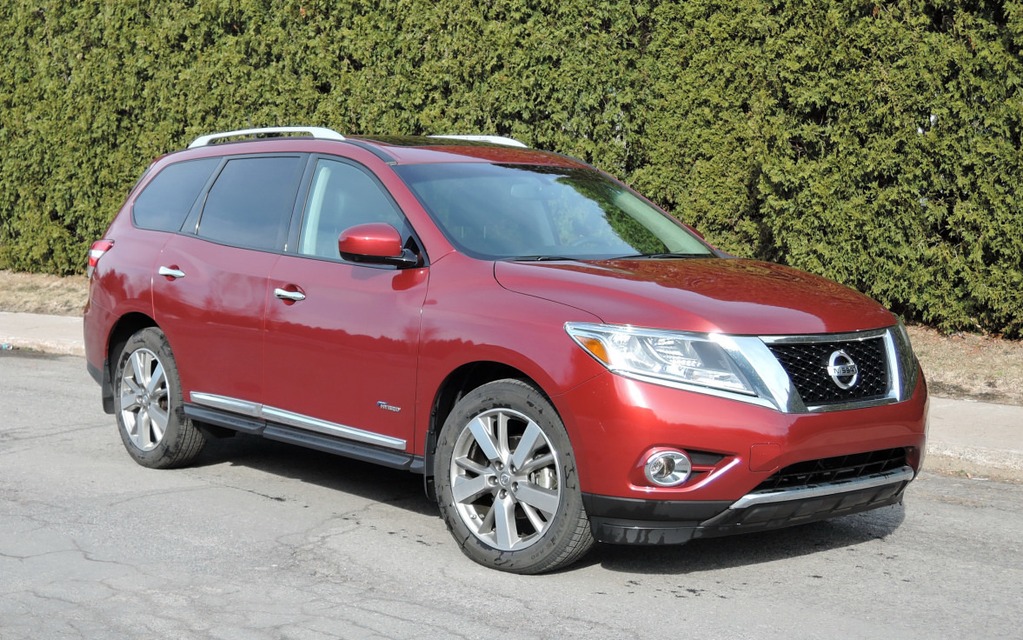 Strong points

Very spacious
Good road handling
Reassuringly reliable
Full equipment offered
The regular version is interesting

Weak points

Disappointing fuel economy
Bulky size
Lateral support on seats
The third row is a bit tight
Full report
Nissan caught a lot of people off guard last year when it revamped the Pathfinder. The update coincided with the decision to ditch the ladder-type frame borrowed from the Titan pick-up. It went from being an authentic SUV to a large crossover with a unibody, front-wheel drive and optional all-wheel drive for rides down secondary roads or snow-covered routes but definitely not for off-roading.
The other surprise was the vehicle's increased dimensions. The already bulky machine was given a larger trunk (11 cm wider, 12 cm longer) in addition to an extra 5 cm for the wheelbase. When I first saw the new Pathfinder, I was really surprised by its size.
The new generation is powered by the tried and true 3.5-litre V6, which is known for being both robust and versatile. It produces 260 horsepower and is paired with a continuously variable transmission that performs just slightly above average.
A highway cruise liner
The V6 accelerates decently and offers good pick-up, but its fuel consumption is a little on the high side. I got an average of 14.6 L/100 km, which is a far, far cry from Nissan's claim of 10.8 L/100 km. You gotta admit that's disappointing.
At least the Pathfinder's road handling isn't too bad, especially when you consider its size and relatively high centre of gravity. It offers good linear stability on the highway and well controlled body roll in corners. The dashboard is a patchwork of Nissan's various trends for displaying controls, dials and buttons. The effect seems both dense and scattered at first, but it doesn't take long to figure out and is actually quite intuitive in the end.
Overall, the Pathfinder isn't a bad choice for people who often travel as a group. When I called it a "cruise liner," I didn't mean it in a bad way. Rather, I was referring to the vehicle's spaciousness, comfort and ability to cover hundreds of kilometres without causing undue fatigue or discomfort to its passengers.
Unfortunately, its high fuel consumption is sure to discourage more than a few buyers. But there's always the chance that a hybrid version might be offered, right? Would that be a better choice?
Original technology
Nissan management could have struck a deal with Toyota to include their hybrid system in the Pathfinder. But instead they asked their engineers to develop a proprietary system. First, the 2.5-litre V6 is replaced by a supercharged 2.5-litre engine paired with a 15 kW electric motor, which is powered by a lithium-ion battery. Their total combined output is 250 horsepower and 243 lb.-ft. of torque. That's almost the same as the V6's 260 horsepower and 240 lb.-ft. of torque.
That much of the hybrid system is fairly conventional. Located between the gas engine and the Xtronic CVTMD gearbox, the electric motor also acts as a generator, transmitting power from the CVT to the battery when braking. But what's different about this system is the dual-clutch system that efficiently manages power coming from the electric and gas engines. One clutch is installed between the two engines while the other sits between the electric mill and the CVT. The very compact lithium-ion battery sits under the third row of seats and doesn't encroach on the vehicle's interior. This means that you can slide the second-row seats forward for easier access to the rear seats. And finally, like in all hybrid systems, the regenerative braking system automatically recharges the battery by converting the vehicle's kinetic energy during braking.
According to Nissan, the Pathfinder Hybrid's combined fuel consumption is 7.4 L/100 km. So when you consider that the gas tank holds 73 litres, it stands to reason that the vehicle's range could exceed 1,000 kilometres. Does the Pathfinder Hybrid live up to its promise?
Disappointment
I had the chance to drive it twice. The first time was in Nashville, Tennessee. For just under two hours, I drove it around America's country music capital. I immediately noticed that its fuel consumption was markedly higher than Nissan had claimed. And yet, my city driving was as green as it gets. I also noticed that the gas engine didn't automatically shut off when the vehicle stopped, as is the case in most other hybrid vehicles. In a chance move, I turned off the air conditioner and only then did the engine cut out when I stopped the vehicle. Not what you'd call the most refined system.
Last March, I tried the Pathfinder for a second time. I kept it for a week in the Montreal area, splitting my time between city streets, highways and country roads. I kept my driving style normal. But by the end of the week, the fuel consumption that had been recorded was just under 15 L/100 km—twice as much as Nissan's claim.
With no fuel savings, you've seriously got to wonder what's the point of buying a Pathfinder Hybrid. Not only does it consume almost as much gas as the conventional version, it costs $7,000 more. And during a test of a more expensive and more luxurious Infiniti QX60 Hybrid we noticed a similar fuel consumption rate.
It's a shame that Nissan put so much work into developing a clever hybrid system whose performance is ultimately disappointing. Buyers are better off saving their money and opting for the conventional version instead. At least until Nissan comes up with a solution to the problem.
Share on Facebook