2015 Hyundai Genesis: Genesis of a Future Success!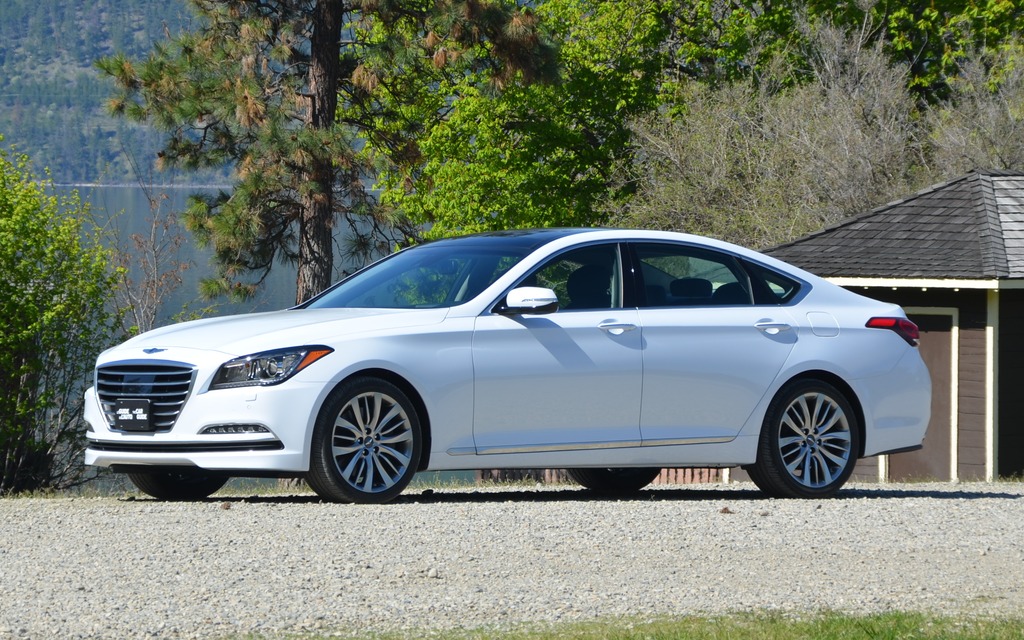 Strong points

Finally with modern lines
Elegant dashboard
Lively engines
All-wheel drive is now factory standard
Solid handling
Comfort guaranteed

Weak points

The brakes are nothing special
The transmission is still sluggish
The rear bench doesn't fold down
Hyundai still struggles with an image problem
Full report
Launched in 2009, the first generation Hyundai Genesis was never a commercial success. Its primary raison d'être was to change the public's perception of Hyundai and, in my view, this objective was at least partially attained. Hyundai has just released the second generation of its luxury sedan, and this vehicle has a whole new mission: to showcase the Korean automaker's expertise in engineering and technology—and of course to draw customers into showrooms.
This time, the Genesis isn't showing up empty-handed. First, its exterior esthetic has been totally revamped, which is no frivolous detail. Gone are the cartoonish front grille and lines so bland that they made the Buick Allure look sporty in comparison. Its designers applied the Fluidic Sculpture 2.0 design philosophy to the Genesis, while the Accent and Elantra were in the Fluidic Sculpture 1.0 era. Frankly, the whole "design philosophy" thing tends to escape me, but I nonetheless must admit that I find the Genesis quite good looking, even if it incorporates a lot of the same themes already seen at Audi, Infiniti, Ford, Kia and several others.
One thing that really caught my eye was the passenger compartment. The dashboard design may not be flashy, but it's classy. The leathers and plastics are slick. I personally didn't like the wood accents, but several other journalists I talked to thought they were very nice. It seems that once again I am the only person with judgement and once again I'm the only one to have noticed, but I digress… Another thing I didn't particularly like was the Genesis logo on the hood, in the centre of each wheel and right smack in the middle of the steering wheel. Does anyone agree with me this time?
Hyundai has big plans for the new Genesis. It was even given an all-new chassis and factory-standard all-wheel drive (previously, only rear-wheel drive was available). Note that U.S. customers will still have rear-wheel drive as an option, but manufacturers are catching on to the fact that in Northern climates like ours, all-wheel drive is a must. Thus, Hyundai made a wise decision on this front.
Same engines = good news
The engines are the same as before. There's the 3.8-litre V6 that produces 311 horsepower at 6,000 rpm and 293 lb.-ft. of torque. There's also the V8 that generates 420 horsepower at 6,000 rpm and 383 lb.-ft. of torque at 5,000 rpm. That's slightly less power than last year, but according to one Hyundai Canada representative, the engineers opted for more torque at low and mid-range revs. At any rate, when testing the V6 and V8, I never felt that there was a shortage of horses. The V6 may be less powerful than the V8, but in my opinion it offers more than enough—plus it is less fuel-hungry. Its sound during acceleration is less impressive than the V8's, but for a difference of $9,000, who cares about sound!
The transmission is also back unchanged. It's an eight-speed automatic. And even though the engineers claim to have enhanced the programming for faster shifting, I'm sorry to report that I couldn't tell the difference.
All-wheel drive = good news
The big new addition is the HTRAC all-wheel drive system made by Magna Powertrain. The heart of this system is the transfer case. Essentially, one drive shaft directs power and torque to the rear wheels (the Genesis was originally a rear-wheel drive) via the transfer case. Another drive shaft runs out of the transfer case and sends power to the front wheels. The percentage of torque that goes to the front and rear wheels is managed by the transfer case.
Regardless of which engine you choose, there are three settings: Normal, Eco and Sport. The latter ensures that more torque is sent to the rear wheels and that the transmission and steering are more responsive. In the V8 model, it also makes the suspension firmer. While this setting can't put the V8 on par with a BMW 550i xDrive, you definitely feel that it has more confidence in curves. The new Genesis – 3.8 or 5.0 – holds the road better and controls roll more effectively (though it is still an issue). Hyundai has proudly shared that Lotus was consulted on the suspension, which may partially explain its outstanding performance.
Equipped with a variable gear ratio (VGR) system, the new steering is markedly better than in the past (though it would have been hard to be worse). The brakes didn't make much of an impression on me, except that I noticed that in emergency braking, the pedal moves very far while remaining spongy. This extinguished any desire I might have had to test a Genesis on a race track (should I ever want to embarrass myself like that!).
But what the Genesis does extremely well is offer passengers a lot of comfort. The seats are delightfully cushy (this is coming from a guy who has so often bemoaned Korean-made seats), the soundproofing is impressive and there is tons of space. Moreover, the list of standard equipment is enough to leave German automakers red in the face, the layout of most dashboard controls is user-friendly, and there are numerous storage compartments. One miss, however, is the fact that the rear seatbacks don't fold down to create additional cargo space. There's just a ski flap.
Hyundai vs. Audi, BMW and Mercedes-Benz = not such good news
A few times during its media event, Hyundai proclaimed that the new Genesis would rival the Audi A6, BMW 5 Series, Mercedes-Benz E-Class, and Lexus GS. And this may be true in terms of equipment, price and comfort. But in my mind this car is more comparable to the Acura TLX, Chrysler 300, Ford Taurus, Lexus ES, Lincoln MKZ, Nissan Maxima and Toyota Avalon.
While the 2015 Genesis has closed some of the gap between itself and the big-name German cars, it still doesn't offer the same dynamic ride. Of all the rivals Hyundai mentioned, the Lexus GS would be closest on the spectrum to the Genesis, but even then there are some big differences—particularly in terms of public perception, as people are still hesitant to drop several tens of thousands of dollars on a Hyundai. That said, this new generation is a major improvement. A few years ago, the public wasn't even hesitating; they were responding with a firm "No!"
Speaking of price, this is what the Genesis retails for:
3.8 Premium: $43,000
3.8 Luxury: $48,000
3.8 Technology: $53,000
5.0 Ultimate: $62,000
Share on Facebook