2014 Toyota Camry: The High Side of Average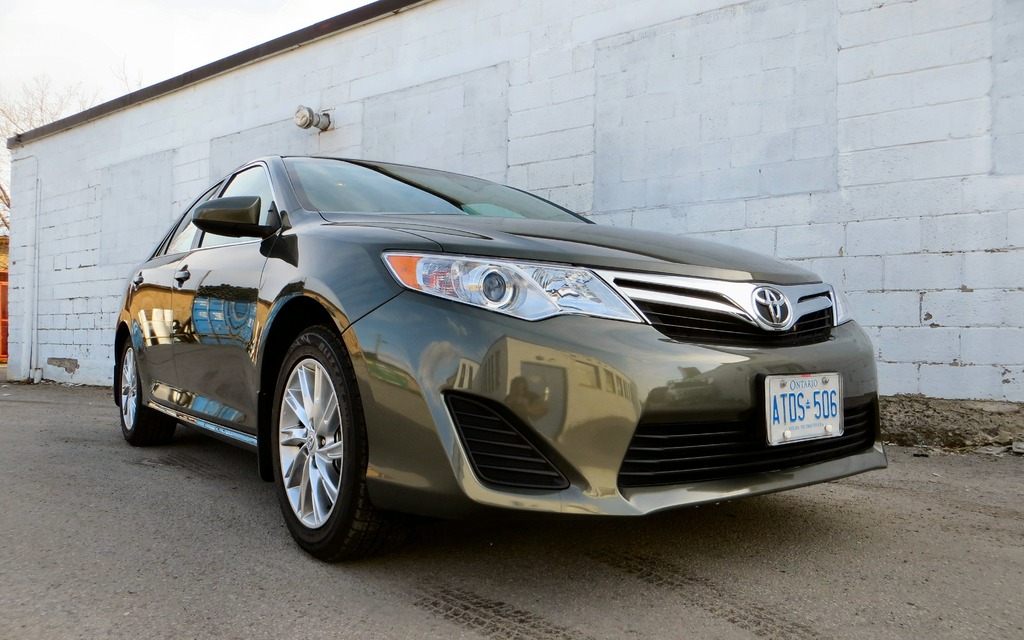 Strong points

Styling no longer as boring
Spacious interior
Comfortable ride
Good four-cylinder power

Weak points

Fighting against its boring image
Handling is average
Have to pay more for active safety
Very little personality
Full report
The 2014 Toyota Camry is the latest in a long line of sedans that have lived a charmed life in the eyes of consumers.  Regularly touted as a reliable family car with solid fuel mileage and a spacious interior, the Camry has enjoyed enormous sales success and become the de facto choice for anyone who needs a hassle-free commuter.  Of course, there's been a backlash of sorts from enthusiasts who deride the Toyota as drab and dull, no more engaging to drive than taking the bus to work in the morning.
I must admit that I had harboured a similar opinion of the Toyota Camry: that it was a well-honed driving appliance, not a car that would put a smile on the face of anyone stuck behind the wheel.  Well, after a week of being 'stuck' with the Camry, I'm changing my tune and giving this sedan the full credit that it deserves - and leaving my preconceptions of what a satisfying car should feel like behind.
More Than Enough Grunt From The 4-Banger
First things first.  You really don't need to pay more for the V6 edition of the 2014 Toyota Camry unless you are going to regularly be hauling a full load of passengers up a steep mountain pass.  Around town the 2.5-liter, four-cylinder base motor that was outfitted to my Camry LE tester performed admirably, with 178 horsepower and 170 lb-ft of torque on tap by way of a six-speed automatic transmission feeding the front wheels.  Passing was acceptable, torque off of the line never felt laboured, and while there were times when the engine got a bit rowdy under the hood, I was 100 percent satisfied with this entry-level engine.  The V6's 268 horses come with a fuel mileage penalty, so there's also that to keep in mind when considering an upgrade (I saw 12.5 l/100 km in mixed driving with the 2.5-liter unit)
Adroit Ambler
I was even more surprised by the adroit road manners displayed by the 2014 Toyota Camry.  To be sure, this isn't the kind of car you'd ever want to take through a slalom with a pack of rabid wolves in your rear-view mirror, but 99 percent of buyers will never even have a nightmare about that particular situation, let alone face it in reality.  The Camry's handling up to the limit was smooth, predictable, and absent of any torque steer, and there was no more than the usual amount of numbness present in any number of mid-size front-wheel drive cars.  Body roll was also kept to the bare minimum, an impressive accomplishment considering the softly-sprung chassis underneath the Toyota that did a good job dialling out Montreal's horrific potholes and roadwork.  You can get a sportier suspension package for the Camry, but there's really no point - if you are interested in a more spirited steed, you're better off shopping in a different category rather than spoil the mildness of Toyota's well-tuned standard setup.
Above-Average Presentation
The interior of a mid-size family car is an important place, not just because so much time will be spent there arbiting backseat conflagrations between siblings or staring at the bumper of the vehicle in front of you on the slog home.  The cabin of the 2014 Toyota Camry is going to be pushed to its maximum in terms of durability, storage space, and long-distance comfort.  There's always an extra toy of box to be stuffed in somewhere, or a bag of hockey gear to be scraped across the rear bench, or a stain soaking into the carpets after a rainy soccer practice.
In this respect, Toyota has managed to balance form with function, choosing durable materials for door panels, seat covers, and the dashboard without sacrificing too much to the hard plastic gods.  There's also plenty of space to stuff people and packages in both the trunk and the passenger compartment (I'll let you decided who and what to put where).  From a features perspective, you can get a decent touchscreen audio interface with the car that also handles Bluetooth and navigation.  In the Camry LE I drove the latter was accessed via a limited 'Maps' application accessible via the 'Apps' button on the side of the screen.  You'll have to pay more for features like automatic climate control and heated seats, and step up to higher trim levels to make active safety features like blind spot monitoring available.
Hard To Go Wrong With The Camry
The 2014 Toyota Camry has put in the time, trained hard, and come out of the gate as a top choice amongst mid-size sedans.  This is honestly a great car to drive any distance - it handled clogged city streets just as well as it did jaunts on the highway.  If I was really being truthful, I'd also have to say that I like the styling of the current Camry, especially finished in the shade of beige-green that seems to be the default color for this four-door automobile.  It's not as anonymous as it used to be, which is befitting a ride that's truly coming into its own in a segment that has become infinitely more competitive in the past five years.  If you can be satisfied with the four-cylinder's modest, yet useful output, you could be looking at a bargain that you can pass down to your kids when it's time for them to hit the streets on their own.
Share on Facebook