2014 Hyundai Tucson: Good Things Come In Very Small Packages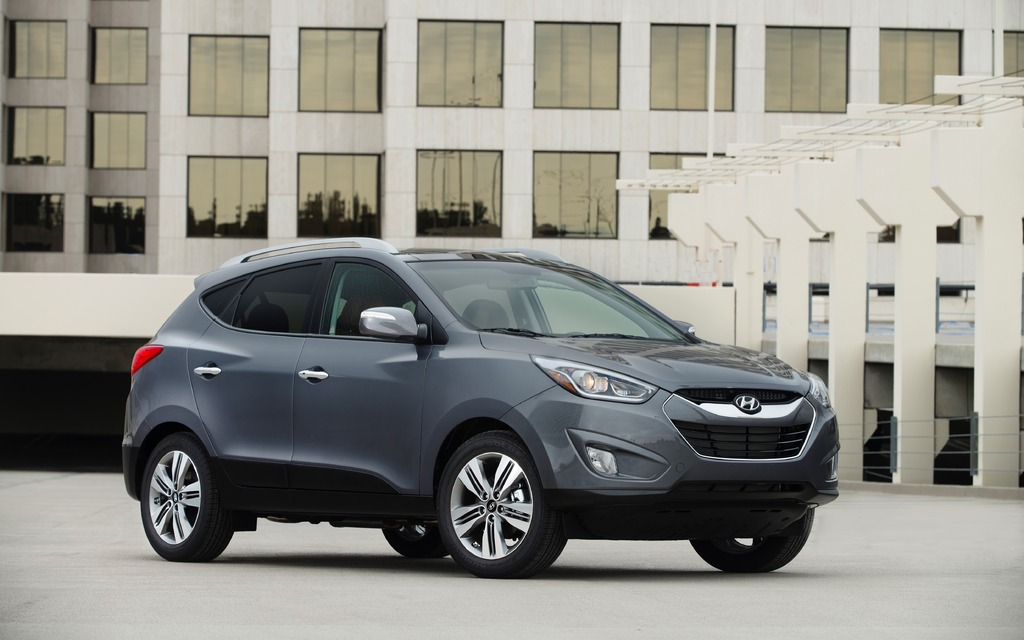 Strong points

Inexpensive compared to its rivals
A good level of gear for the price
Comfortable second row of seating
Nimble handling

Weak points

Styling is semi-bland
Interior features too much hard plastic
Not as much cargo space as the competition
No advanced safety equipment can be ordered with this vehicle
Full report
The 2014 Hyundai Tucson does what many other compact crossovers have been unable to manage in recent years: it stays small. Considerably shorter than most of its so-called 'small SUV' rivals, and with a light curb weight that keeps it nimble on its toes, the Hyundai Tucson is reminiscent of the early days of cute 'utes, particularly the original version of the beloved Toyota RAV4.
Check your impressions of yesteryear at the driver's door, however, because once behind the wheel of the Hyundai Tucson you'll quickly discover a very modern driving experience combined with respectable fuel efficiency.  There's nothing retro about the Tucson other than its size, which I think makes it an appealing choice for families seeking a useful, city-friendly commuter.
Manoeuvrable Backpack
The short wheelbase provided by the 2014 Hyundai Tucson is a blessing when navigating urban traffic, as it's easy to thread the needle between parked cars as well as squeeze into smaller parking spots without any real hassle.  In some ways, driving the Tucson is reminiscent of wearing a really big backpack - you've got enough room to haul a family of four, or a healthy amount of cargo when the rear seat is folded forward - and it's right there behind your shoulders.  The Hyundai's handling was light and nimble, and the crossover never felt weighed down by its cozy cabin.
Just Enough Power
The lightness in the Tucson's step is accentuated by its pleasing acceleration despite offering only modest power.  The version of the crossover that I drove featured a 2.4-liter, four-cylinder engine producing 182 horses and 177 lb-ft of torque, which is the top-of-the-line unit from Hyundai for this particular model.  There's also a 2.0-liter four-cylinder available in the base Tucson (164 horsepower and 151 lb-ft of twist), and each engine has been upgraded with direct fuel injection for 2014 to provide them with a marginal power boost.
A six-speed automatic transmission deftly transmits the 2.4-liter's output to the front wheels (last year's five-speed manual is now but a memory), which are the prime motivators even in versions of the Tucson that, like my tester, feature optional all-wheel drive.  You can 'lock' the all-wheel drive system into a more steady torque split via a button on the dash, which I tried out several times due to the snow banks that had piled up in the alley behind my home.  I found the crossover to be equally effective at pushing through the white stuff regardless of whether I left it in auto mode or not.
Not The Most Graceful Duckling
The small proportions that make the 2014 Hyundai Tucson such a delight to drive also work against its aesthetics.  It's a little too stubby to be graceful, and although Hyundai has given the Tucson new headlights (as well as LED running lights up front and available LED tail lights out back), it's a stretch to call this crossover attractive.  It's certainly not offensive to the eye, but it's bubble-esque profile focuses more on function than form.
Inside it's a similar story.  While Hyundai has made sure that the Tucson's major features all fall readily to hand, including stereo and climate controls, and despite the dash being nicely sculpted, there's so much plastic inside the crossover that it counteracts the best efforts of the automaker's stylists and just makes everything feel so dated.  I actually hurt my fingers on the hard plastic of the driver's door panel when my hand slipped on its slick surface and got wedged between it and the dash.  This is a weird situation for Hyundai, as even its most affordable cars feature materials above their pay grade throughout their interiors, but the mid-tier GLS model I drove was simply not appealing to look at or touch.
A Good Starter Package
Despite its plasticky passenger compartment shortcomings and tepid exterior design, the meat and potatoes of the 2014 Hyundai Tucson had me impressed.  I genuinely liked driving this little crossover, and given that so few of its compact classmates offer any type of real engagement once underway, that's saying a lot.  It's not a sporty ride, to be sure, and it's not quite at the level of the Mazda CX-5 (the dynamic benchmark of the affordable compact SUV segment), but the Hyundai Tucson is definitely a bit of a dancer.
The Tucson is not the most powerful, the most comfortable, nor the most frugal compact crossover out there, but it does represent a well-rounded choice for someone seeking a truly small, yet still practical ride.  It certainly doesn't hurt that the price is right, too - expect to pay less for the Hyundai than for most of its key competitors, with a starting price of just under $21,500 for the base model.  You'll get more for your money than if your went with a Japanese or domestic crossover, as Hyundai has stacked the Tucson's equipment list with items like a dual-pane sunroof and heated rear seats that a few years ago would have been restricted to a luxury SUV.  If you can live with an uninspired interior, and are on a tight budget, you can't really go wrong test-driving the Tucson.
Share on Facebook