2014 Infiniti QX60 Hybrid: Sunk By High Expectations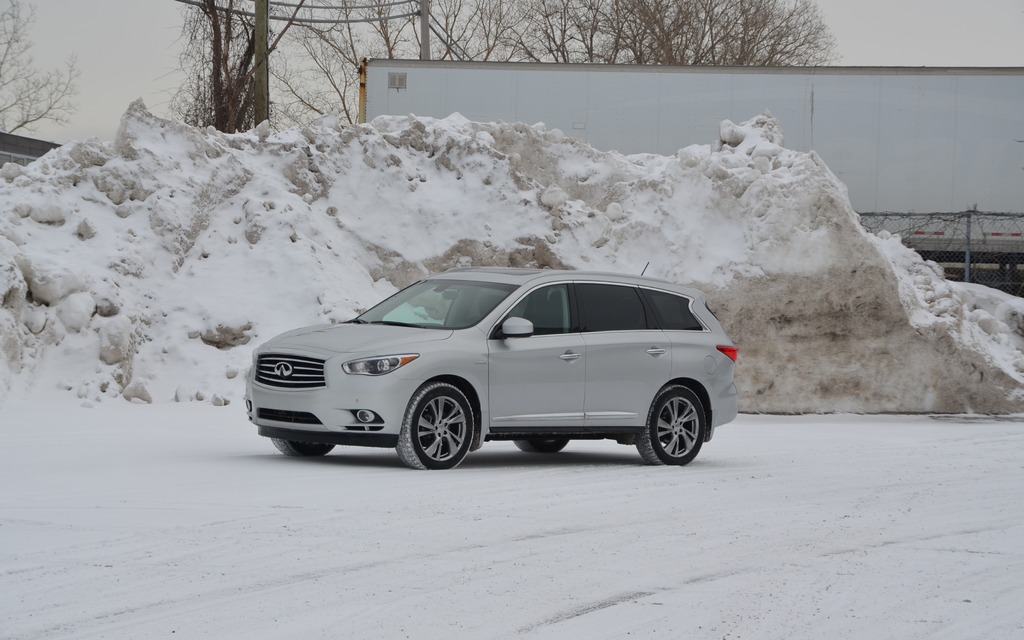 Strong points

Handsome style
Capacious interior
Comfortable ride
Decent power
Available all-wheel drive
Lots of advanced safety options

Weak points

Fuel mileage is no better than less expensive V6 model
Drivetrain is noisy at full throttle
Doesn't distinguish itself from base Infiniti QX60 in performance
Some shared switchgear with Nissan Pathfinder
Full report
Luxury hybrids have to be one of two things: quick or efficient.  There's not really any room for a middle ground, as the high price associated with premium hybrid ownership engenders certain expectations in the minds of buyers – specifically, that they better be getting something special in return for the heftier monthly payment.
Unfortunately, the 2014 Infiniti QX60 Hybrid lives somewhere between these two poles.  Not particularly powerful, nor anywhere near as thrifty at the fuel pump as it needs to be to gain a competitive advantage, it doesn't justify its higher price over the likable gas-only QX60, and it shows an unusual misunderstanding from Infiniti as to what luxury customers are looking for in a hybrid family vehicle.
Good, But Not Great
The 2014 Infiniti QX60 Hybrid has been advertised with the tagline 'V6 power with four-cylinder fuel consumption,' but after spending a week with the full-size SUV I can attest that only half of that particular statement is accurate.  The supercharged, 2.5-liter, four-cylinder engine under the hood of the QX60 Hybrid is matched with a single electric motor in order to produce 250 horses and 243 lb-ft of torque, which are satisfying figures in a world where similarly-large vehicles like the Honda Pilot soldier forward with six-cylinder engines tuned to provide similar output.
No Efficiency Advantage Over V6 Model
Trouble is, you'll have a rowdy time squeezing those ponies out of the Hybrid setup, and once you've got them, you'll discover that they are much thirstier than you might have expected.  The continuously-variable automatic transmission that comes standard with the Infiniti QX60 Hybrid ensures louder-than-desired mechanical thrashing at full throttle, regardless of whether the drive mode selector is tuned to Eco, Standard, or Sport.  Adding salt to the wound is the Eco setting's inability to milk out extra kilometres per tank compared to the V6 edition of the QX60: the 14 l/100 km that the SUV had to offer me were a perfect match for the more robust edition's performance when I tested it the year before.
The rough character of the QX60 Hybrid appears in other ways, too.  Unlike most of its competitors, the automatic engine start/stop system on my test vehicle refused to shut the SUV down.  This was perhaps due to the cold weather during my time with the Infiniti, but it no doubt contributed to its lackluster fuel efficiency.  I also experienced the engine 'dieseling' – that is to say, shuddering on for a few more cycles after shutdown – several times.
Well-Rounded In Other Areas
My disappointment with the 2014 Infiniti QX60 Hybrid's engine efficiency and overall performance was tempered somewhat by the fact the crossover still maintains all of the positives that make the V6 edition such a comfortable family hauler.  Three rows of seating inside a roomy cabin, combined with an exemplary array of active safety features (blind spot monitoring, lane departure monitoring, adaptive cruise control with collision mitigation front and rear) and a high level of fit and finish throughout the interior give the QX60 Hybrid high marks as a daily driver.  There are few ergonomic miss-steps inside the Infiniti, and its classy styling works well to mask its massive size when parked.
Out on the road, the chassis that the Infiniti QX60 Hybrid shares with the Nissan Pathfinder is also laudable for its control and its charisma.  This is definitely not an athletic SUV, nor would it be my first choice for off-road duty, but it is one that absorbed as many bumps and bruises as the rough streets of Montreal could dole out without jarring either me or my passengers.  It's also capable of making sudden changes in direction absent the pitching and rolling that one might associate with such a large vehicle.  Available all-wheel drive (which my tester did without) adds extra traction for winter and wet weather driving, although I had no trouble with my icy alley and snow bank-lined street parking with the SUV's front wheels leading the charge.
Not Meeting Its Own Standard
If the six-cylinder QX60 weren't such a good premium SUV, would the 2014 Infiniti QX60 Hybrid still have fared so poorly in my own estimation?  It's hard to say.  To be sure, a hybrid design that fails to be either more powerful, or more efficient than a version of the vehicle with two additional cylinders is going to be hard to recommend.  It's even more difficult to conceive of paying more for a less desirable package, which is what Infiniti expects customers of the QX60 Hybrid to do.
My advice is simple: stick with the standard QX60 and enjoy the same fuel mileage, better acceleration, and a break on the bottom line.  The hybrid design offered in this premium SUV simply isn't up to the task of competing at the level required in its class.
Share on Facebook