Venom GT: World's fastest production car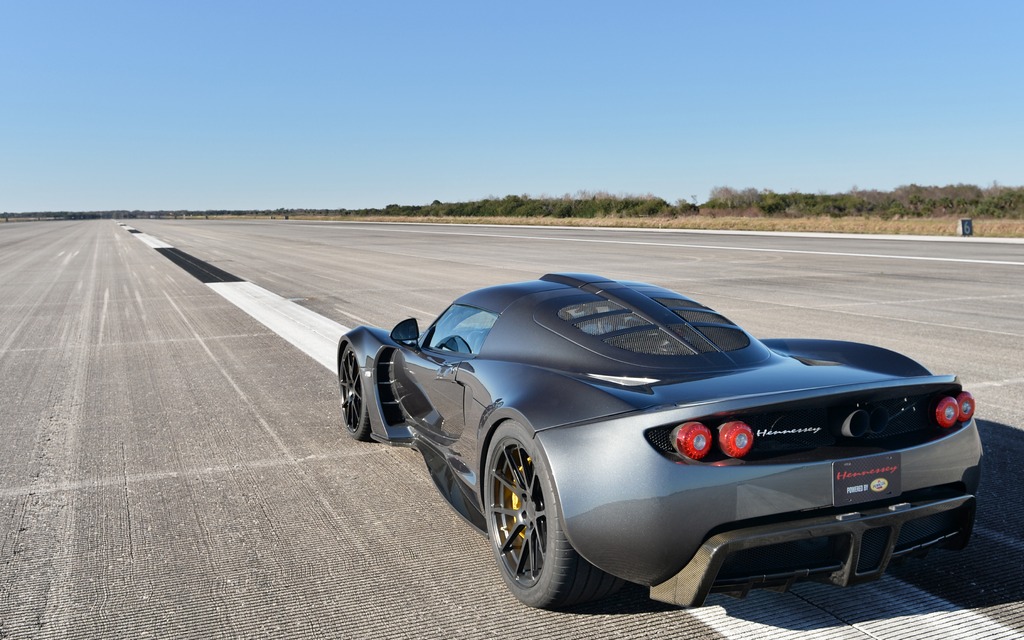 The current speed record for a production car, according to Guiness World Records, belongs to the Bugatti Veyron Super Sport. The car achieved 431.072 km/h on the Ehra-Lessien (a test track in Germany) 8.7 kilometer high-speed straight. This is not an easy record to beat, not only because the Veyron SS is a 1200HP, quad-turbocharged, W16-powered feat of engineering, but also because there are few places in the world where such a speed can be attained by a car. And since VW owns Ehra-Lessien, it is very unlikely they will let anyone challenge their supercar there!
John Hennessey, Texan tuner and builder of the Venom GT, is one of the most serious competitors for the record. Last year, his car managed to hit 427.6 km/h before having to brake at the end of the 4.67 kilometers of a Navy runway. He knew the Venom could go faster, if he managed to find a track to accommodate it. But where? If the Navy can't supply you with a long enough runway, who do you turn to next? NASA? Actually, why not?
So, on February 14, 2014, The Hennessey Venom GT lined up on the 5.14 kilometer space shuttle runway at the John F. Kennedy Space Center. Since NASA doesn't allow anybody to just roll up to the runway and floor the throttle, Hennessey had to get creative. Under the cover of a ''scientific test'' for a new synthetic oil by Penzoil and the use of some obscure agreement for scientific purposes, the car was allowed one full-speed run. This meant that the record could not be officially beaten, since Guiness official procedure require two runs, back and forth. No matters, the Texas-born supercar was ready to beat the Veyron SS.
The Venom GT's acceleration is brutal. Using a 7 liter twin-turbo V8 developing 1244 HP, it does 0-100 km/H in 2.7 seconds, clears 300 km/h in 13.63 sec and on that morning, managed to hit 435.31 km/h before running out of runway.
For Hennessey, the next challenges will be fine-tuning the car, trying different transmission ratios, and more importantly, finding a long enough straight to show what the Venom GT can really do…
Share on Facebook