Mitsubishi Mirage G4: North American Premiere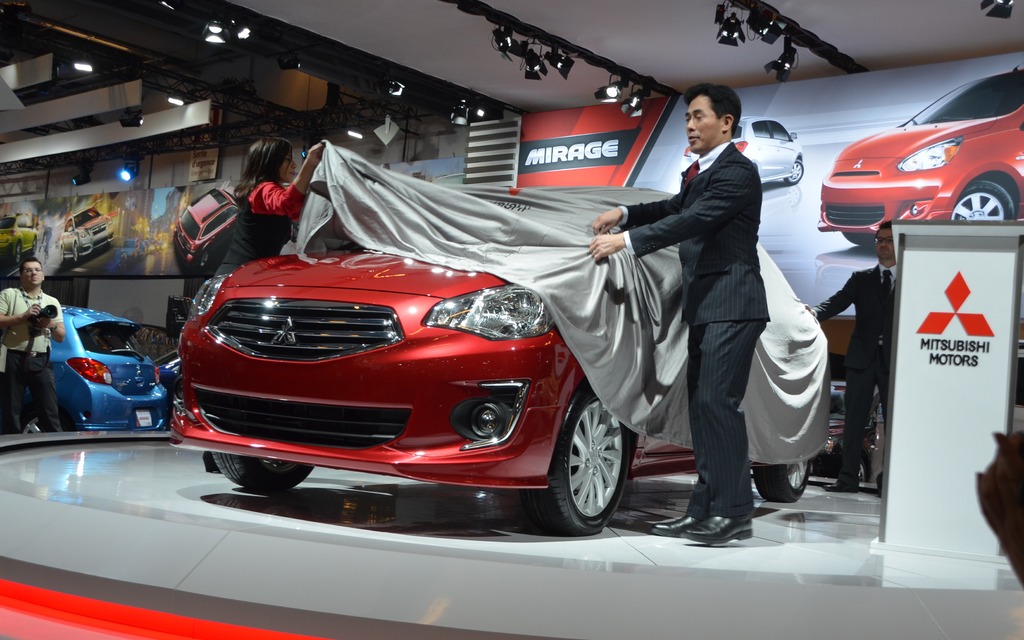 A North American premiere in Montreal! Well, that's nothing ... Last year, Mitsubishi unveiled the Mirage as a North American premiere but at that time it didn't even have a name! This year it was the sedan which makes its first appearance on our continent.
Made in Thailand, and already available in several markets under the name Attrage, the G4 is powered by the same motor as the Mirage: an inline DOHC 12-valve three-cylinder MIVEC engine with a continually variable transmission (CVT).
The wheelbase is longer than the Mirage (2450 mm versus 2550 mm) and the car's length is 4245 mm while the Mirage measures only 3780 mm.
In fact, the Mirage G4 is not yet officially on sale in Canada. If the reaction of visitors to the various auto shows in Canada is positive, Mitsubishi will move ahead and produce the G4 for us Canucks.
"Our plan is to showcase the Mirage G4 and gauge what Canadians think of it and what they expect from subcompact sedans in general,", Mitsubishi Canada president Kenichiro Yamamoto, said in a press release. "A solid business case for Mirage was confirmed by the successful 2013 launch of the Mirage hatchback model; with G4, we're indicating our intention to grow the Mirage line up in Canada."
Share on Facebook