2014 BMW 428i xDrive: A Fresh Start For BMW's Two-Door Champion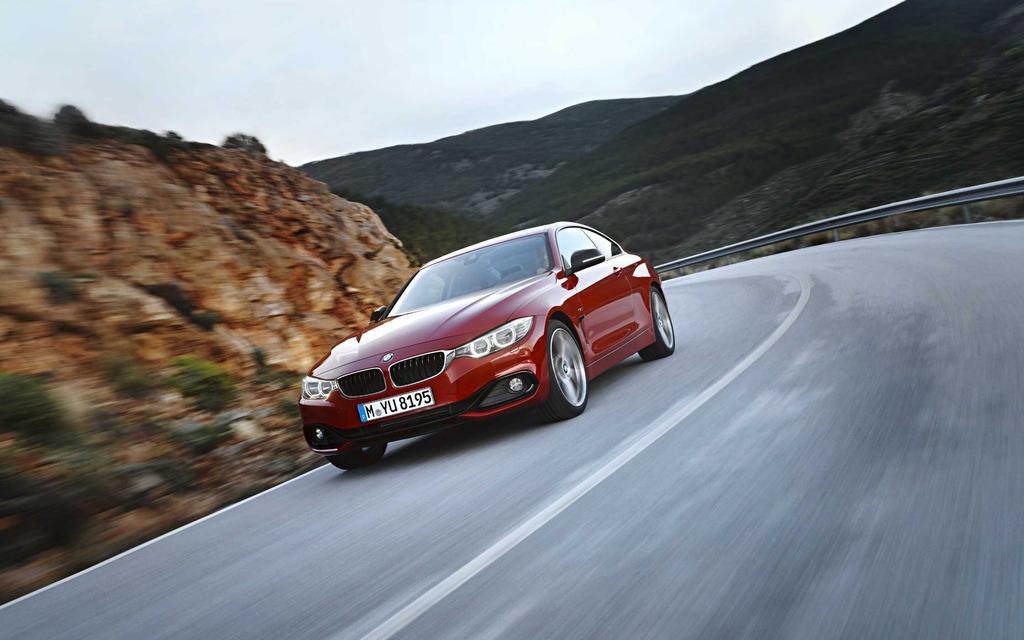 Strong points

Big, but attractive styling
Roomy interior, usable rear seat
Comfortable to drive
Respectable performance

Weak points

Expensive with options
Heavy chassis contributes to good, but not great acceleration
Not as nimble as older BMW coupes
No manual transmission with all-wheel drive option
Full report
It's 2014, which means it's time to say good-bye to the old boss - the BMW 3 Series Coupe - and say hello to the new boss: the BMW 4 Series.  In a world where brand positioning is beginning to trump all other considerations, the German luxury automaker has elected to separate out its two-door coupe and convertible compact cars and give them their own unique line-up space separate from the traditional 3 Series model.
My first opportunity to sample the redesigned and renamed 4 Series came in the form of the 2014 BMW 428i xDrive, the entry-level model in the coupe's pantheon but still a formidably equipped example of what the personal luxury space has to offer.  Unsurprisingly, BMW has managed to successfully paint last year's winning sedan formula across a two-door canvas.  Although some sacrifices have been made in the pursuit of market share, on the whole the 428i xDrive is a balanced package that has a lot to offer buyers in its price range.
A Baby 6 Series
There was once a time when one could have legitimately labelled BMW's bread-and-butter coupe a compact car, but those days are long behind us.  The 2014 BMW 428i xDrive is big and bulky, with muscular haunches, bulging bumpers front and rear, and a long hood matched only by its even longer sloping roofline.  It's not an unattractive design by any means - with perhaps the exception of the tacked-on fender vents up front - but its one that relies on size to announce its presence, and as such its far more reminiscent of recent 6 Series models than its spiritual predecessor.
Fortunately, the 428i xDrive's generous external dimensions translate into a relatively roomy passenger compartment.  Not only are driver and passenger properly taken care of by the car's expansive front seats, but the vehicle's rear row is actually usable by full-size adults.  Leg room is good for those trapped in the latter half of the coupe's 2+2 accommodations, although taller individuals will no doubt notice the intrusion of the car's roofline, which is almost five centimetres lower than that of the sedan.
That Old Familiar Feeling
From an equipment perspective, there's nothing that the 4 Series makes available that one couldn't find in a comparable 3 Series model.  You get the same choice of active safety equipment (including blind spot monitoring, lane departure warning, and collision mitigation), along with an available head-up display, louder stereo system, and a navigation system.  BMW's iDrive system once again pulls duty as your primary interface between car and driver, and my test vehicle came with the Premium package's heated steering wheel and rear-view camera, each of which were appreciated during the cold weather that froze my finger tips and obscured the car's windows with frost during our time together.
One unusual addition to the 428i's feature set is a skeletal plastic arm that automatically extends to 'hand' you the seatbelt as soon as you've slipped into the coupe's driver's seat.  The feature is intended to keep you from having to reach back into the admittedly deep B-pillar to grab the belt, but its rickety-looking construction virtually guarantees that it will be the first thing to break in this BMW.
New Friends
Under the hood of the 2014 BMW 428i xDrive is a relative newcomer to the German brand's drivetrain family, but one that is becoming well-known due to its ubiquity throughout the BMW stable.  The 2.0-liter turbocharged four-cylinder generates 240 horsepower and 255 lb-ft of torque, which is quite sufficient when it comes to propelling the coupe forward if not with authority, then at least with verve.  A seven-speed automatic transmission is requisite with the xDrive model's all-wheel drive system, which is itself quite adept at handling low-traction conditions, and the 428i also provides the ability to select between Eco Pro, Comfort, Sport, and Sport+ drive modes in order to tailor throttle and suspension response to the desired degree.
I've already mentioned the BMW 428i xDrive's size in terms of its visual impact, and I'm going to bring it up again here in discussing the car's dynamics.  The 428i feels as big as it looks from behind the wheel, and the added mass of the xDrive system does it no favours in terms of its immediacy when responding to handling inputs.  I also found the car's electric steering system - one of the best in the business, to be sure - to still feel a little bit behind older versions of BMW's entry-level efforts from a feedback perspective.  Make no mistake: the 4 Series is a smooth, comfortable, and accurate driving tool, but it's no longer quite as 'on its toes' as past offerings from the automaker.
An All-Around Winner
The 2014 BMW 428i xDrive is quite a good car, especially for those seeking a coupe that does everything well yet doesn't go overboard in any particular area.  It's fun to drive without being rough around the edges, comfortable without delving into affectation, and spacious enough to use as a daily driver.  Is it as practical as the 3 Series?  Certainly not, but coupes are emotionally-informed, style-first purchases, not matters of cold calculation.
Perhaps the one true downside to the BMW 4 Series is its price.  The 428i xDrive that I drove stickered for roughly $60,000 after options, which is a considerable sum to pay for what is in essence the entry-level version of BMW's mid-tier coupe.  Even the base price of $49,000 (for xDrive models) is considerably more expensive than the car's rivals from Audi (the A5) and Mercedes-Benz (the late-in-life C-Class).  That's the kind of 'cold calculation' that may have more of an impact at buying time than the number of doors offered by this premium cruiser.
Share on Facebook