2014 Dodge
Grand Caravan

: If Santa Needs Another Sleigh...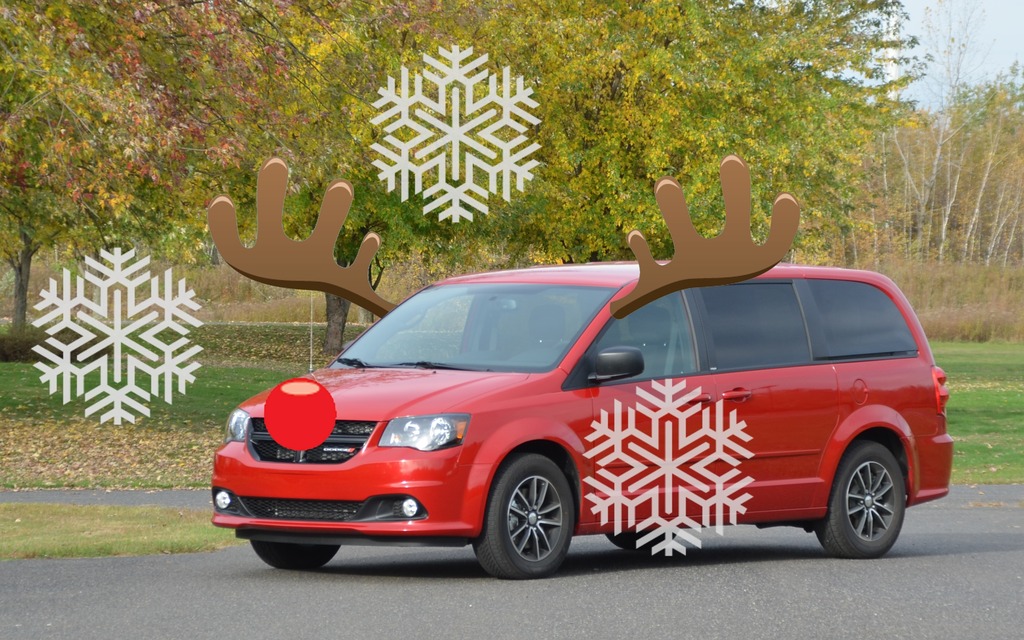 Strong points

The trunk is like a cathedral
Awesome Stow'n Go system
Carefully priced (except with all the extras)
The 3.6-litre V6 is in good shape
Numerous storage compartments

Weak points

It's massive
A real gas guzzler
Road handling is not sporty in the least
Third-row seats are not very comfortable
Reliability is touch-and-go
Full report
The old man dressed in red and white will soon be doing his annual delivery of gifts to kids around the world who made a point of being nice this year. How does he do it? Nobody really knows. But the fact that he does it is the important part. 
Believing in Saint Nick is all very nice, but there are 364 other days of the year when the magic is not quite so present. The common mortal needs an earthbound mode of transportation. And if you want to move around loads of stuff – be it toys, sports equipment, pets, kids, grandparents, construction materials, bikes, grocery bags or anything else that your little childish heart might desire – there is really only one vehicle : The Dodge Grand Caravan. In red. 
As though by magic, Chrysler Canada recently handed us the keys to a Grand Caravan. A red one! Sadly, there was no snow for the photo shoot. My little childish heart was oh-so very disappointed.
Big and shiny
After all these years, the Grand Caravan still can't be beat for its capacity to carry lots of stuff or lots of people. While she may not be the sportiest of all vehicles (its size and weight makes that plenty obvious), she certainly is handy! And yet, the Caravan's cargo hold isn't the biggest in the category. It can carry between 934 and 4,072 litres, depending on whether the seats are up or lowered. A compact SUV like the Mazda CX-5 can take 966 to 1,835 litres. Meanwhile, the Grand Caravan's arch rival, the Toyota Sienna features a massive trunk that can hold 1,110 to 4,250 litres. 
But if you want to make use of all that space in the Sienna, you have to take out the seats – an operation that would even make Mary and Joseph lose their cool. Meanwhile, the Grand Caravan's Stow'n Go system folds down in a snap to create a perfectly flat surface. This mechanism was introduced several years ago, but it's still just as awesome and, amazingly, it has not been copied by the competition. With the Stow'n Go system, the two captain's seats in the second row fold into a cavity in the floor. When the seats are up, you can use this cavity as a cargo hold. The third row seats also tuck into a cavity in the floor, as is the standard in the minivan industry.
When it comes to versatility, the Grand Caravan is the champ. It has storage compartments absolutely everywhere, and they are as big as they are plentiful. You'll find storage cubbies in the centre console, on the centre console, in the rear side panels, in the two glove compartments, in the door sides, to the left, to the right, up high, down low . . . you get the picture. Santa would have plenty of spots to hide small but wonderful gifts for me, like a GPS, a gift card for my favourite restaurant, a copy of Le Guide de l'auto 2014…
Comfort and joy!
The front seats, which come complete with arm rests, are tremendously comfortable, allowing you to drive for kilometre after kilometre without really feeling it. It's perfect for going around the world in 24 hours! The second-row seats also come with arm rests and offer pleasant support for your bottom. However, I found the seat back just a little too reclined, even when positioned as upright as possible. But I bet this angle is ideal for installing car seats. And thanks to the big sliding doors, it's very easy to access these seats. In the third row, the seat bottoms and backs are both tilted back, which makes you feel like you're sitting in a V. The advantage is that your thighs are comfortably supported. The downside is that you'll feel each and every one of the bumps and potholes encountered on all other 364 days of the year.  
With ample windows, the Grand Caravan offers great views of everything around you. That said, the rear back-up camera still regularly saves the lives of children and even more bumpers.  Speaking of safety, this warehouse on wheels comes standard with seven airbags on all trim levels. This should help protect all the presents should you collide with random parts coming off the international space station. 
Rudolph, Dasher, Dancer, Thunder and Furor and 278 others 
Instead of reindeer, the Grand Caravan is equipped with a plain old gas engine. It's the same 3.6-litre V6 that is ubiquitous at Chrysler. During our week-long test drive (composed of 60% highway, 20% secondary roads, 20% city) it consumed an average of 12.0L/100 km. This is in-line with the manufacturer's numbers of 12.2 city and 7.9 highway. It's both a little and a lot. It's not very much when you consider the fact that the vehicle is massive and as aerodynamic as a shoebox. Not to mention that it weighs more than 2,000 kg (making it the heaviest vehicle in its category) and that it offers 283 reindeer and 260 lbs.-ft. of torque. But it's a lot when you compare the Grand Caravan's fuel economy with that of the Honda Odyssey, which drinks two litres less per hundred kilometres. 
Once you're up in the sky, you can't tell how fast you're going and there are no policemen lurking at the Milky Way Exit. So needless to say, you can put the pedal to the metal, worry-free. You don't even have to slow down for corners – just take them a bit wider than usual. After all, there's plenty of space for it! Back on Earth, it's another story altogether. The Grand Caravan is as sporty as a refrigerator. You don't want to push it over the limit. This is not a vehicle for joy rides!  
Christmas, a time for forgiveness
The Dodge Grand Caravan atones for its shortcomings with its price – by far the lowest in the category. In case you're wondering, its shortcomings include some unfortunate fit and trim details, disappointing plastics and erratic reliability. 
But let's not dwell on the negative. It's Christmas, after all! If you turn your innocent, childlike eyes up to the sky, you might even see Santa Claus fly by in a red Grand Caravan. 
Share on Facebook