Lexus IS-F, a new mobile site for this luxury sport sedan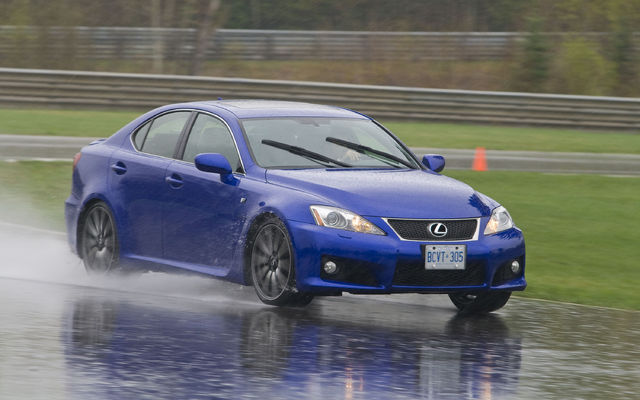 Canadians looking for the coolest of performance luxury cars are hard to catch these days. As a leader in the advanced luxury driving experience, Lexus has brought many new technologies to the luxury market. That's why Lexus of Canada in cooperation with Sympatico MSN are introducing a new, highly interactive mobile experience that will allow Canadians - wherever they are - to connect to the Lexus IS F mobile site through their mobile phones or other web-enabled portable devices.            
The Lexus IS F mobile web site allows web users to access from their mobile devices a dealer locator; Lexus IS F videos and other downloads; Lexus guest services; and send information to a friend. Also a first, Canadian drivers will be able to choose and build a Lexus IS F by accessing all features, benefits, colours, specifications in order to style a dream Lexus drive from anywhere.            
"Consumer research indicates that more than 75 per cent of Canadian households have access to a wireless phone with internet access*. The IS F combines passion, luxury and world's first advanced technology in a performance sports sedan. It brings a new level of excitement and advanced experience to the Lexus brand, so it will be the focus of our engagement with Canadians through mobile media," said Tony Wearing, Managing Director of Lexus in Canada. "We will be able to bring Lexus to mobile users and become the first automotive manufacturer in Canada to participate in a research lab connecting Canadians to Lexus from their mobile devices."            
The new mobile site will be promoted via a month-long online marketing campaign that's expected to generate more than one million impressions. As part of the campaign and new website launch, Lexus is the first and only automobile company to participate in a consumer research study lab with the aim of understanding and implementing the best mobile communications for Lexus guests. The lab began earlier this year and involved in-depth consumer research studies as well as a comprehensive analysis of mobile marketing. Upon completion of the campaign and the lab, Lexus hopes to use the subsequent results to become more accessible to Lexus guests.            
With jaw-dropping 416 horsepower, acceleration, handling, and the world's first 8-speed automatic transmission - all proven on some of the most challenging race courses the world has to offer - the 2009 Lexus IS F combines high performance, high technology and high style in a luxury sport sedan that delivers a uniquely Lexus interpretation of driving excitement and authentic performance.            
"In the IS F, we have created a new breed of performance sedan," Mr. Wearing continued. "By taking Lexus.ca to those high performance Canadians for whom this vehicle was designed, we're creating a new breed of customer experience. What's more, the IS F mobile site is a first step towards developing a broad-based mobile presence for Lexus of Canada, making it even easier for our guests to connect with us."
          
To access the IS F mobile website from your mobile device, please visit isfmobile.lexus.ca. For further information about the IS F mobile site launch, please visit lexus.ca and click on the IS F mobile site banner.
Share on Facebook