1923 Ford Model T: Death Becomes Uncle Rod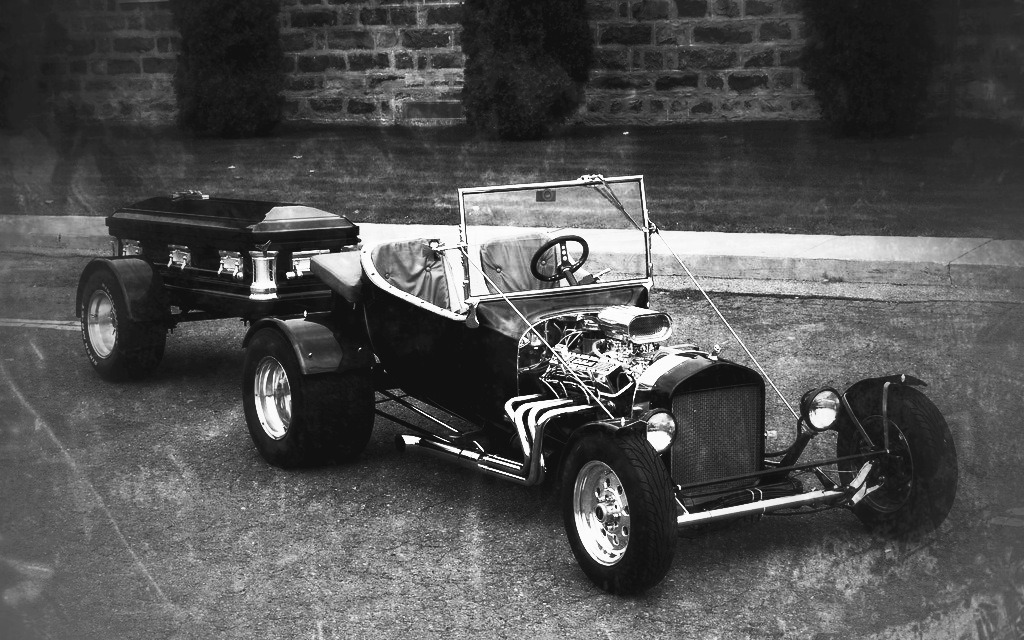 It's Halloween and the dead are walking the Earth. The automobile industry is often closer to this grim and macabre notion than you might think. Are you ready for a true story?
Ever since he was very young, Patrick Danis has loved T-Buckets, two-seat Ford Model T replicas with immense, prominent engines. A few years ago, he finally fulfilled his dream and acquired a 1923 model whose body, like the vast majority of T-Buckets, was made of fibreglass.
But the dream came with some unforeseen complications. Danis quickly realized that his beautiful car had zero storage space. When he went to modified car shows, he and his spouse had to stand the whole time because they couldn't bring chairs with them – or even a cooler, for that matter.
The solution, dead ahead…
So Danis set out to find a trailer. But it couldn't be just any trailer, since the car pulling it was far from ordinary. One day, at a garage sale in Carignan, he noticed a coffin at the back of a garage and was immediately intrigued. When he returned to his home near Drummondville, he had an idea – a coffin would make an excellent trailer! He returned to Carignan and negotiated to buy the coffin. However, he had forgotten one thing: he didn't have a way to bring it back home. So he returned home and came back to Carignan with his 6-foot trailer – to transport the 7-foot coffin. With part of the coffin hanging off the back of the trailer, Danis brought the grim object home. All that was left to do was to build a chassis on wheels and the coffin would be ready for its new, um, "life" as a trailer.
The coffin-trailer was nothing if not a conversation-starter, especially when attached to the flashy 1923 Model T. At shows, everyone would ask Danis if there was a dead person inside. Sick of answering the question, he fashioned a head out of Styrofoam that, in addition to attracting attention, housed a cooler. Then, after finding a beautiful skeleton (not a real one, of course), he added the rest of the body. And that's how Uncle Rod was born. This not-so-living legend draws crowds wherever it goes. What's more, Uncle Rod will soon be able to sit up in his coffin – all by himself – thanks to a remote control!
Style that just won't die
Where does the 1923 Ford fit in to the story? First of all, a little background would help. The T-Bucket trend is far from a recent phenomenon. In the 1920s, the Ford Model T was ubiquitous, and a good number of speed freaks had the idea to strip the T of anything that added weight unnecessarily (fenders, top, bumper, etc.). The most highly prized version was the Roadster, a topless two-seater Model T (hence the name, "T-Bucket"). At the same time, several performance parts were available, with an independent industry greatly benefitting from the Model T's meagre standard equipment. In 1932, Ford gave performance fans a gift by unveiling its V8, and before long, this engine made its way into Model T's that were already stripped of their superfluous weight.
Now 60 years have passed and there are no more original Model T's to modify. The bodies are now made of fibreglass and the chassis are now custom-made.
When Danis got his T-Bucket, it was in good condition and functional, and yet he modified everything, from the suspension to the wheels to the intake to the chrome! Note that Danis, a machinist, isn't intimidated by mechanical challenges.
Cold Rod, meet Hot Rod!
The engine is a Chevrolet 238-cubic inch V8 that develops about 200 horsepower, a lot considering the weight-to-power ratio. It has a four-speed automatic Turbo Hydra-Matic 700R4 transmission. When Danis had purchased his T, the transmission was a two-speed Powerglide. With the 700R4, in tandem with a differential with a ratio of 3.73, the accelerations aren't as fast, but, at cruising speed, the engine revs a lot slower, thus improving the sound and fuel consumption.
Danis drives his T-Bucket a great deal, enough to know that it's stable on the highway and relatively comfortable in town. "But I wouldn't drive it to Florida," he specifies.
A tireless tinkerer, Danis always has a project in mind. In fact, he just finished a Drag-U-La like the one built by none other than George Barris, the legendary creator of the first Batmobile. Don't worry we're already planning an article on Quebec's own Drag-U-La.
Old cars don't necessarily have to be serious and boring to death – and Danis and Uncle Rod are "living" proof!
Share on Facebook