Bugatti Veyron CR: We Tested This Beautiful 1,500-hp Beast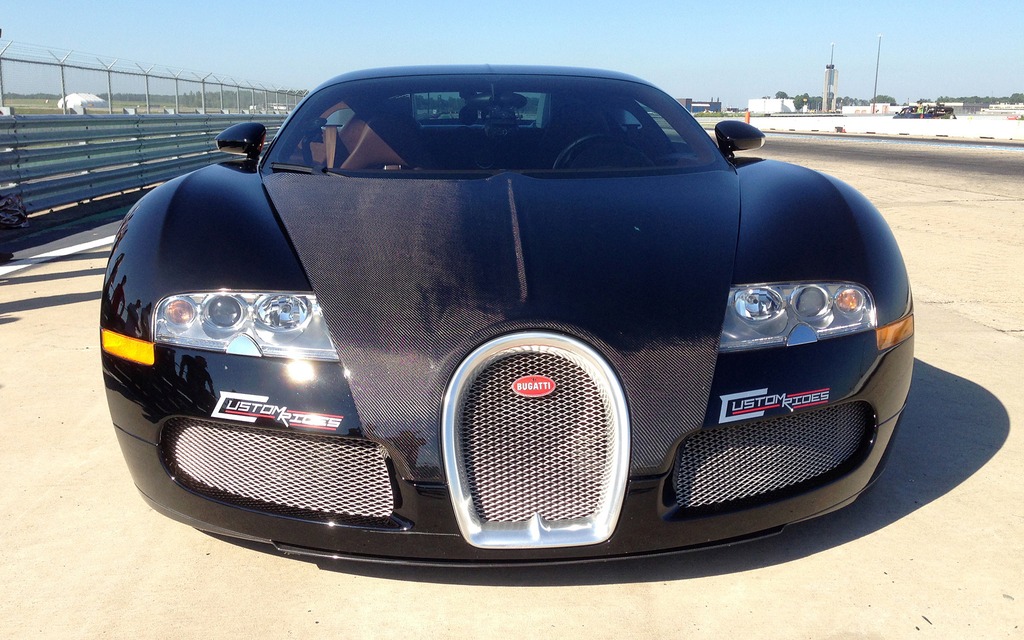 There's has never been a car like the Bugatti Veyron and there undoubtedly never will be again – at least none that combines so much excess and so many extremes. With just a few dozen built per year since 2005, it is the most powerful, fastest and most expensive car in the world. It also happens to be the most gluttonous.
Let's consider the evidence. For starters, the standard Veyron's 8.0-litre W16 engine is boosted by four turbochargers, cooled by ten radiators and produces 1,001 horsepower. That's enough to propel this long, wide and low coupe to more than 400 km/h.
When the first units were produced, the Veyron 16.4 cost a cool $2 million – without options – and its price has continued to climb ever since. Do you really want to know about its fuel consumption? The numbers are a staggering: 41.9 L/100 km city and 15.6 highway for a combined total of 24.9/100 km on the European cycle.
Bugatti Veyrons are few and far between in Quebec. Both rare and discrete, these vehicles are more often hidden under tarps in the vast and immaculate garages of mansions and opulent mountainside homes. Occasionally, you see one parked in front of an exclusive club or a circuit reserved for insiders. Test drives? Not on your life.
A unique Veyron
And yet, The Car Guide was recently given the chance to drive the most unique and powerful of Bugatti products available in Quebec. And not just for a Sunday drive. We were allowed to push it to the limit – twice – on the drag strip at Mirabel's Circuit ICAR. Forget about reaching its top speed – you can't even reach 400 km/h on the PMG Centre high-speed oval in Blainville, which is the only place in Canada where driving that fast is legal and safe.
The extremely rare specimen we tested was a Veyron 16.4. It was produced in 2008 at the Bugatti plant in the Alsatian city of Molsheim, near the Château Saint-Jean, which the Volkswagen Group purchased directly from the family after acquiring the Bugatti brand in 1998. Bugatti products are designed in Germany by the Group's elite engineers, who cater to the Group's true boss, the visionary and vaguely tyrannical Ferdinand Piëch, grandson of Ferdinand Porsche. However, all Veyrons are built in France, where it takes five technicians three weeks to create each unit.
The first owner of this Veyron, whose chassis bears number 175, was American. It was then bought by a young Quebec entrepreneur who really didn't like the body colour, a burgundy and black homage to Bugatti classics.
He entrusted it to Laurent Nathan, the hyperactive and very gifted performance tuner whose Custom Rides workshop has improved, modified and repaired European cars for twenty-odd years in Laval. They agreed on a unique colour: "black chrome."
Not just for the look
Nathan stripped the Bugatti down to its carbon fibre body and took six months to perfect the technique that was going to help him "chrome" every aluminum panel of its body. Then he added thin coats of translucent black and several other layers of varnish and lacquer.
The result is astounding, and the Veyron is unrecognizable. The traditional horseshoe Bugatti grille and air intakes have also been modified, and the twelve-spoke black alloy rims are new, too. As spectacular as its new outfit may be, what really caught my attention was the inscription on its sides: "1,500 hp." What? Fifteen-hundred horsepower?
Nathan didn't just refine the vehicle's style; he modified the Bugatti's four turbochargers by creating new turbines with the help of American and German specialists, who also helped enlarge the air intake and outflow. After all, more air means more power and more torque.
He also replaced the factory-standard titanium exhaust with a stainless steel one (that Nathan made and welded). It's such an impressive work of art that I would gladly display it in my living room.
After putting all the components together, and carefully mapping and adjusting the engine, Nathan double-checked the modified mechanics to make sure they were both solid and smooth. Although it hasn't been confirmed, he estimates the power to be 1,500 horses. He wasn't able to find a sufficiently robust dynamometer to stand up to the production version Veyron's W16's 922 lbs-ft of torque, let alone for the Veyron that he modified with all that extra muscle.
But the improvised tests are promising. In a short video, we see the Custom Rides Veyron easily outdistance a 1,200-hp Bugatti Veyron Grand Sport Vitesse with a rolling start. This second car belongs to the manufacturer and was in Montreal for the Grand Prix.
In pursuit of the mythical number
A year and a half of labour and two round trips to Monaco (where its owner works) later, Nathan was nearly finished transforming the Bugatti. By the beginning of July, there were just a few minor details to complete. According to Nathan, the total project cost will end up being roughly $500,000.
Naturally, Custom Rides was chomping at the bit to show off its creation. The Veyron was resplendent in its new black garb and carbon fibre hood, as the carefully-written media invitation to the PMG Technologies Centre explained.
Its total cost (approximately $2.5 million) and incredible looks are one thing, but the invitation even went so far as to call it "the fastest Bugatti Veyron in the world." This claim is based on the following staggering figures: 0-100 km/h in 1.8 seconds, and 0-200 km/h in 3.8. Needless to say, this piqued our curiosity.
After our first meeting at Laurent Nathan's workshop, we were invited for an exclusive test drive on the ICAR drag strip. The event was filmed by "Le Guide de l'auto," the popular television show that airs on the MAtv network. Our goal was to make it from 0-100 km/h in less than two seconds – a feat that no licensed car has ever achieved.
Act one in the Tropics
At 7:45 a.m. on Monday, July 15, fifteen minutes before the ICAR circuit opened, the Bugatti was already ready to rumble. There was no time to waste since the air was humid and the temperature already nearly 27 degrees. These conditions are generally not good for performance.
I grabbed my VBox Mini, located the GPS satellites that it relies on, and went straight to the drag strip. I usually do my calculations alone, but that morning Laurent Nathan was on board with me. After all, the Veyron is "his baby," and I was only the third person to ever drive it (after him and the owner).
At the starting line, I deactivated the skid control and pushed the launch control button. A message confirmed that the system had been activated and I pressed the accelerator all the way down. The needle of the rev counter climbed to 4,000 rpm. I released the brake pedal and the Bugatti took off zigzagging with all four tires skidding furiously. Once they managed to grip the surface, I felt an incredible accelerating force and the quad-turbocharged W16 sounded like an F-18 at take-off. It's akin to hearing a tornado in the cabin.
Instead of accelerating right from the start, the Veyron left four long S-shaped skid marks in the left lane of the strip. A second attempt, on the right side, was only slightly better, as the surface was very slippery and by then the tires were already quite worn. We didn't get the numbers we were aiming for.
When Nathan saw "0-60: 2.3" and "0-100: 3.6" on my VBox's small screen, he was sure it was reading in miles per hour instead of kilometres per hour. We then proceed to have a heated discussion about the correct methods and instruments for measuring performance.
So, we tried starting at the other end of the strip, changing drivers and activating the "1-foot roll-out" mode that reproduces a drag strip's timing system (used by our American colleagues at Car and Driver magazine). And still the numbers were disappointing.
In our list of results, we obtained 0-100 in 2.8 seconds and 0-200 in 7.5 seconds – which are decent times, but still a long way from our goals. What's more, the Veyron's Launch Control limits engine speed to 3,000 rpm, while the all-wheel drive's multiple clutches and the seven-speed gearbox seemed to skid, and the engine temperature increased to 250?C.
Going back for seconds
A few days later, feeling disappointed and frustrated from this failure, I told myself that we had to try again, this time in better conditions to cast off any doubt. I called Laurent Nathan, who confirmed that he still had the Veyron and was willing to bring it back to the track. I called ICAR's Jean-François Ménard and we had the green light for another series of tests.
On Friday, July 26, at 8:00 a.m. sharp, it was 18°C in Mirabel. The air was cool and the Veyron headed immediately for the other end of the drag strip. VBox ready, Launch Control engaged, I pressed down on the accelerator, released the brakes and the Veyron leapt forward, pinning us to our caramel coloured seats.
The numbers were much improved: 0-100 in 3.04 seconds and the quarter-mile in 10.22 seconds with a top speed of 238.1 km/h. That's about six tenths of a second faster in both cases. Next, we did the 0-100 in 2.8 seconds and the quarter mile in 9.9 seconds with a top speed of 219 km/h. Finally, we clocked 2.8 seconds for the 0-100 and 10.0 seconds for the quarter mile at 236.9 km/h. Not bad for a car that weighs more than two English tonnes.
These are by far the best numbers I recorded that day – but we were hoping for better. Our disappointing results were certainly not due to a lack of power and torque. There's no doubt that we would have had better numbers if we had had new tires and the ability to adjust the starting revs for the Launch Control.
At the end of September, the Veyron flew back to Monaco in its container. It had new black carbon fibre wheels and new tires. Its grilles had been painted black to emphasize its ninja-like appearance.
If this Bugatti ever comes back across the Atlantic with fresh tires – and if Laurent Nathan is still game to prove this vehicle's times – my VBox will be ready. Then again, he might want to try his luck with another one of his diabolical creations. If that's the case, you have my number, Laurent.
Share on Facebook