2013 Ford Fusion Hybrid SE: 5.7 L/100 km Highway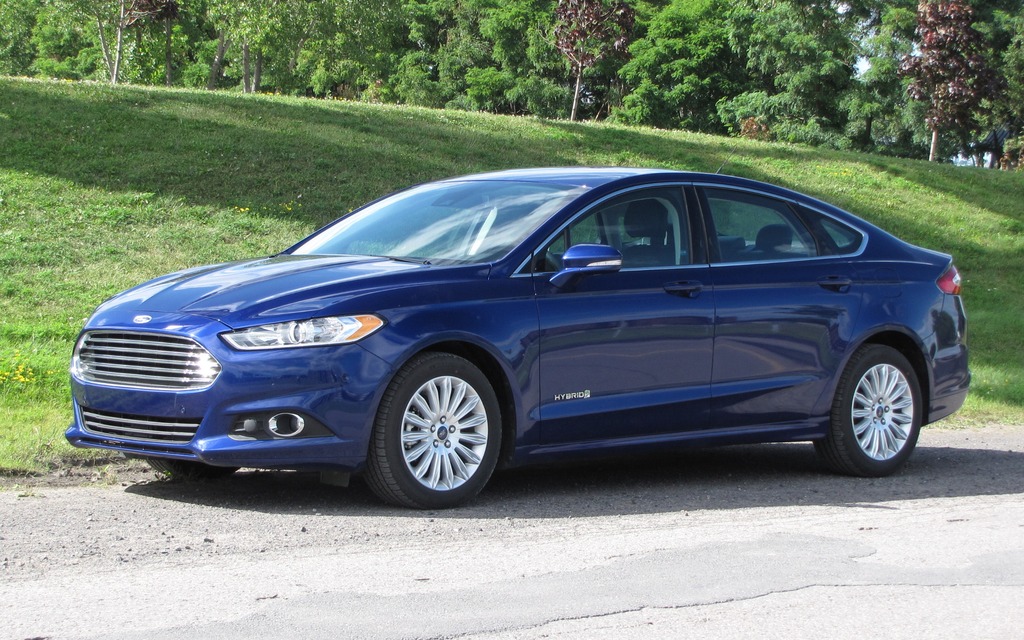 Strong points

Great fuel economy
Comfortable ride
Attractive styling

Weak points

Smaller trunk
Complicate touchscreen controls
$5,700 more than the gas-only Fusion.
Full report
My colleague Jean-Charles Lajeunesse and I travelled some 220 km to attend the Antique Car Show in Stowe, Vermont. It was my first visit to the event, but it definitely won't be my last.
Our means of transportation was none other than the Ford Fusion Hybrid SE. We hit the road at 6 a.m. and arrived in Stowe by 8:45, driving at a cruising speed of 110 km/hr.
Hybrid hearthrob
The 2013 Ford Fusion Hybrid was unveiled at last year's Detroit International Auto Show, where it captured the hearts of numerous journalists at the COBO Arena. Both bigger and more graceful than its predecessor, Ford's new front-wheel drive mid-size stands out with the superb grille it borrowed from the seductive Aston Martin, no less!
With its very low roof and back-swept lines, the Ford Fusion looks something like a four-door coupe. The 2013 lineup is made up of the S, SE, Hybrid SE, Titanium, Hybrid Titanium, Energi SE and Energi Titanium with the Energi versions featuring a rechargeable hybrid engine and prices ranging from $26,582 to $45,467. The starting price of the Ford Fusion Hybrid SE that we tested is $33,802.
Comfortable and luxurious
In any given segment, hybrid models are generally more luxurious and better equipped than their conventional counterparts, and the Ford Fusion Hybrid is no exception. Accessibility is not an issue – very tall people who may at times hit their heads when getting into the backseat notwithstanding.
The driving position is very good, even on long trips, thanks in no small part to the multi-directional power-adjustable driver's seat with three memory settings. The bucket seats are enveloping and the 60/40 fold-down bench is very comfortable. The five-seat sedan offers a lot of room for those in the back seats.
Center screen a tad far away
The dashboard design emphasizes the touch screen, as is the current trend with many manufacturers. The Fusion comes up a little short though. While the layout of the various commands doesn't pose a problem, accessing them is going to mean taking your eyes of the road.
The instrumentation is very complete, but sometimes complex. It takes some time and concentration to learn to use it efficiently and safely, especially the My Ford Touch and SYNC systems.
There are several storage compartments, most of which are generously proportioned. The trunk capacity drops from 453 litres for the gas-power Ford Fusion to 340 litres for the Fusion Hybrid. That figure drops even further for the rechargeable Energi.
Is this thing on?
The Ford Fusion Hybrid features an Atkinson cycle naturally-aspirated 2.0-litre engine producing 141 horsepower. This engine is paired with a 118-hp electric motor that is linked to a lithium ion battery. The car's combined power rating is 188 hp .
On the road, the sedan's soundproofing is perfect, with the exception of a certain swaying sound that comes from the tires on some surfaces.
When you start the car, you hear . . . nothing. That's because just the electric motor is operational at that point. Even the four-cylinder engine, when called into action, is relatively discrete. It's all connected to a very efficient electronic continuously variable transmission (e-CVT). The accelerations are pleasantly surprising and pick-up is more than adequate.
Very economical at the pump
What about its fuel consumption? The Ford Fusion Hybrid posted an excellent score of 5.7 L/100 km on the 420-kilometre trip on the highway between Longueuil, Quebec and Stowe, Vermont. In town, it's sure to be just as reasonablel. For day-to-day use combining city and highway, the Ford Fusion Hybrid's average fuel consumption was 6.8 L/100 km.
Nice geometry
To be sure, the Ford Fusion Hybrid SE is not a European-style sport sedan – and that suits its target clientele just fine. And yet, it's a true grand touring car that will get you where you're going smoothly.
The power steering is very precise, but it would have been nice if it was a little firmer on the highway. Its suspension is very well calibrated and dampened to maximize passenger comfort.
Thanks to its four disc brakes and four-wheel ABS system, the Ford Fusion Hybrid brakes confidently and safely, within reasonable speed limits, that is. When you brake suddenly, the steering loses precision. The four-season Michelin Radial X tires (size 225/50R17) are more than up to the task, especially when it comes to grip. They are not too firm but they make a bit of noise on some surfaces.
What does Jean-Charles Lajeunesse think?
My colleague also really enjoyed driving the Ford Fusion Hybrid SE, which he finds very attractive. He found the sun rays reflecting off the touch screen rather annoying, but was very impressed by how smooth the hybrid system is, not to mention the highway fuel economy. He noted how clear the back-up camera is and we both appreciated the warning light on the rearview mirrors that indicates when there is a vehicle in your blind spot. 
Share on Facebook