2014 Aston Martin Rapide S: Right Brain, Meet Left Ventricle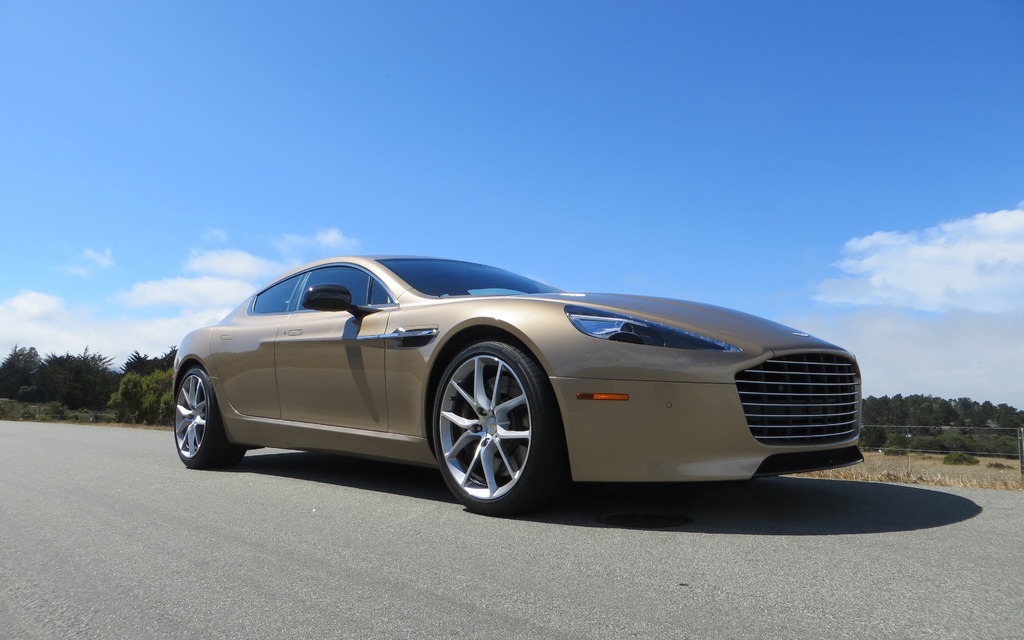 How do you convince your significant other to allow you to spend more than $200,000 on a high performance automobile?  Why, by pointing out all of its practical and useful qualities, of course!  Take the 2014 Aston Martin Rapide S, for example.  Although its slippery shape suggests a two-door GT coupe, the Rapide S actually offers four-door convenience and room for two additional passengers in the back.  It's adjustable suspension system can be setup to handle even the tightest corners, to be sure, but at the push of a button the Aston Martin goes from beast to bestie and softens the ride to absorb the least-yielding of road surfaces.  Throw in the fact that the car offers all manner of modern conveniences and the very latest in high class leathers and fabrics, and surely there's no argument to be made against such a thoroughly well-rounded vehicle.
Right Brain, Left Ventricle
It's all nonsense, of course.  Anyone who doesn't instantly fall in love with the stunningly beautiful lines of the 2014 Aston Martin Rapide S is clearly too far gone down the path of insanity - or conformity - to be swayed by any of its more practical attributes.  The Rapide S is an automobile that appealed more to my heart than my brain when I had the chance to drive it recently in the foothills of Monterey, California, and it did so by engaging each of my senses one-by-one and then overwhelming them with a combination of competence and artistry.
Once the eye has been disarmed by the sculpted looks of the Rapide S, the next target is the ear, which is seduced by the screaming harmonics of the Aston Martin's 5.9-liter, 550 horsepower V12 engine.  Also capable of generating 457 lb-ft of torque, this unit is up 80 horses and 14 lb-ft compared to last year's Rapide, and with the vehicle set to Sport mode its exhaust system rasps its way to redline with an urgency that is checked only when you dig your spurs out of the automobile's sides and let it breathe a little bit at lower rpm's.  So smooth and quick is the Aston Martin that one quickly forgets its six-speed automatic transmission isn't a dual-clutch unit - or that the car itself weighs two metric tons.
Snake Charmer
The melodious tones of the Aston Martin Rapide S' 12-cylinder motor must have had some type of charming effect on the twisting roads that snaked their way through the narrow mountain valleys and passes that I drove through behind the wheel of the automobile, for they seemed to straighten at my approach.  Flat, flat, flat stayed the car as I pushed it as hard as I thought prudent in a public space, trying to get it to betray its mass or at least break traction for more than a half second.  It was an impossible task: the four-door Rapide S is far more agile than it has any right to be, and quickly exhausted my bag of tricks while simultaneously plastering a smile on my face as my remaining senses revelled in Aston Martin's sheer audacity at producing such a physics-defying automobile.
Stealth Excess
In the final analysis, it's important not to place too much importance on the size of the 2014 Aston Martin Rapide S' back seat (tight) or the utility of its cargo hatch (surprisingly spacious).  Honestly, no one with the household budget to absorb an Aston Martin-sized car payment is going to be parking this vehicle all by itself in a lonely garage - it will be stabled alongside an appropriately-sized and perhaps equally-luxurious SUV that will handle most of the day-to-day chores.  Who, then, is this car intended to appeal to, if not those actually inclined to make use of the rear quarters?  The Aston Martin Rapide S is perfectly positioned for luxury-seeking lovers of lasciviously-detailed automobiles who do not wish to draw the attention that a fire-breathing uber-coupe would in the company parking lot.  Think of the Rapide S as a stealth Learjet, and you'll understand the intended market for this truly excellent automobile.
Share on Facebook