2014 Maserati Ghibli : A Mini-Quattroporte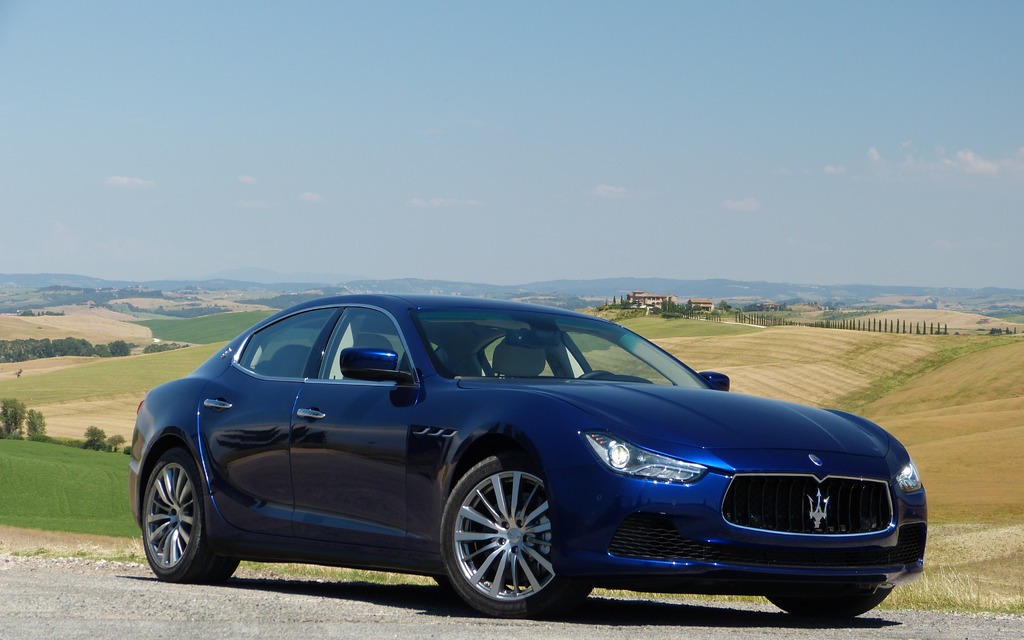 Strong points

Stunning styling, inside and out.
Exclusivity in a 'me-too' segment.
Excellent handling.
Strong performance.

Weak points

Lousy shift lever mechanism.
Snug rear seat.
Transmission shift speed slower than some rivals.
Lacks some driving aids (if that matters to you...).
Full report
The Maserati Ghibli is essentially a shortened Quattroporte, sharing about 50 percent of that car's structure, powertrain and suspension pieces. It is 291 mm shorter than Quattroporte overall, and by 173 mm in wheelbase, with most of that coming out of the rear seat. Disappointing then that it weighs only 50 kg less than its big brother. Ghibli is intended to compete with such as Mercedes-Benz E-Class, BMW 5 Series and Audi A6.
Any Maserati is expected to be gorgeous. The Ghibli is. The typical Maserati oval grille with Trident badge, surrounded by LED lighting, with voluptuous curves leading to pronounced haunches over the rear wheels and a tasteful rear end. The visual delights continue inside, with fine leathers, wood or optional carbon fibre trim, large round white-on-black speedometer and tachometer, and the wonderful analogue clock that has become a Maserati trademark.
A couple of quibbles here. The big LED screen in the centre console uses the same Garmin SatNav system you'd find in a $20,000 Dodge Dart. Plus, the matte black plastic trim piece surrounding it didn't match the quality level of the rest of the car. Our test car had the 'open pore' matte finish wood trim and lovely light tan leather upholstery which mated beautifully with its bright metallic blue paint. Other interior colour combinations didn't look so nice to our eyes; that's why you have a choice. The rear seat is snug on legroom - a common flaw in this class, although headroom is better than most.
The engine is a 60-degree 3.0 litre V6 twin turbo with 345 horsepower in the base car, 404 horses in the S and S Q4. Interesting that Maserati is not calling these engines 'Bi-Turbo'; wise, because Maseratis of the 1980s and 1990s whose engines were thus designated had a sinister reputation for reliability. Sadly, we won't get the terrific 3.0 litre V6 Diesel available in Rest of World; there's just not enough interest in Diesel in North America - especially in the US - for Maserati to worry about.
The ZF 8-speed automatic transmission is essentially the same as used by several competitors. A mechanical limited-slip differential is standard; if you need more grip, the 'Q4' noted above refers to Maserati's first production four-wheel drive system. A multi-plate wet clutch can split front-to-rear torque from 0 / 100 to 50 / 50, depending on driver demand and road conditions.
I expect the Q4 will account for the majority of sales in Canada, and that's the model we tested. The push-button starter - making no more sense here than it does in any car - is on the left of the steering column. Porsche fans will find it; others may have to look around a bit. The electronic 'toggle' shift lever is even more obtuse than most of its kind. When you depress the 'trigger' button and pull the lever back out of Park, sometimes you get Drive, sometimes you don't. Irritating. Our tester was a pre-production prototype, so maybe this will be cured before your Ghibli arrives.
Once underway, you can let the car shift for itself, or stir the ratios with big paddles that are mounted (like corporate cousin Ferrari) on the steering column, rather than rotating with the wheel, which is the more common approach. The engine sounds lovely, and even better when you push the 'Sport' button which opens up the exhaust and also sharpens the gearshifts. When you first drive this car, you'll notice the strong power, a firm but decent ride, and perhaps more free play in the steering than you'd like.You will play around with the adjustable electronic dampers. 'Sport' and 'Normal' offer slightly firmer/slightly softer settings - noticeable, but not dramatic.
Frankly, it doesn't feel all that special - until the road gets twisty and less crowded, and you can push the car a little. Then it really starts to come into its own. There is nothing I would characterize as turbo lag - perhaps just a trace of softness in the throttle response. But it is quick: 0 - 100 km/h in less than five seconds. For the most part, the transmission shifts smoothly, although Jaguar for one gets notably quicker manual shifts out of this transmission than Ghibli exhibits, even in Sport mode.
One glitch in Ghibli - an occasional and non-repeatable-on-demand hesitation during moderate acceleration. Whether it was the automatic transmission, or maybe a hiccup in the four-wheel drive system, we could not determine. Again, it may disappear in the car's final tuning. Handling is nothing short of brilliant. That slight on-centre play in the steering seems to disappear, and mechanical grip is excellent. Unlike many four-wheel drive cars, there is nary a hint of understeer or plowing in tight corners. The front end just bites, and the car tracks with confidence. The four-wheel drive system of course will come into play in wet or snowy weather, and will help make this a year-round car. Ghibli does not offer some of the electronic driving aids that most in this field do - no lane-keeping system, for example. Given it is intended to be a driver's car, I welcome these omissions.
In sum, the Ghibli is a beautiful, quick, fine-handling car. The typical customer in this segment may never drive it hard enough to truly show off its capabilities. Regardless, Ghibli offers a distinctly different car with tons of exotic eye appeal that will surely turn heads at the country club, yet be practical enough for daily use.
Share on Facebook