2013 Lamborghini Aventador LP700-4 Roadster Unveiled In Montreal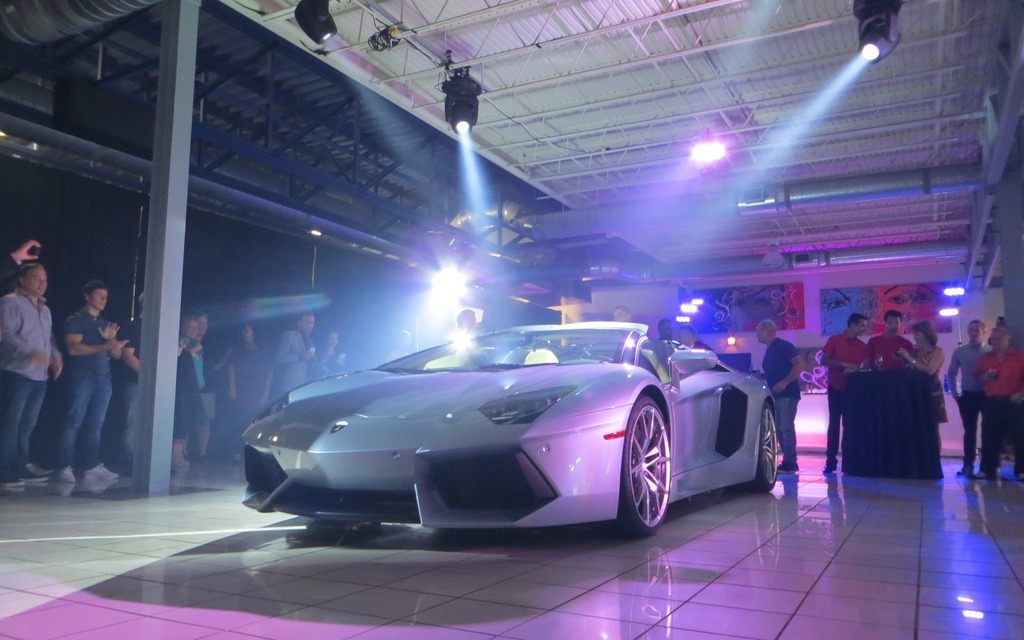 Last night Montreal saw the unveiling of the 2013 Lamborghini Aventador LP700-4 Roadster.  The open-air version of one of the fastest Lamborghini sports cars ever built, the Aventador LP700-4 broke cover at John Scotti Lamborghini in the city's east end.
The Lamborghini LP700-4 roadster shares its 691 horsepower power plant with the Aventador coupe, which means it boasts a top speed of almost 350 km/h and the ability to accelerate to 100 km/h from a standing start in just three seconds.  The 6.5-liter V12 engine under the hood of the LP700-4 also produces 509 lb-ft of torque, and it sends that power to all four wheels via a seven-speed automated manual transmission.  Somewhat unusual was the focus on the efficiency of the new roadster.  Lamborghini representatives described features such as cylinder deactivation and an automatic engine start/stop system that boosts fuel mileage by five percent when compared to the coupe.
The 2013 Lamborghini LP700-4's roof consists of two composite panels that weigh only 6 kilograms each, which makes it easy to pop them on and off - a fact that was demonstrated by Scotti staff at the event.  With the panels out of the picture, the Aventador loses 37 percent of its torsional stiffness when compared to the coupe, as opposed to 31 percent with them installed.  The topless LP700-4 weighs in at only 50 kilos more, in total, than the fixed-roof version of the car.
The price to take home this open-air Italian exotic?  The retail on the 2013 Lamborghini Aventador LP700-4 is $485,000.
Share on Facebook