2013 Hyundai Accent: A Car for all Seasons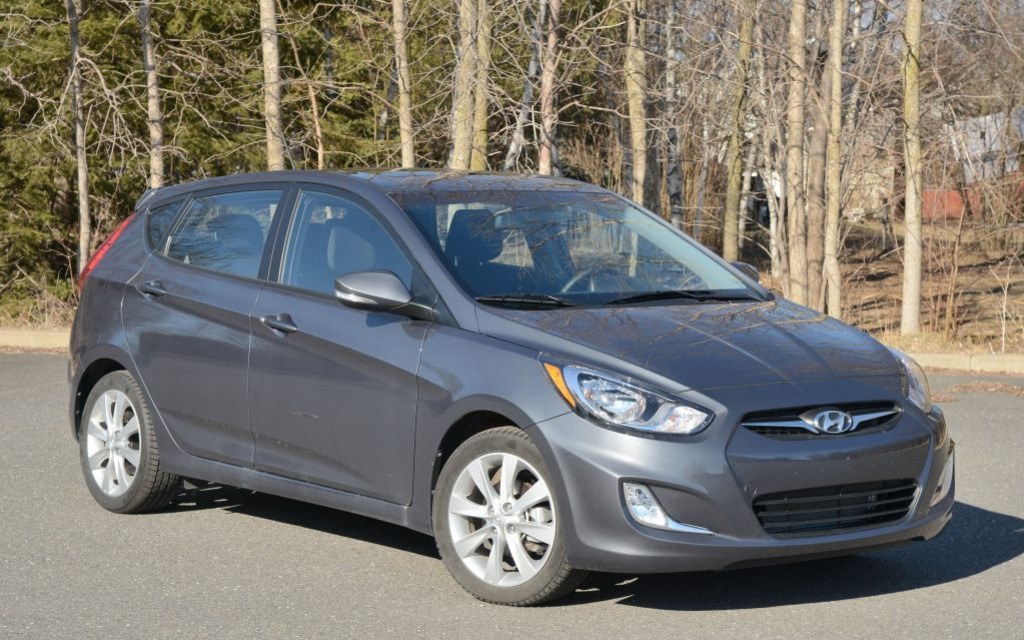 Strong points

Elegant silhouette
Good equipment level
Predictable handling
Well-adapted engine

Weak points

Soundproofing not quite perfect
Average rear visibility
Hard plastics
Full report
It wasn't too long ago that people bought the Hyundai Accent mainly for its very competitive price. They didn't pay much attention to its plain appearance or noisy and none-too-dynamic mechanics. They also chose this model for its reliability: it was uncomplicated – even elementary – but it was pretty robust. And when you buy a vehicle for economic reasons, you don't intend to spend a lot of time at the garage or invest in costly repairs. It was a sound argument.
But everything changed in 2011 with the arrival of the much more elegant 2012 version – in particular the five-door configuration – and its fully revamped mechanics. It went from having a drivetrain that was almost obsolete to one that is quite interesting. We figured that this was a great opportunity to learn more about the model.
So, since the end of March, we have travelled more than 4,500 km at the wheel of a GLS equipped with a six-speed manumatic transmission. As with all versions of the Accent, this one was powered by a 1.6-litre four-cylinder engine producing 138 horsepower and 123 lbs-ft of torque, which is in line the category average. This same engine powers the base version of the Hyundai Veloster, a four-door hatchback with a back door on the right side only.
Universal appeal
 While the old Accent's style wasn't very well liked, it was a completely different story with our test car. Indeed, those who examined it or actually got to peek inside had nothing but positive things to say about its shape and interior design. This little hatchback simply doesn't look like a cheap car. Its profile is less daring than that of the Veloster, with which it shares its platform, buts it's much more balanced. Plus, the rear liftgate is useful when you want to transport bulkier objects. Other eye-catching features: the almond-shaped headlights that extend onto the fenders and the truncated tail end with its large sculpted lights.
The passenger compartment also garnered positive feedback. While many sub-compacts come with a lacklustre and bare-bones dashboard, the Accent's is not only elegant but user-friendly. A small information screen in the middle breaks the monotony of all those buttons. Everyone who drove this sub-compact really appreciated the USB jack for listening to music on their MP3 players or even charging their cellular phone.
The people who drove it also liked the two main gauges with their easy-to-read white numbers on a black background. Finally, the radio and cruise control commands mounted on the spokes of the steering wheel turned out to be very practical. It would have been perfect if the dashboard plastics weren't so hard. But that's the norm in this category. The front seats were comfortable, even on relatively long trips, although the back seats were rather cramped.
All seasons
Since this test drive began at the end of March and spring arrived late this year, we cleared more than our fair share of snow off the Accent. What's more, the temperature was unusually cold for the time of year, which means we appreciated our Hyundai's winter-driving capabilities.
We had no trouble getting around in deep snow, and the car demonstrated good traction in these conditions. Of course, the car's winter tires can take some of the credit for that, but it also goes to show that the Accent is a well-balanced vehicle. Speaking of tires, its Continental ContiWinter Contacts performed very well – even after taking on hundreds of potholes.
Given that the car was brand new when we took possession of it, no mechanical issues came up over the first few thousand kilometres. However, some test drivers indicated that sometimes the engine took a little bit of time before it got going. By "bit of time" they mean a fraction of a second longer than the average. This slight lag in cold temperatures can be explained by the fact that the engine uses a direct fuel injection system. But you have to be pretty nitpicky to notice...
Behind the wheel, you'll notice that the car is agile in traffic, the automatic transmission shifts smoothly and quickly, and the body is very solid. On the other hand, the soundproofing could be improved, but no one seemed to mind that too much. Furthermore, some of our more daring drivers found that the car reached the limits of its handling quickly when it was driven very fast.
Our Accent's five-door configuration helped us transport a wide variety of objects. However, when the rear seatbacks are folded down, the floor is not completely flat. A part of the floor remains ever so slightly raised, preventing you from sliding objects in.
With a tad less than 5,000 km on the odometer, this Hyundai was not only up to the task, but it was elegant, practical, reliable (until proven otherwise) and a lot of fun to drive. Finally, the average fuel consumption was a little more than 7.0 litres per 100 km, which isn't half bad considering the wintery temperatures that characterized our spring.
Share on Facebook