2013 Acura RDX: Tasteful Compromises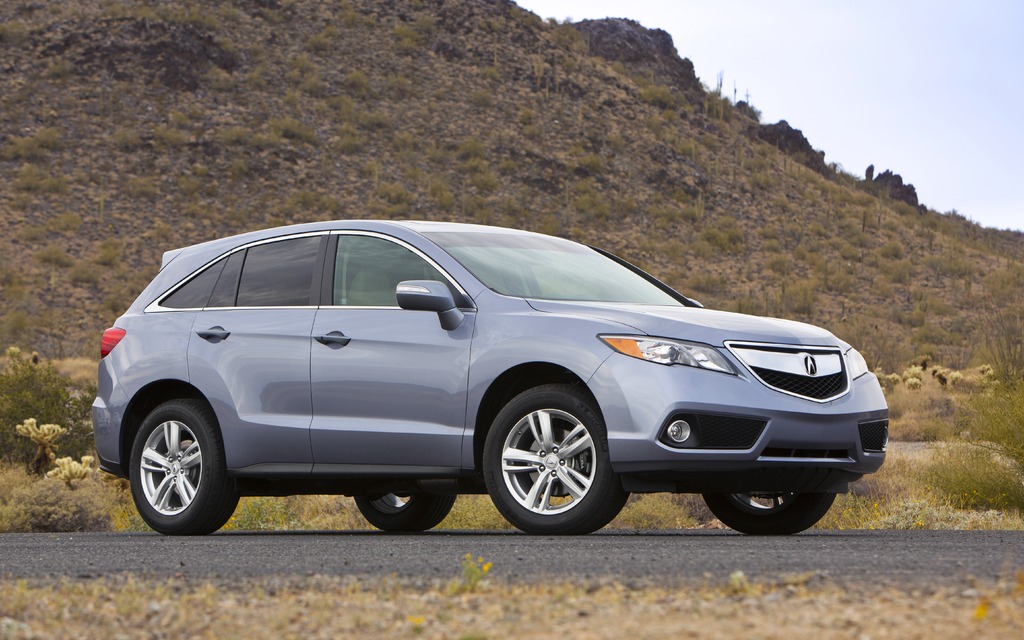 Strong points

Nice looks
Excellent reliability
Comfortable interior
Good engine
Will take regular gas

Weak points

Uninspired road handling
AWD less sophisticated than before
Poor rear visibility
Steering not communicative
Full report
The Acura RDX was never a bad SUV. It just never really got a leg up on its competitors. With 4,726 units sold in 2012, it was more popular that the Infiniti EX35 and Volvo XC60. But it didn't live up to the Mercedes-Benz GLK, Audi Q5, BMW X3 or – especially – the Lexus RX350. This relative under-performance can be blamed on its four-cylinder engine. Even though it was powerful and featured a turbocharger, the turbo's response time was often surprisingly slow. Moreover, its fuel economy wasn't the best – and it took super!
For 2013, Acura has revamped the RDX and equipped it with two additional cylinders, a move that is sure to stimulate sales. It now comes with the popular 3.5-litre V6 that equips several Honda/Acura products. It develops 273 horsepower at 6,200 rpm and 251 lbs.-ft. of torque at 5,000 rpm. This smooth mill can move the vehicle's 1,749 kg from 0-100 km/h in 7.1 seconds, which is about average for this kind of SUV – but nearly a second faster than the previous engine. In my opinion, this V6 emits a much more exciting sound than the four-cylinder ever did during accelerations. I tested it for a week and recorded 12.3 L/100 km, which is also pretty standard for the category. I was also pleased to note that it accepts regular gas, even though super is recommended for superior performance.
Tech talk
A six-speed automatic transmission expedites torque to all four wheels. This smooth gearbox is a good match for the engine. In Sport mode, however, when shifting manually the gear ratio is a little too long for my taste. Sport mode also increases engine revs by 200 to 400 rpm, which translates into more energetic pick-up for passing manoeuvres. It scores well for offering the possibility of downshifting by one or two speeds using the paddles behind the steering wheel while leaving the transmission set to "D".
Like its accelerations, the RDX's stopping distances are also good, despite the calipers proudly bearing the Acura name. According AJAC's figures, the RDX takes 42.9 meters to go from 100 km/h to a full stop (whereas the category average is 41.2 meters). The steering is precise, but offers absolutely no feedback. When pushed past its limits on corners, the RDX understeers a little, but nothing too dramatic. You feel a little roll, though it's probably more due to the seats and their wimpy lateral support. .
Production costs trump technology
The previous RDX featured the excellent SH-AWD system that uses torque to redirect the vehicle to its desired direction. But in an effort to reduce production costs, the RDX's engineers replaced the SH-AWD with a more conventional system borrowed from the Honda CR-V.  But before you go tearing off your shirt on the Queen Elizabeth Highway during rush hour, you should know that the RDX's all-wheel drive is very transparent and does a very good job in regular driving conditions. In fact, I'm convinced that if Acura hadn't mentioned it, few people would have noticed that the SH-AWD was gone. Plus, this change has made it possible to offer the RDX at a better price, so I doubt that it will adversely affect sales. At any rate, the current all-wheel drive system will meet your needs 95% of the time. No, to be fair, make that 98%.   
Modern… at last!
The 2013 RDX doesn't look markedly different from last year's model, and that's a good thing. Now a little more discreet, the front grille matches the rest of the vehicle better than before.  And while it's not immediately apparent, the tail end has actually been modified quite a bit. The tail lights have been revisited, but what really stands out is the hatch, which is now wider.  When the new RDX launched in 2012, there was a lot of fanfare about the power liftgate, as it marked a first for this vehicle. Welcome to the 21st Century, Acura!
The interior is swathed in very high quality materials and the dashboard design is especially modern. As before, the driver is surrounded by tons of buttons, but I was not inconvenienced by their layout or functioning. There are plenty of storage spaces that, despite being numerous, are actually a good size. It would be criminal not to mention the uninspired sound system. It might have been fine in a Civic, but not in an Acura!
Sport or price?
Acura has used the revision process to scale down the product's sophistication – ironically making the vehicle more appealing than ever, in all probability. Purists may have a conniption, but  the law of the market shall prevail. Starting at $43,000 ($46,050 with the Tech package), this luxury compact SUV is neither the cheapest nor the most expensive in its category. For example, for about $3,000 less, the Infiniti EX gives you more decisive handling but significantly less cargo space. The Volvo XC60 starts at $39,350 and offers enhanced security, but with higher maintenance costs and a lower resale value. On the flip side, the Audi Q5 V6 will set you back at least $45,000. It's more pleasant to drive, but its reliability can be an issue. Thus, the RDX's toughest rival is the more costly Lexus RX. It's reliable, cushy and bears the enviable Lexus name. Between the Lexus RX and the Acura RDX, it generally boils down to personal preference.
Yes, Acura is going after a wider market by appealing to drivers who prefer comfort and reliability over driving pleasure. It's the law of the market, and there isn't anything wrong with that!
Share on Facebook