1967 Ford Mustang: Restoring the past for a better future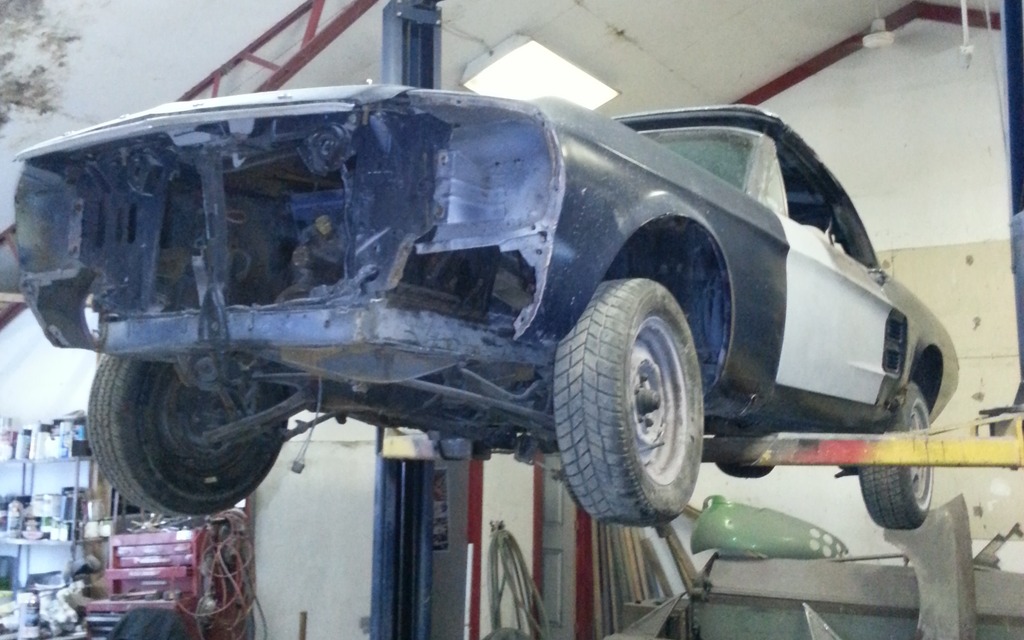 Two years from now, the Guide de l'auto will celebrate its 50th anniversary. Created in 1967, the publication was the brainchild of Jacques Duval and Alain Stanké, then an editor at Éditions de l'homme. The guide would go on to revolutionize the Quebec publishing industry and is now consistently the province's top-selling book, year after year. Did you know that one copy is sold for every five new cars in Quebec?
In preparation for our upcoming 50th anniversary, Car Guide purchased a 1967 Mustang convertible. But our new baby is far from perfect. You might even say that it needs some love. Lots of love. Over the next two years, we plan on having it restored by auto mechanic students.
When young inspires old
This story started back in the fall of 2010. Karina Veilleux, a French teacher at Le Goéland de Sherbrooke School, sent us an email explaining that she uses the Guide de l'auto to motivate her (mostly male) students who have returned to school and to hook them on reading. Obviously, we were thrilled to hear it. Not only are these kids our audience, they're also our future. The fact that these students are giving education a second chance is proof that you can achieve your dreams if you set your mind to it.
Thus, involving young students in our 1967 Mustang project was a no-brainer. But it would have to be auto mechanic students, obviously. Handing the car over to accounting students would probably not be wise, although the budget would definitely carefully monitored!
It turned out that the Montreal Automotive Services Industry's Parity Committee had schools full of eager young students. This led to a meeting with Roger Gaudreault, who you may have already seen on our program on MaTV (previously known as Vox). As luck would have it, Roger was already planning a course on automobile restoration. Even though our Mustang would only be refurbished once, its overhaul would pave the way for other old-school vehicles to be given a second chance through this program. And once our swanky set of wheels has finished its job at the Guide de l'auto's anniversary celebrations, it will be given away as a prize (for a draw or auction, we haven't decided yet). All profits will go to an organization that helps kids stay in school.  
What about our Mustang?
We found our car on Kijijii in the aptly named town of Karrs (near Ottawa) with a little help from Luc Champagne, an advertising representative at Auto Ancienne magazine (published by Voitures Anciennes du Québec) who owns several Corvettes. Its previous owner, Dwayne Haddad, sold it to us for $5,000, which is a fair price.
This convertible was born with a 200-ci inline-six, but sometime between 1967 and now, its original engine was replaced with a 289-ci V8 taken from a 1967 Mustang Coupe. At they same time, it looks like they replaced the four-bolt wheels with five-lug versions. The transmission is a three-speed automatic.  
The serial number (7T03T220823) confirms that this Mustang is indeed a 1967 (7), that it was made in Metuchen, New Jersey (T), that it's a convertible (03), and that its original engine had six cylinders (T). The other numbers indicate the production sequence. Since the first number in the series was 100,001, we can deduce that this vehicle was the 120,822th  Mustang built that year. We should mention that a total of 44,808 1967 Mustang Convertibles were built. There were also 355,271 Coupes and 71,042 Fastbacks.
Over the next few months, we'll keep you posted on how our 1,242 kg (2,738-lb.) baby is faring. We're hoping she blossoms into a beauty without driving her adoptive parents nuts along the way.
Share on Facebook