2014 Kia Sorento: Korean-style luxury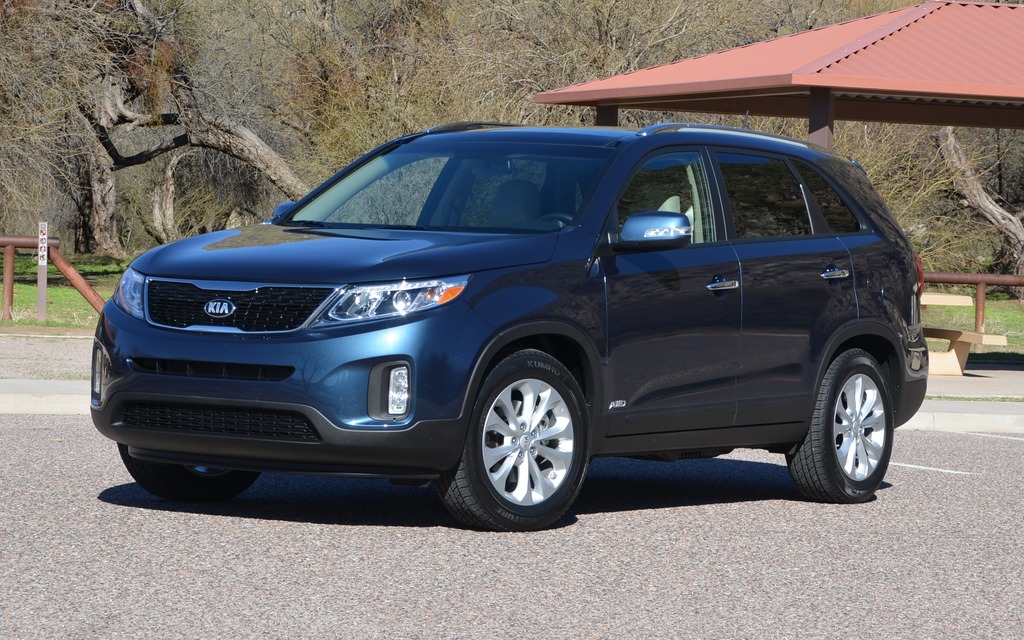 Strong points

Nice design
Comfy interior
Adequate power
Decent fuel efficiency (to be confirmed in Canadian conditions)
Some trims come with a plethora of equipment

Weak points

Disappointing steering
Front seats don't offer much support on corners
Four-cylinder engine is not inspiring
Full report
When Kia launched the new-generation Forte, the Korean automaker also introduced the "new" Sorento. Since this model was completely overhauled in 2011, this year Kia kept the esthetic changes to a minimum (or so it would seem at first glance). Much like the Forte, the exterior changes are nothing out of this world, but they help keep the Sorento up-to-date. As a result, it's more dynamic than before and will help it stand the test of time for another few years.
The most noticeable changes are on the dashboard, much like the Forte, but not to the same extent. The gauges are brand new, very easy to read and – surprise, surprise – identical to the ones in the Forte.
Initially, you might be tempted to think that the changes are just evolutionary in nature. Wrong! The platform is derived from the Hyundai Santa Fe's, but it has been adapted for Kia. Unlike its Korean cousin, which offers either five or seven seats, the new Sorento comes as a seven-seater, but only for the high end versions. Otherwise, it is a five-passenger vehicle. That said, its engineers managed to find an extra 30 mm of legroom for second-row passengers and 9 mm for the third row.
18% better?
Now here's an important thing to know: the new chassis is 18% more rigid than the previous one. Stats like this always leave me scratching my head. If I didn't have a problem with the old Sorento's rigidity, is it possible to reduce my concerns by another 18%? Err, maybe not.
There are more changes under the hood. Gone is the 3.5L V6. Instead, there's a 3.3L V6 with direct injection that develops 290 horsepower at 6,400 rpm and 252 lbs.-ft. of torque at 5,200 rpm. Having tested it myself, I can confirm that this engine is blissfully gentle. And, in case you're interested, it's the same V6 found in the Hyundai Santa Fe XL. My test drive did not include any performance trials, but I'm guessing that the 0-100 km acceleration must take about 9 seconds and some change. Kia hasn't provided its fuel efficiency figures, but when my colleague and I tested it, the Sorento EX had covered 23.9 miles per US gallon (we were in Arizona), which is 9.4 litres per 100 km. Truth be told, we went easy on the accelerator. But the fact that it used less than 10 litres per 100 km – considering that the vehicle weighs nearly 1,800 kg and has AWD – is quite the achievement. Let's hope the figures are the same when we test it for a whole week.
Old four, new six
The Sorento's other engine is a 2.4L four-cylinder that delivers 191 horsepower and 181 lbs.-ft. of torque. If this sounds familiar, it's because this is the same engine offered in years past. Both engines get the same six-speed automatic transmission, which works fine but lacks personality. The absence of paddle shifters for its manual mode doesn't help matters any either.
Good news! Both engines are available with front-wheel drive. Well, that's good for folks who don't want to pay too much for a Sorento. Because aside from the cost savings, there's nothing too exciting about this news. Buyers who opt for all-wheel drive will be glad to have it during snow storms or when they want to resell the vehicle. That's more than enough reason to shell out an extra $2,000 for the AWD (this is assuming that the price difference between the FWD an AWD versions remains unchanged for 2013). Yeah, that's right; we don't have the exact prices yet. The Sorento should start at around $27,000 and the more luxurious trims should cost about $40,000.
One more thing about the all-wheel drive system: 95% of power is sent to the front wheels in normal conditions, but when the coefficient of friction diminishes, up to 50% of the power can be directed to the rear wheels. Plus, you can lock it into 50-50 distribution by simply pushing a button on the dash. You should also know that a four-cylinder Sorento can two up to 760 kg (1,650 lbs.) and a Sorento V6 can tow 1,587 kg (3,500 lbs.).    
Flex Steer – Yawn!
The chassis is new, as is the suspension ,which still includes struts in the front and a multi-link in the back, but some parts have been redesigned (the bushings, in particular). The 2014 has power steering, another new feature. In general, power steering systems have improved to provide better feedback, but nobody seems to have shared this information with the engineers at Kia and Hyundai.  Just like the Hyundai Santa Fe, the some trims of the Sorento come with Flex Steer, a system that allows you to modify the steering's precision and resistance with the push of a button. In Comfort mode, you feel like you're driving a car that predates WW2. And in everyday driving conditions, I really didn't notice much difference between Normal and Sport. So, I just left it in Sport. Attention Kia (and Hyundai): If you want to make drivers happy, just give us responsive steering with decent feedback, and don't bother with fads such as Flex Steer. Oh, and while we're on the topic, it would be nice if the leather on the steering wheel wasn't so slippery.
On the curvy and immaculately maintained roads of Arizona, the Sorento offered terrific handling and comfort – plus a very quiet cabin. The question is, how will it fare on cracked and potholed roads that typify Canadian spring? We'll have to wait and see…
Share on Facebook