2013 Ford Escape Titanium: 2000 km later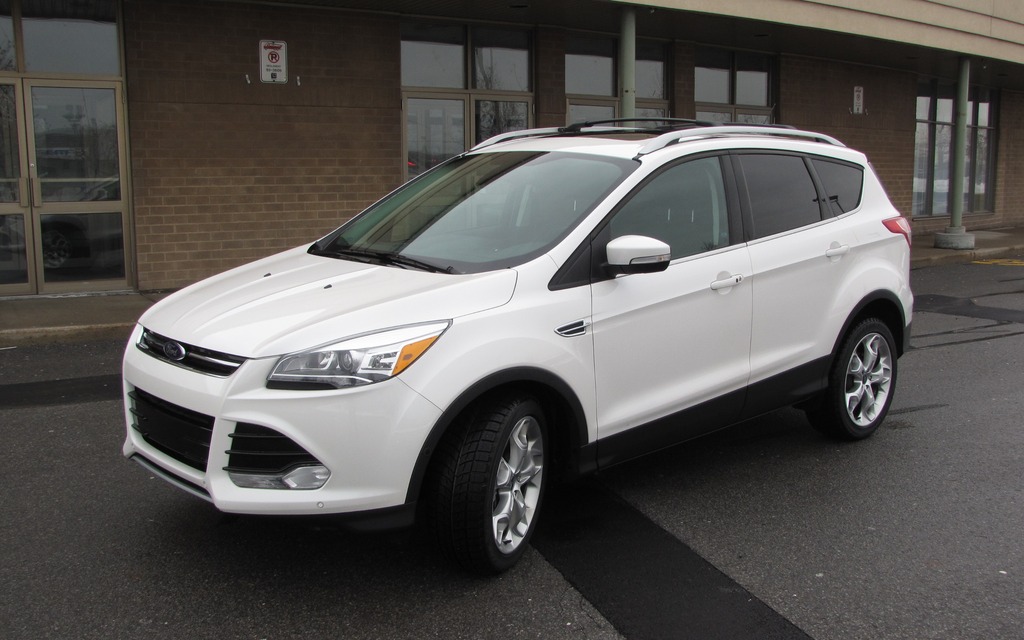 Strong points

Very pleasant to drive
2.0L EcoBoost is just as powerful as a V6
Exceptional soundproofing
Finally, a good-looking exterior!
Generous cargo space

Weak points

Relatively high fuel consumption
Small storage compartments
Navigation system takes time to get used to
Hard rear bench
Titanium trim is expensive
Full report
It has become a ritual. Every year, we head to the Detroit Motor Show. This year, we drove down in a 2013 Ford Escape Titanium.
Three of us hit the road together: Jean-Charles Lajeunesse (who compiles all the technical specs for Car Guide), Henri Michaud (a colleague and long-time friend), and yours truly.
For me, it marked my twenty-first business trip to the biggest auto show in North America. We also decided to visit the Henry Ford Museum, which doesn't just have cars on display; it provides a complete overview of American industrialization, from its very beginnings through to the current day.  
The Titanium Escape
To be honest, the most popular compact SUV in North America badly needed an overhaul, as the second edition of the Ford Escape came out in 2007. The esthetic changes involved swapping its angular edges for more fluid and modern lines. The Escape's trims include the S, SE and SEL with FWD, as well as SE, SEL and Titanium with AWD.
Whereas the previous model looked like a road warrior ready to tackle hostile terrain, the new Escape has a more urban feel to it – and yet it's still capable of taking you off the beaten track.
The Escape stands out as one of the most robust SUVs in its category, and its exemplary rigidity means it offers some very dynamic handling.
Smart interior design
Accessibility is no problem thanks to the doors that open wide and reasonable ground clearance. The interior fit and trim on the Titanium we drove were definitely a cut above the previous model. The dashboard materials were of good quality, though there were some hard plastics on the doors.  
The fully redesigned dashboard is more hip than the previous one and now includes countless buttons and controls that take some time to get used to. The instrumentation is easy to see and read, both during the day and at night.
The SYNC, My Ford Touch and touch-screen navigation system are all efficient and precise, though it takes a while to wrap your head around them at first. In contrast, the voice-activated commands don't always understand what you're saying (in English or French).
The amount of room in the back is surprisingly good for a compact SUV that claims to be able to accommodate five people. Meanwhile, the driving position is quite high, quite pleasant and very comfortable.
At first, the rear bench seems rather firm. However, after spending several hours in the back of the vehicle, I can safely say that it wasn't as uncomfortable as I would have thought. Fortunately, the 60/40 folding seatback is adjustable. Rear passengers also get a wide armrest complete with two cup holders.
This vehicle's soundproofing is absolutely remarkable, but the storage compartments are small and impractical. The Escape makes up for this, however, by offering generous cargo space (971 litres or 1,920 litres with the seatback folded down).
The Titanium trim offers a hands-free liftgate. Just waggle your foot under the vehicle and the hatch opens automatically. Theoretically, it's efficient, but it doesn't always work.
The 2.0L Ecoboost
The 2013 Ford Escape Titanium is powered by a mighty 2.0L four-cylinder EcoBoost that generates 240 horsepower. This engine is generally quite discreet, except when you push it hard. This turbocharged 2.0L engine takes either regular or super gas.
The other engines available are:
-    2.5L four-litre producing 168 horsepower
-   1.6L four-litre EcoBoost producing 173 horsepower
The six-speed automatic gearbox with manual mode does an honourable job. I was nonetheless very annoyed by the fact that you're never totally sure whether you've selected the right gear, as there is no clear indicator on the shifter. There's only a not-so-clear pictogram in front of the driver to show you what gear you're in.
Regular or super gas?
In mixed traffic conditions, the 240-hp Ford Escape used an average of 10.2L/100 km. That's a lot better than before for a vehicle this powerful, but it's still higher than what Ford promised.
On our trip to Detroit, we headed straight down the 401 at a cruising speed of 110 km/h with three passengers and our bags. The 2013 Ford Escape Titanium used an average of 9.3L/100 km.
We tried to test whether regular or super gas was better, but the results were not conclusive. Our test vehicle used 9.3L/100 km of super compared to 9.5L/100 km of regular. But if we had squeezed more power out of the Ford Escape by using the turbocharger, there's a good chance that the super would have been more advantageous.
Very pleasant
The power-assist steering is very precise for this type of vehicle and definitely makes the Escape more pleasant to drive. The independent suspension does a good job mitigating its firmness, ensuring that passengers are treated to a decent amount of comfort, regardless of the conditions. Disc brakes on all four wheels guarantee powerful and safe braking.
The Bridgestone Blizzak 245/45R19 winter tires were a good choice for this vehicle. They are reasonably discreet on the pavement while being effective on wet, snowy and even icy surfaces.
What Jean-Charles had to say
Jean-Charles really enjoyed driving the 2013 Ford Escape Titanium. After some testing, he noted that its remote start system was good. However, he was a little irritated by the repetitiveness of the information offered by the GPS and display screen located in front of the driver. He also concluded that the navigation system was fairly precise, but hard to get the hang of.
What Henri had to say
Echoing the other two drivers, Henri liked driving this compact SUV. He only had good things to say about the comfortable from seats. According to him, the Blind Spot Information System is a must for this type of vehicle. He also found that 240 horsepower Escape was not as good on gas as reported and the cruise control's Resume setting (which brings the vehicle back to a pre-programmed speed) did not always work properly.
Share on Facebook