2013 Scion tC Release Series 8.0: A Tale Of Two Coupes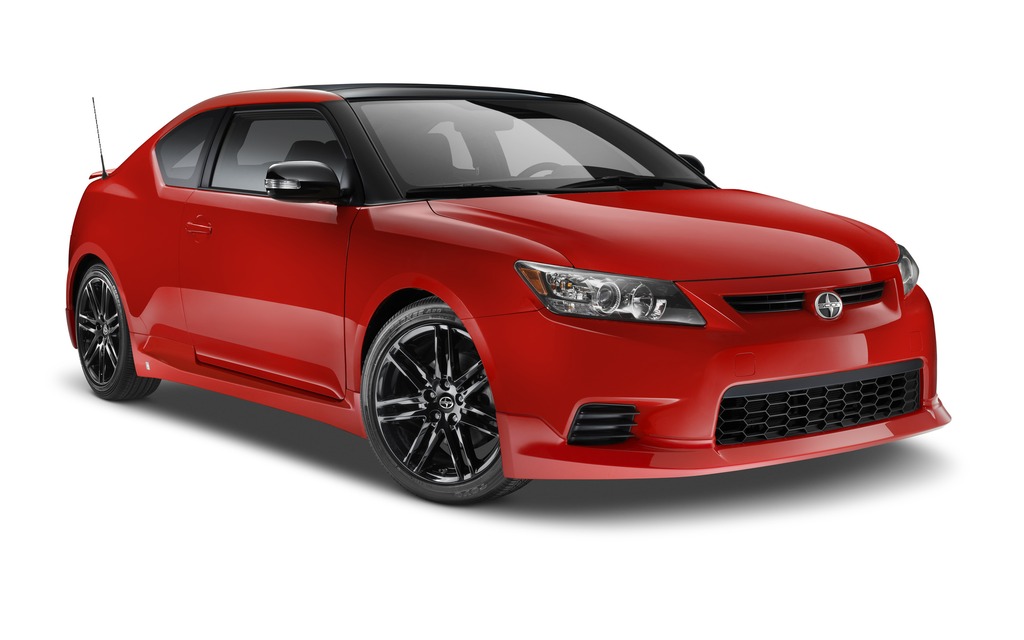 Strong points

Attractive styling
Good power
Enormous interior
Excellent cargo space

Weak points

Bumpy suspension system
Weak handling
Fun-sapping electronic nannies
Full report
There's a fine line between a sports car and a sporty car. The former is typically represented by focused models like the Mazda MX-5 Miata and the Chevrolet Corvette, automobiles that make sacrifices in certain areas so as to keep curb weights low, handling tight, and acceleration lively. The latter takes the shape of coupes or hatchbacks that look the part thanks to their bright colors and aerodynamic body work, but which typically ride on platforms shared with more pedestrian models that don't deliver the same level of driving thrills.
Boutique automaker Scion happens to build one example of each of these classes of automobile, a pair of coupes that are separated by only a few thousand dollars: the Scion FR-S (sports car) and the Scion tC (sporty car). In fact, the 2013 Scion tC we tested for a week came in limited edition Release Series 8.0 trim, which boosted the small vehicle's price to within $1,000 of the FR-S. Why offer a couple of two-door compacts at an almost identical price point? The answer has to do with the differences between these two automobiles, of which far more exist than similarities.
Front-Wheel Drive Dynamics
The 2013 Scion tC Release Series 8.0 is based on a front-wheel drive architecture that couldn't be farther apart from the sinuous, rear-wheel drive platform used by the FR-S. We mention this fact because it is an important aspect of what keeps the tC from crossing over into the sports car camp. While the R.S. 8.0 model rides on lowered springs, the vehicle's chassis and front-wheel drive setup doesn't so much enhance handling as it does induce understeer in the corners and a rough ride over bumps in the road. We were disappointed with the way the tC conducted itself on Montreal's less-than-stellar pavement, and found ourselves wishing for a softer suspension system during most of our week with the car.
Front-wheel drive also comes into play when accelerating the Scion tC R.S. 8.0. The vehicle's 2.5-liter four-cylinder engine puts out an appreciable 180 horses and 173 lb-ft of torque, and our tester was outfitted with a well-designed six-speed manual transmission, but getting all of that power to the pavement wasn't easy due to the regular intervention of the vehicle's electronic stability control system. The feature, which could only be turned off at speeds below 50 km per hour before switching itself back on again, significantly hampered our efforts to have fun in the tC and seemed out of step with a vehicle which is advertised as a performance-oriented option. The TRD exhaust system that came with the car, however, sounded glorious even if we did get frustrated with the way the engine would seem to catch at higher revs before dropping speed between gear shifts.
Snazzy Looks, Spacious Interior
We did enjoy the special body kit and wheels that came with the 2013 Scion tC Release Series 8.0, as they did a good job of dressing up the exterior of the coupe and giving it that 'sporty' look that moves so much compact metal. Inside, red stitching on the seat and steering wheel and special badging adds a bit of color to what is otherwise a plain passenger compartment. In terms of interior volume, however, the Scion tC has most of its coupe competitors beat. The front seats offer plenty of space to stretch out in, and the rear accommodations are actually adult-friendly, with leg room and headroom that is above and beyond what one would expect in a compact two-door car. Folding down the rear seatback also reveals a cargo compartment that can eagerly swallow longer, larger items that most other small cars would be forced to turn their backs on.
A Compromised Identity
The 2013 Scion tC Release Series 8.0 is a bit puzzling as far compact sporty coupes go. With so much interior space available, it's tempting for us to brand it the most practical and livable of its small coupe brethren, but its stiff suspension system makes it an unpleasant choice as a daily driver. By the same token, those lowering springs that give the car such an attractive look fail to deliver the additional handling performance one would expect from the vehicle's overall package. Power is good, but the delivery just isn't there, all of which conspires to make the tC a vehicle that performs below the sum of its various parts.
It's not too late for Scion to re-imagine the tC as an affordable vehicle that can come through with the same level of value as competitors like the Kia Forte Koup, or with a panache like the Hyundai Veloster Turbo. It's simply a question of deciding what it actually wants to be. With the FR-S in town, the tC no longer needs to pretend that it's a sports car - it can instead carve out its own identity that will serve those who want a good-looking, spacious coupe that doesn't force them to sacrifice on comfort or drivability. If Scion can once against focus on providing uniquely-styled alternatives to mainstream compact cars, then maybe, just maybe the tC will be able to hold its own in what has become a very competitive segment of the market.
Share on Facebook